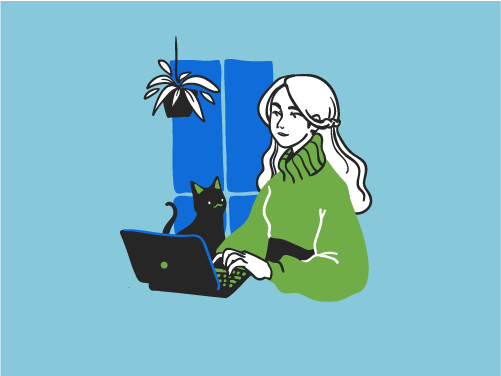 How to Become a Professional Blogger
There are more reasons today than ever before to become a professional blogger.
As we discussed in the introduction to this guide, blogging is a growing industry and an excellent opportunity to make a great income as a writer.
Just some of the ways it can help you in your long-term writing goals:
1. It Can Help Grow Your Freelance Writing Business
If you're a freelance writer, you can use a blog in a number of ways to help build your business.
a) Attract Freelance Clients
Maintaining a blog on your freelance website can be an excellent way to attract clients.
If you regularly publish high-quality blog posts relevant to the industry you serve, search engines are more likely to find you.
And this means more potential clients will also be able to find you as they search for information related to the issues they're trying to solve in their own lives and businesses.
Once they've come to your site, you have a few options for converting that person into a lead, or a potential client.
You can easily include a call to action in your blog posts to contact you directly if the reader wants further information, with a link to your contact page.
b) Earn Passive Income
If you're a freelance writer, you can also start your own blog as a secondary side business. It can be related to the same industry you serve as a writer or about something completely different.
Either way, running the blog will give you the opportunity to make passive income in addition to your client work.
c) Acquire Additional Marketable Skills
Developing your own blog will give you additional skills you can use with future clients.
For example, you'll get hands-on experience developing a publishing schedule, brainstorming topics for your posts, and working with various blog post formats to see what works best.
You may need to learn some web design skills as you develop the technical aspects of your blog.
In addition, you might want to build an email list and start a regular e-newsletter for your site to assist with lead generation.
Once you've learned these skills on your own site, you'll be able to share that knowledge with your clients and make yourself a more valuable freelance writer.
2. You Can Establish Yourself as an Expert
Building a blog can also help you establish your status as an expert in your chosen industry or field.
What better way to highlight your knowledge than to write in-depth, helpful blog posts about subjects your readers are interested in?
This is true whether you include a blog as part of your freelance website or build a separate, dedicated blog. Either way, your blog acts as a great sample of your writing and can demonstrate the expertise you have in your field.
As your readers get to know and trust you, this also builds your status as an expert in your industry.
Over time, this can open a lot of other potential opportunities, from coaching to developing information products to promoting your writing services.
You can choose to write blog posts for clients, publish your own blog, or do a combination of both.
Who Hires and Uses Bloggers?
We know that blogging is a booming industry, but which businesses actually create and publish blogs? And who would hire a professional blogger?
The truth is that companies of nearly all types and sizes include blogs on their websites. And a large number of them hire professional bloggers to help write ongoing blog posts.
Blogs can be used by companies that sell their products directly to consumers, also known as business-to-consumer (B2C), or businesses that sell to other businesses, often called business-to-business (B2B).
For example, MyFitnessPal is a B2C company that offers various online tools to help people lose weight and develop a healthier diet. Many of their tools are completely free, but they also offer a premium, paid membership that includes more options.
MyFitnessPal has an in-depth blog where they share recipes as well as tips on nutrition, fitness, and other related topics.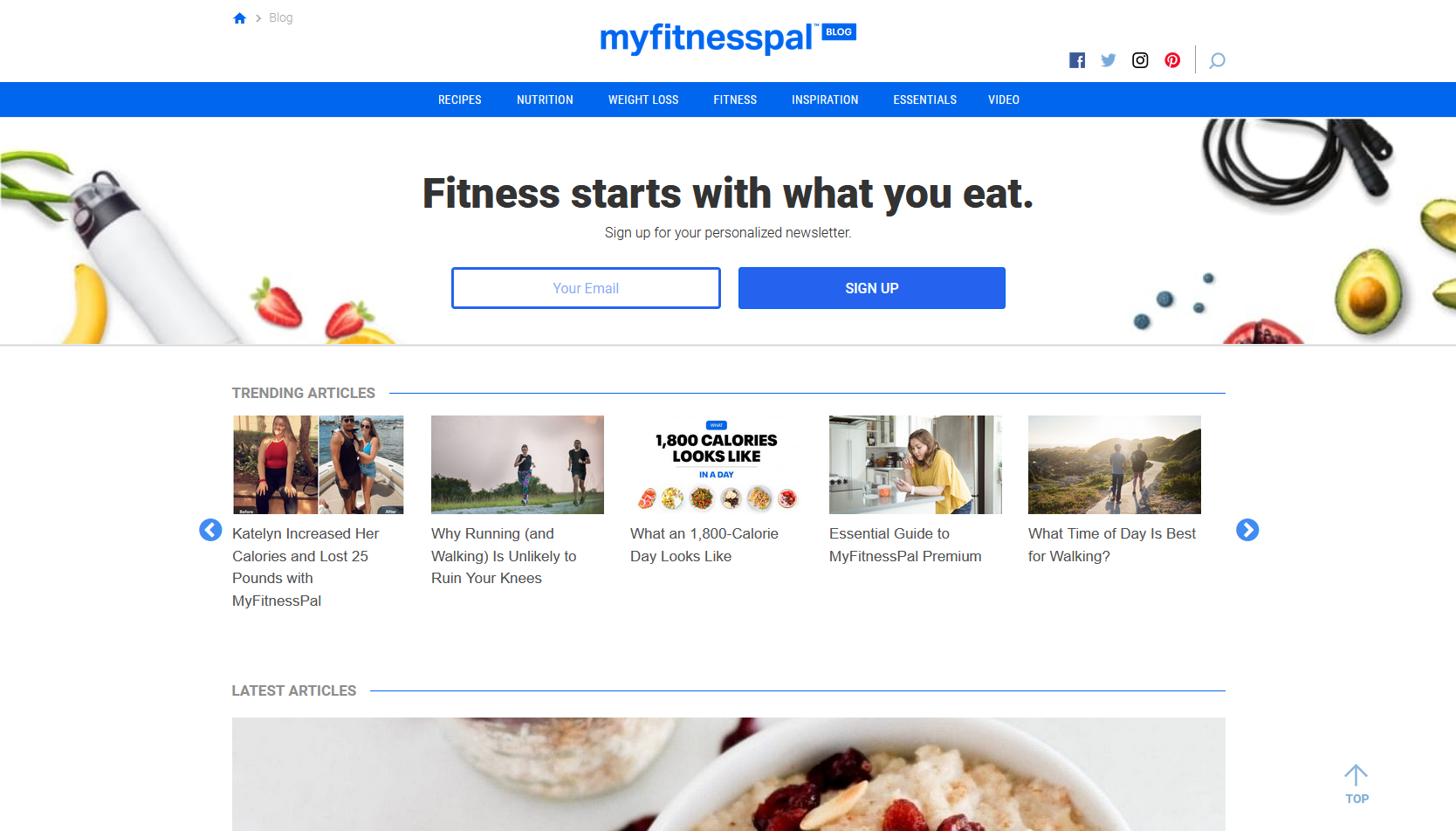 MyFitnessPal makes money primarily through their paid membership, but their blog draws a large amount of traffic to their website as visitors find them through search engines. And these visitors all become potential customers if they like the site and what the company has to offer.
An example of a blog for a B2B company is DentiMax, a company that provides software for dental offices, including software that handles everything from patient billing to X-ray imaging.
You can see that DentiMax sells to a very specific market: dentists. Their website would have significantly fewer visitors than a site like MyFitnessPal, but DentiMax still has an active blog where they share tips, news, and other information that's useful for dentists.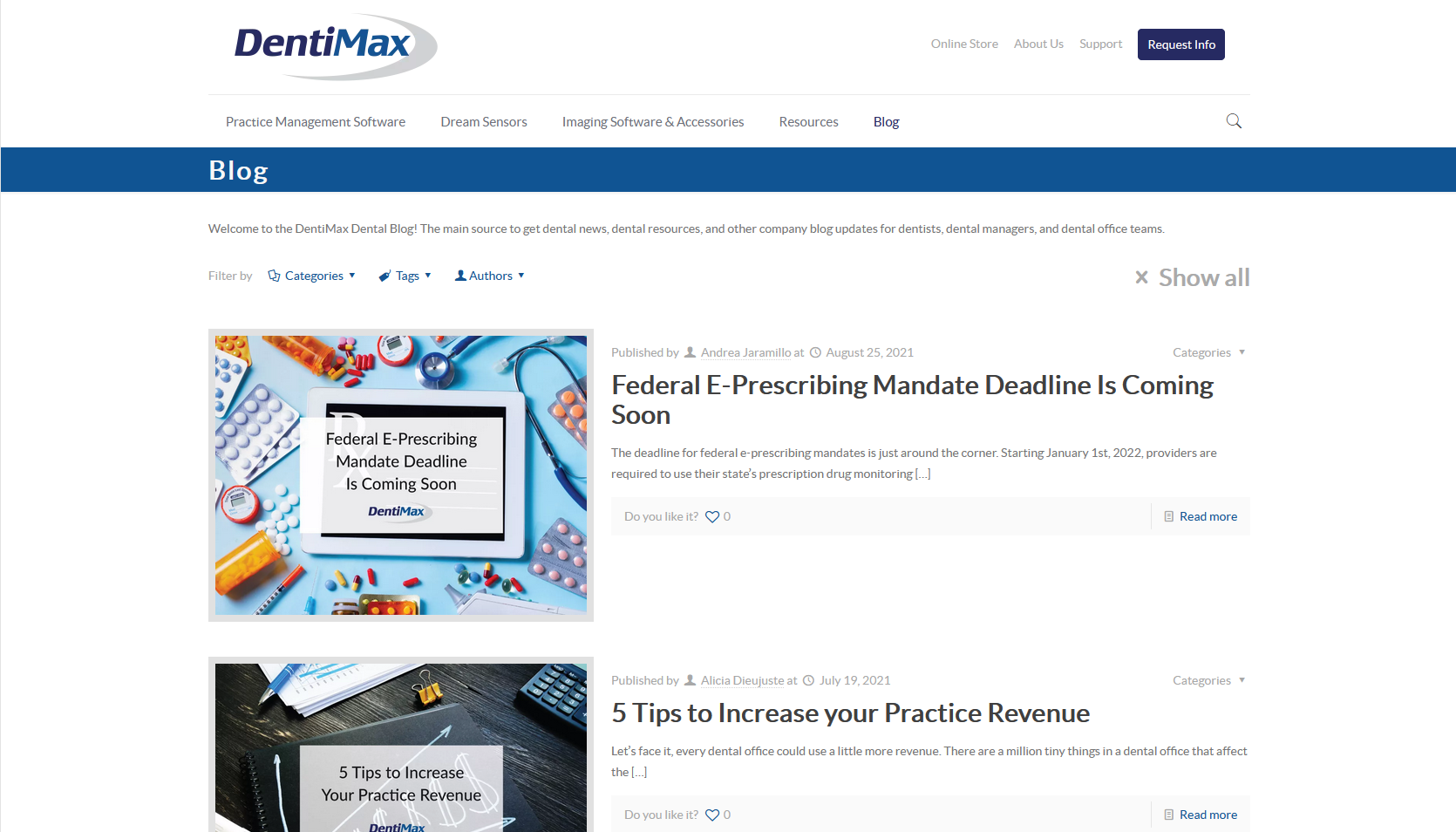 Regardless of a company's size, or the size of its audience, a blog can still serve as a very important part of its overall marketing strategy to attract and engage potential customers.
And what individual companies will be looking for in a blogger will vary widely.
Some companies may want to hire a blogger to fill a full-time staff position. Others may want less frequent contributions from a blogger on a freelance basis. And some companies may be interested only in a one-time project, such as a group of blog posts.
Depending on what you want as a professional blogger, and the types of companies you like to write for, there's almost certainly a good match for you somewhere in the blogging industry.
Regardless of which option most interests you, this chapter covers five steps to help you break into the blogging industry and start making a good income blogging.
Step 1: Choose Your Niche
If you're at all familiar with AWAI, you'll know we talk a lot about the importance of choosing a niche as a professional writer.
A niche is a specific industry, topic, or field that you choose to write about.
For example, many freelance writers specialize in writing for industries like the financial, medical, or alternative-health industries.
Specializing in a niche instantly makes you stand out from other writers.
Consider for a moment… If you were a marketing director of a real estate firm who needed a writer, would you choose a freelance writer who specialized in writing about real estate or a "general" writer with no specialty?
The specialist is the clear choice.
And it's no different in the blogging industry. If you make yourself stand out by choosing a niche, you'll typically open more doors and be able to charge higher fees than if you were a general writer.
The same goes for choosing the topic of a personal blog. If you want to start your own blog, narrowing your topic to reach a specific audience will be far more effective than trying to reach a more general audience.
For example, starting a blog about all types of pets would be a very broad topic. If you tried to write blog posts that spoke to all pet owners, you probably wouldn't do a good job of it, because different pet owners naturally have different concerns.
Whereas, if you focused on one type of pet, you could speak more directly to your readers and address the specific issues they're dealing with.
An excellent example of this is Carol Bryant's blog Fidose of Reality, as shown below.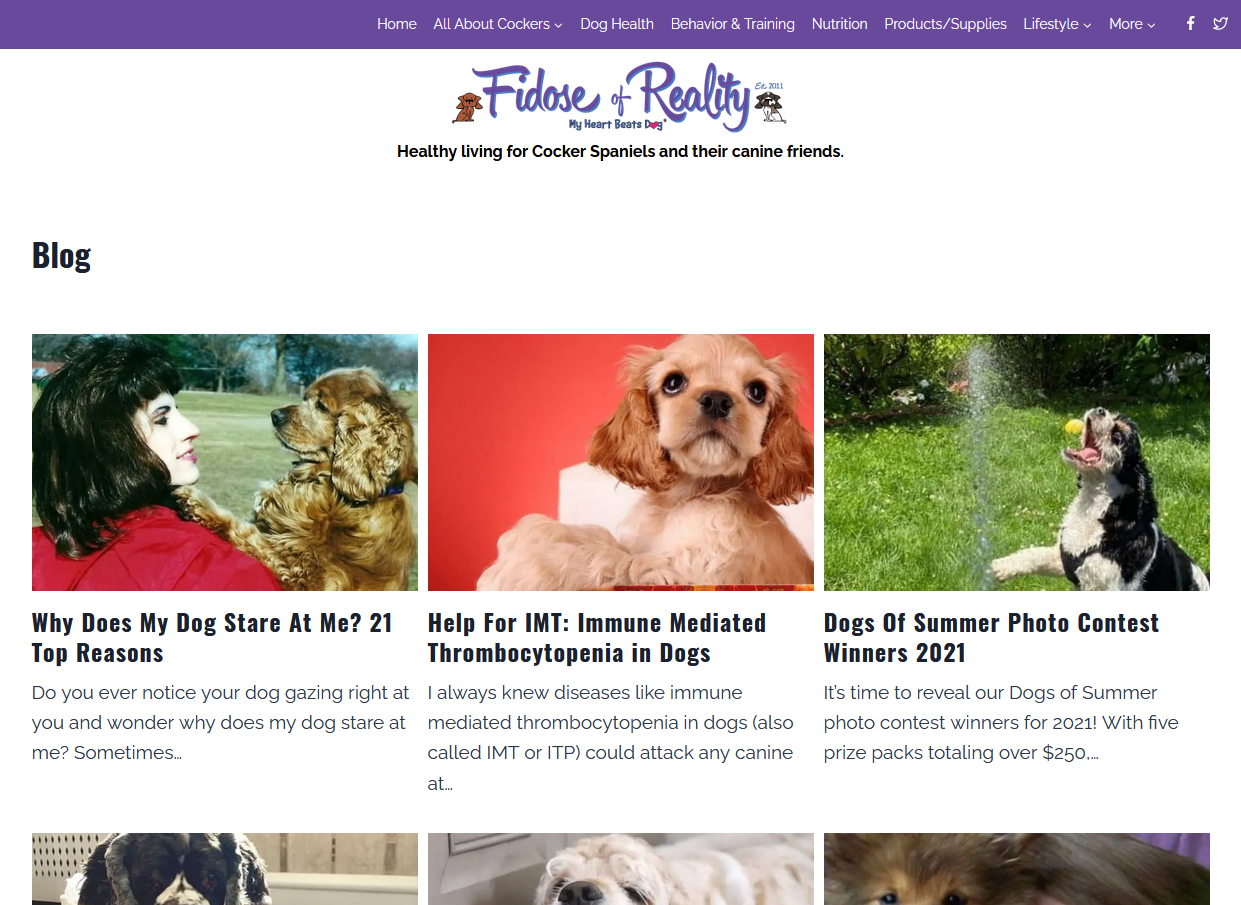 You can see that Carol's byline describes what the blog is about: "Healthy living for Cocker Spaniels and their canine friends."
When Carol was planning her blog, she decided from the beginning that her specific niche or topic was dog health, with a focus on cocker spaniels. And that's exactly what she writes about on her blog.
Her blog has become very popular among dog owners, and Fidose of Reality was the 2020 and 2021 winner for the best blog from the Dog Writers Association of America.
Carol is also a freelance writer who specializes in writing about pets. Her blog has created many career opportunities for her over the years, as it gives potential clients an impressive, live example of her writing and marketing skills.
To find your own niche, start by asking yourself what topics you're naturally interested in. What subjects do you research on your own time? What are you passionate about in your life? And what would you like to share with others?
Write down the top subjects that come to mind. Often, you'll naturally be drawn toward a specific one.
And remember, particularly if you're starting your own blog, this is a topic you'll likely be writing about for years to come. So make sure it's something that interests you enough to go the distance.
For more suggestions on how to choose a niche, check out Rebecca Matter's blog post on how to find a profitable niche on Barefoot Writer.
You can also watch our free webinar How to Choose a Profitable Copywriting Niche.
Step 2: Make Connections
Once you've chosen your niche, the next step is to learn as much as you can about your industry or field.
And one of the best ways to do this is to start meeting people and making connections within your niche.
You can start with any of these suggestions:
Join social media groups related to your niche.
Go to industry trade shows and conferences, online or in-person.
Attend local groups or workshops.
Join professional associations and get involved.
Start your own local group about your niche if one doesn't exist already.
Many different options exist for finding and connecting with other people in your chosen field.
You'll be able to learn a lot about your niche simply by talking to people and listening to what's important to them and what their struggles might be.
After all, these are the people who are going to eventually be reading your blog posts. Getting to know your audience on a one-to-one basis will give you valuable insights into the types of topics you should be writing about in your blog posts. And as an added bonus, you can make some lifelong friendships along the way.
In general, the following are the main groups of people you'll want to consider connecting with:
a) Influencers in Your Industry
The term "influencer" simply refers to anyone who has built a reputation for their in-depth knowledge and expertise on a specific topic.
For example, Tony Robbins is a well-known influencer and motivational speaker on the topic of personal achievement.
If you're already familiar with a specific area of interest, you likely already know some of the key influencers in that field.
But if you're new to an industry, you can find the main influencers easily enough with some basic research. Try doing an internet search for topics related to your chosen niche and see who comes up. There's a good chance if someone's website is at the top of a search results page, they're well known in that industry.
You can also search for your niche on an influencer tool, such as BuzzSumo. This will show you which sites and personalities are trending currently. In addition, keep an eye out in any groups you've joined to see who the members talk about and share within the group. And notice the speakers at any conferences or workshops you go to.
Once you've seen a few influencers you might like to connect with, you can try the following steps to reach out to them:
Start following them on social media.
Comment on their posts and share anything you feel is worthwhile.
After a time, try sending them a direct message. Be honest and personable; maybe ask them a question or share something you think might interest them.
If you get an answer, thank them for their feedback and stay in touch.
As your relationship develops, you may want to bring up the idea of working together in some way, such as interviewing the person for your website and promoting theirs at the same time, or you doing a guest post on their site.
With any of your connections, keep in mind that it's your relationship that comes first. The point is not to "get" something from the other person, it's simply to learn more about other people in your industry and have some fun.
b) Other Bloggers
It can also be very helpful to get to know other bloggers who write in a niche similar to yours.
Often, they'll have more experience and working knowledge of the subject as well as industry standards and practices than you do. They can be a great source of support and expertise you can draw from as you build your own freelance business or personal blog.
You might be thinking, Wait — won't these bloggers be my competition? Why would they want to know me?
Although it's true you might be focused on the same niche, most professional bloggers see that there's room for everyone in the blogging industry.
Established freelance writers know all too well that the demand for writers is huge. Collaboration and networking among writers are commonplace, because there is more than enough work to go around and we all tend to help each other.
And within the personal blogging space, blogs tend to be very specialized and rarely compete directly with each other. Each blogger will have their own style and specific focus relating to a topic or industry. Every person is unique, and that's what makes blogging so exciting.
No one understands the difficulties of building a personal blog as well as other bloggers, so being part of a network of fellow bloggers can be an excellent source of support as everyone works through the process together.
You can reach out to other bloggers in a similar way as we described for getting to know influencers, often through social media.
b) Your Audience
The people you'll need to understand most intimately are your potential readers.
Your blog won't be able to exist without an audience, so knowing who your blog speaks to is vital.
As you get to know your industry, as well as influencers and other bloggers, you'll probably start to get some insights into what's important to your audience.
What types of information are they looking for?
What problems are they trying to solve?
What are their beliefs and values?
You can also consider the demographics of your potential audience. Is your topic typically of more interest to men or women? Does it relate only to a certain age group? Is it specific to a certain country or region?
The more you can learn about your potential audience, the better.
And you can do this through all the ways we've described in this section about connecting with others in your industry. Take workshops, join professional associations, get active in social media groups, and strike up conversations about what matters to people in your industry.
This will all prepare you for becoming a knock-out blogger.
Discover 347+ Lucrative Blogging Ideas to Start Your Journey as an In-Demand Blog Writer
Sign up to receive 347+ Lucrative Blogging Ideas instantly.
Step 3: Learn the Fundamentals of a Good Blog
We'll delve into the nuts and bolts of writing an actual blog post in Chapter 4, but let's clarify what makes a truly exceptional blog first.
As we mentioned in our introduction to the blogging industry, blogs are not a product in themselves. In other words, a blog does not directly make money for a company.
Instead, a blog serves as a tool to achieve many different purposes for a business, such as driving traffic to its website, establishing expert status in their industry, or generating leads.
For a blog to do its job, it must be able to engage readers and, ideally, keep them coming back to read more posts.
The following elements have been shown to make blog posts, and blogs in general, more relatable and attractive to readers.
a) Being Relevant
People usually search the internet to find solutions to problems they're facing right now. And, naturally, they want information that's as up-to-date as possible.
So, it's important to stay current with what's going on in your niche and what's important to your readers today.
Make sure you watch and listen to influencers, bloggers, and other publishers in your niche to see what topics are trending.
Keep an eye on local and international news to see what's going on. AllTop is a fun site you can check out that shows a roundup of the top trending articles on a variety of topics.
Also stay in touch with your audience whenever possible. If you already have a blog, or if your client already has a blog, make a point of interacting with your audience. Be active on social media, read comments on the blog, read emails if possible, and find ways of connecting with your readers.
If your audience can find helpful solutions to their current problems on your blog, you're almost guaranteed to develop a loyal following.
b) Being Real and Vulnerable
One of the best parts of a blog post is that it's typically written in a casual, personable style.
And that's often why people enjoy reading them. Humans are naturally social, and we often love hearing other people's stories and connecting on a personal level.
If you can write blog posts that authentically sound like you — and not a faceless organization — you'll automatically draw more readers in.
As you're writing blog posts, share some personal thoughts and insights where appropriate. Be open and honest about any struggles you've had, what you worry about, and failures that you've learned from.
Details like these make a writer seem much more real and relatable to their readers.
You can still do this even if you're a freelance blogger writing in the voice of a client. Ask your client if they have any stories you can share in your writing. Also, as you work with them, you'll get a good idea of their personal voice, opinions, and attitude.
You can use all of these insights to craft engaging blog posts written from another person's, or a company's, point of view.
c) Being Available
We've all experienced bad customer service, or times when you simply can't get in touch with a certain business or company. Negative experiences like this will put off your customers, or your readers, pretty quickly.
On the other hand, if you make an effort to be available and responsive to your readers, you'll earn their respect and their attention.
As you build your own blog, or help a client develop theirs, prioritize keeping lines of communication open to your readership.
Respond to emails and comments on the site. Have conversations on social media. Hold interactive webinars if they're appropriate. You could also consider speaking at online or live events to meet your audience face-to-face.
Many writers who publish their own blogs maintain a fairly open-door policy when it comes to contacting them personally. Sal O'Neill, who publishes The Fit Foodie, had this to say about being available to her readers:
If you write blog posts for a client, you may not be responding directly to readers yourself. You may ghostwrite under your client's name, or the name of their company. But even in this case, you should encourage your client to establish ways their customers and audience can easily reach and interact with them.
As the use of automated forms of customer service become more common, such as chatbots, businesses that maintain a real, human presence will stand out from the crowd.
Step 4: Start Looking for Clients
This section is only for those who want to find client work, so if that's not you, feel free to skip to the next section.
But… if you're interested in working with blogging clients as a freelance writer, or simply to gain some experience before you launch your own blog, we'll go through some of the best ways to find clients below.
a) Job Boards
Online job boards are an excellent place to start as a new blogger.
Often, the jobs that are posted on job boards are for bloggers with different experience levels, and across a wide range of topics and industries.
A search for "blogging" on a large job site like Indeed can easily turn up over 1,500 individual job postings on any given day. And many of these are remote jobs, so you can do them from anywhere in the world.
Also, with so many job postings, there's almost guaranteed to be at least a few that would be a good match for your skill level and personal knowledge and background.
Barefoot Writer magazine has a helpful roundup of different sites that list freelance writing jobs for beginners. These job postings can include everything from full-time, staff positions to single freelance projects.
You'll see that some job boards include a wide range of writing opportunities, so you can typically search for only the blogging positions on any job board.
Some job boards, such as ProBlogger and BloggingPro, specialize exclusively in blogging jobs.
For AWAI members, there's WritersWanted which has thousands of high-quality writing jobs that are curated and vetted by a team of industry experts.
Each site will have different processes for applying for jobs, so check each listing closely as you prepare your application. Include any relevant details from your past work experience and the transferable skills you've learned up until now.
Don't hesitate to apply for a position that asks for extensive writing experience. You never know who else has applied, and your past knowledge and experience may give you an important edge when the client is making their final decision.
b) Email Prospecting
Email prospecting refers to the process of finding potential prospects (or clients) through email.
The main idea is to identify potential clients you might like to work with, and send them a personalized email to introduce yourself and connect in a meaningful way.
To find a potential client, you can do research similar to what we discussed in the section on finding influencers earlier in this chapter.
Research companies in your niche online, go to trade shows and conferences, interact on their social media channels, and start narrowing in on any businesses you think you might like to work with.
Ilise Benun shares some further suggestions for finding well-paying clients in her free webinar here.
Once you've found a good prospect, try to find the email address of an appropriate person to contact in that business, such as a marketing director, or the owner if it's a small business. Their email may be provided on their website, or you can try using an online tool for finding email addresses like Name2Email or Voila Norbert.
Next, craft a short and personalized email. Briefly introduce yourself and what you do, such as letting them know you're a professional blog writer for vitamin and supplement companies.
You could even consider sending them a short video in your email.
To give you an idea of what to say, B2B copywriter and coach Ed Gandia shares two email prospecting samples here.
Like Ed mentions in his article, the point of your email should be to make a meaningful connection with your prospect. This is not a sales email, and you're not trying to push anything on them. You're just trying to reach out and see if that person might be interested in connecting.
And for Ed Gandia and many other freelancers, that personal touch has led to some excellent, long-term clients.
c) Networking
The value of a good network as a freelance writer can't be overstated.
Now, we understand that networking can make some of us a bit nervous. It requires meeting new people, which can be daunting. But networking can also be highly rewarding as you develop relationships with other freelance writers and people in your niche.
Having a strong network means you'll have other people to lean on when you get stuck or need some help. You'll also be able to discuss what's working for other writers, and have the opportunity to form critique or mastermind groups to boost everyone's success.
A network is also a great way to find new clients. On social media and other freelance networking groups, members regularly share job opportunities they've seen, or refer clients they know are currently looking for bloggers.
Many freelance bloggers have found clients through word-of-mouth. Especially for new writers, having a reference from another established writer can carry a lot of weight in the eyes of a client who has never worked with you before.
Developing a good network is fairly easy, and you don't have to go far outside your comfort zone. Join online groups, connect on social media, go to writing conferences and industry trade shows, and see if there are any local groups you can join related to writing or your niche.
As you meet and connect with people, you'll naturally start to build sincere friendships over time. This will increase your opportunities for finding clients, but most importantly, it will enhance your life and skills as a professional blogger.
Step 5: Start Your Own Blog
If you're interested in starting a personal blog, or a blog on your freelance site, there has never been a better time to do it.
In the introduction to this guide, we detailed why blogging is such a big opportunity right now.
Currently, an estimated 570 million blogs exist online. There are around 4.8 billion people around the world who use the internet, and 77 percent of those internet users regularly read or subscribe to blogs.
That's a huge potential audience for your blog. Of course, those numbers include blogs from all industries and niches throughout the globe. As we discussed earlier in this chapter, you'll want to choose a specific topic to focus on for your blog to narrow down your audience.
But we know that people enjoy reading blogs, and no matter what your topic is, there's likely an existing audience who would enjoy reading what you have to share.
You have many reasons to start a blog as a new blogger.
If you're a freelance writer, you can use a blog on your website to attract potential leads and establish yourself as an expert in your niche.
If you start a personal blog, you can build your writing skills as well as develop practical knowledge about how to build a business from the ground up.
And for both of those options, a blog can also be an excellent source of income. We'll describe exactly how blogs make money in Chapter 5, and how there are more options for profiting from a blog now than ever before.
You can use your blog to generate a secondary source of revenue, or you can make it a full-time venture.
But keep in mind that a blog is a long-term commitment. Most blogs take time before they start to make money. It can take a few months, or even a few years, to build a blog to the point where it's making a profit.
So, keep your expectations realistic when starting a blog. Don't expect it to start making money overnight. It's often best to maintain another income source while you're building your blog.
And if you're ready to get started right now, you can go straight to Chapter 2, where we share all the practical details on how to create your own blog.
Chapter Summary
Now is a great time to become a professional blogger. Blogging is a booming industry, and it's easy for new writers to break into the field.
We recommend you start by choosing a niche or a specialty to increase your value as a blogger. Then start making connections within your industry to learn more about it.
You also need to learn the fundamentals of what goes into a great blog and engaging blog posts.
And when you're ready to dive in, you can start looking for clients or consider starting your own blog.
Whichever road you take to start your career as a professional blogger, we're confident that you'll find an abundance of opportunities ahead.
YOUR NEXT STEP
>
AWAI's Bestselling
"Make Money Blogging" Program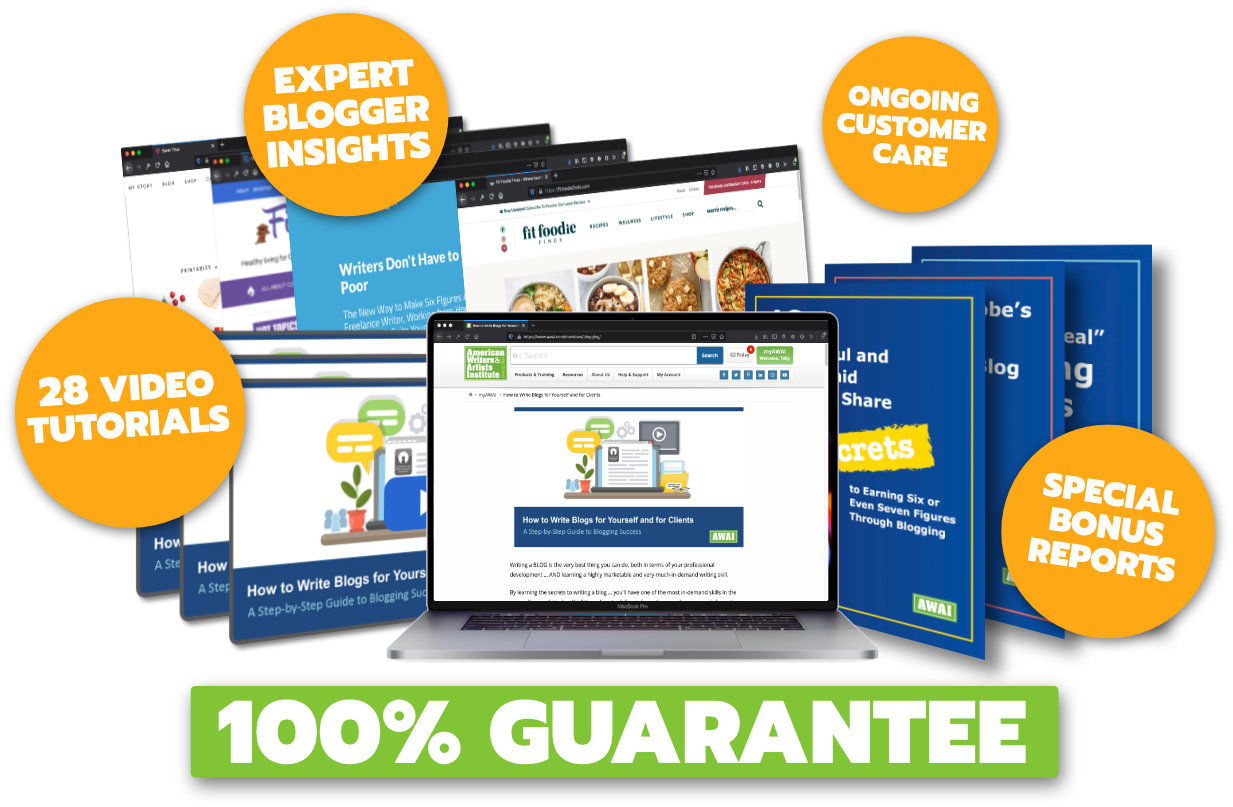 EVERYTHING you need to make great money writing blogs is included…
How to write blogs people actually want to read…
What to write about…
How to connect with the countless businesses that desperately need writers like you to keep their blogs relevant and current…
How to make money writing your own blog…
It's… all… in… the… program!