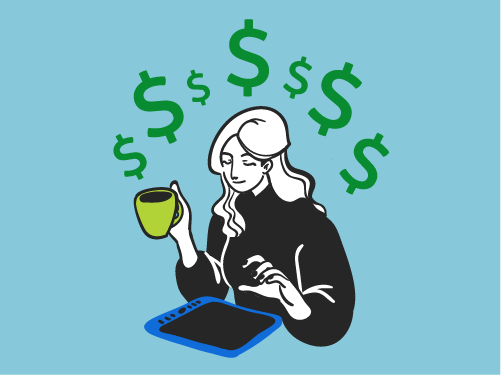 How Do Blogs Make Money? The Question All Successful Bloggers Need to Understand
In this guide, we've discussed how to become a professional blogger, create your own blog, and write great blog posts.
But, as we explained in the introduction to this guide, the fundamental purpose of a blog is to use it to generate income.
A blog is definitely not a get-rich-quick scheme, although when done well, a blog can become a valuable source of income over time.
Whether you write for a client's blog or operate your own blog, it's vital to understand exactly how blogs make money so you can create the most appropriate content for the site.
This chapter delves into the most common ways blogs make money and how this relates to you as a writer.
1. Building an Email List
This isn't a direct way to make money from your blog, but building an email list is an essential first step toward monetizing your blog.
The fundamentals of building an email list are fairly straightforward. Typically, you'll offer something of value for free in exchange for a website visitor's email address.
That free thing is called a lead magnet because it's meant to generate leads, which are potential customers or subscribers.
Miles Beckler, a professional blogger and coach, offers a lead magnet on the home page of his personal blog as shown below:

You can see he offers a free course if you sign up with your email address.
Your lead magnet can be a free special report, an audio recording, a video, a short checklist or worksheet, or anything else your reader might find useful.
You want to make sure your lead magnet is easily downloadable so your reader can access it as soon as they sign up for your email list.
To collect and manage your readers' email addresses, you'll need to use a third-party email service provider, such as MailChimp, ConvertKit, or Active Campaign.
A service like this will allow you to send automated emails to your subscribers, such as an automated welcome email when they sign up for your list, a weekly or monthly e-newsletter, or even daily informational and/or promotional emails.
Email remains one of the best ways to communicate with your audience. It allows you to follow up with them and build a relationship. And that relationship is what will set you apart from your competition.
Once your readers and subscribers know and respect you, they'll naturally be more open to buying your products, or listening to your opinions and reviews of other people's products.
According to McKinsey & Company, email is 40 times more effective for acquiring new customers and subscribers than Facebook and Twitter combined.
This is why it's important to start building your email list as early as you can after launching a blog.
It's not required to launch a blog, so don't let it hold you up. But you'll start to see in the following sections that having an email list is a very valuable asset for monetizing your blog.
For more in-depth tactics for building your email list, you might want to check out Brian T. Edmondson's course How to Build Email Lists: The Fastest, Easiest and Most Profitable Way to Get More Traffic, More Prospects and More Sales.
2. Ad Networks
An ad network is an online service that matches up ads from various advertisers with websites willing to post those ads on their site.
If you sign up with an ad network, they will pay you for displaying ads on your website.
You've likely seen ad network ads on other websites. They usually look something like this: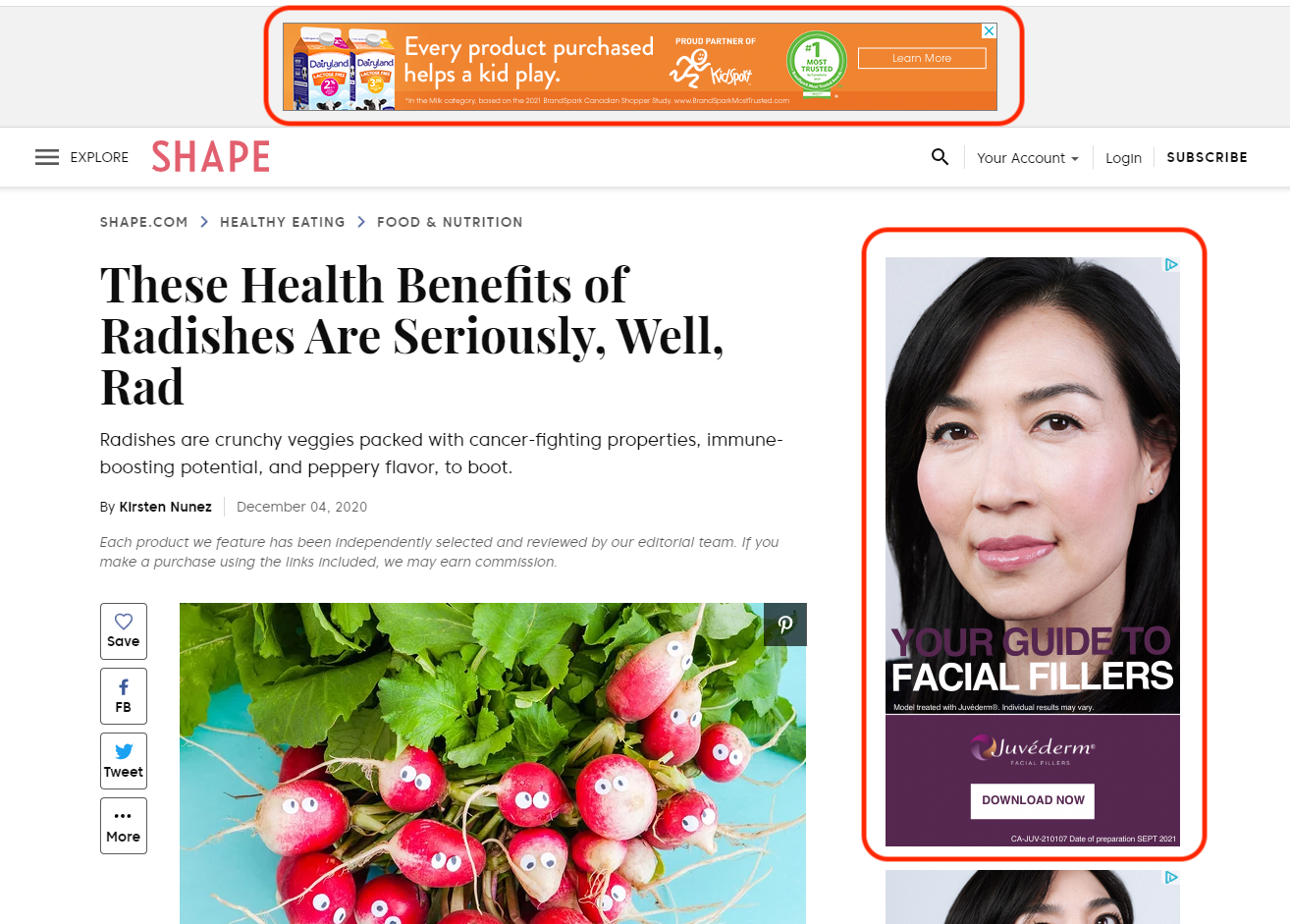 Ad networks can be an easy way of making income from your blog. All you need to do is set up where their ads are going to go on your site, and the ad network handles the rest.
The downside is that they can detract from the overall user experience of your site because they can reduce its visual appeal, as well as make your site more difficult to navigate and read around the ads.
In addition, don't expect to make a lot of money with ad networks. They typically pay a set fee for every time an ad is displayed to a visitor on your site, or if a visitor clicks on an ad.
So you need quite a bit of traffic to make much money with ad networks. And even then, they don't pay a lot per ad.
"When picking an ad network, do a lot of research. You want to know how payouts are structured, what kinds of ads they run, and how they look when displayed on your site." —Emma Johnson, founder of Weathly Single Mommy
If you decide to try an ad network, make sure you look closely at various different networks before signing up.
Take note of how easy each network is to use, how it works, and read customer reviews of the company to get an idea of how good they are.
Here are some of the larger ad networks you can investigate:
Google AdSense & Google Display Network
AdCash
Outbrain
Verizon Media
Mediavine
Facebook Audience Network
Many other smaller ad networks exist as well, including vertical ad networks that are focused on a specific topic, and specialized ad networks that focus on ads for a specific medium type, such as mobile devices.
An ad network that specializes in your niche can be a better choice for your site than a more general network. They are more likely to have ads suitable to your readers, which will provide a better user experience.
If you find an ad network you like, sign up and familiarize yourself with their policies and what's required from you and your site.
And as you use the ad network, make sure you track your results to see if the payments are worthwhile. You should also keep testing to see what works best, such as changing up the ad placement on your site, or trying different ad networks to see which one performs better.
Discover 347+ Lucrative Blogging Ideas to Start Your Journey as an In-Demand Blog Writer
Sign up to receive 347+ Lucrative Blogging Ideas instantly.
3. Sponsored Content
Sponsored content refers to a blog post or other content that has been paid for by a separate business.
You or the sponsoring company can write the blog post, and it should be clearly labeled on your site.
An example from The Work at Home Woman blog below includes a note at the top of the blog post saying that it was sponsored by Wix: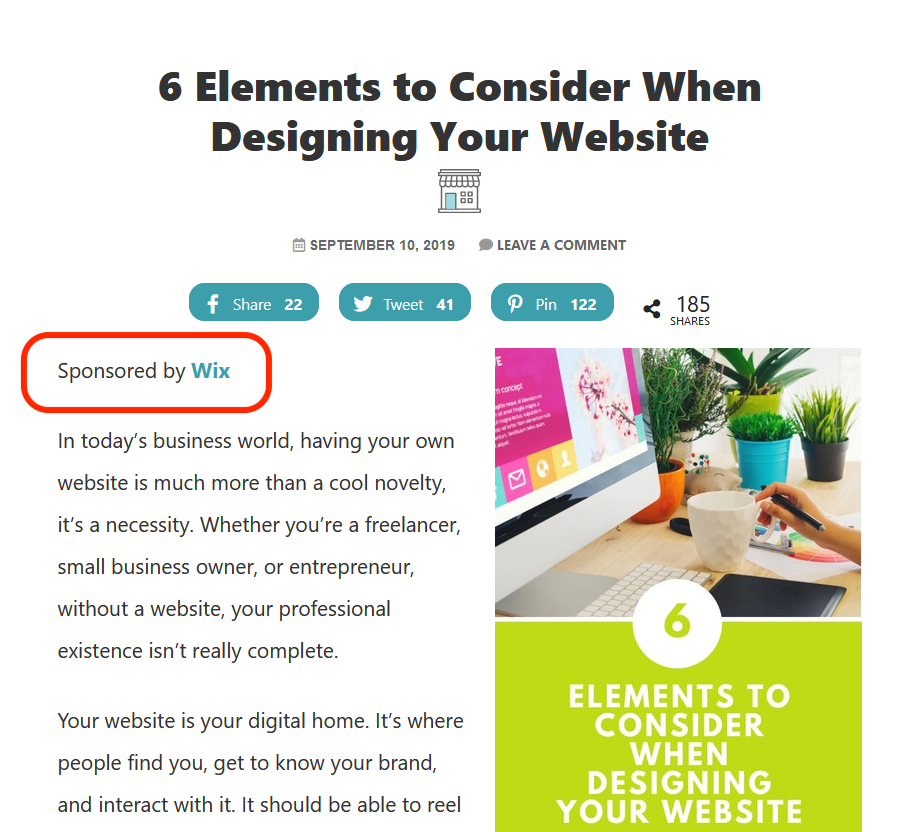 The purpose of sponsored content is to support the brand who sponsored it. Typically, this type of content does not sell anything, or it includes a very soft sell.
Regardless, it should still be valuable, high-quality content you feel good about having on your site.
Before starting a sponsored content agreement, always discuss what the sponsor's goals are and whether they're a good fit for your site.
If they want you to write the blog post, which is the most common arrangement, decide on a topic together and determine how much they'll pay you.
When you're discussing your fee, don't ever accept anything less than you would normally charge a client. Charging $100 to $500 is typical for a sponsored blog post, but much higher is possible.
Sponsored posts can be a good source of income in themselves, and you may be able to negotiate some kind of commission on any business you send to the sponsor.
The downside is the fact they're still advertisements, and some of your readers may not like this. But as long as you maintain the quality of your sponsored content, your readers may not even notice the difference between sponsored posts and your regular posts.
4. Affiliate Marketing
Affiliate marketing can be one of the best sources of income for a blog if it's done well.
For a blogger, affiliate marketing refers to the process of selling someone else's products or services through your blog in some way. You might write a blog post about a product, promote it to your email list, or provide advertising space on your blog.
Then you earn a commission on any product or service that's sold as a result of your promotion.
It's easy to get set up as an affiliate. You start by registering with a company that offers affiliate products or services. These are typically called "vendors."
They will provide you with a specific URL link with your affiliate ID in it, which you can use in your marketing. This is so the company can keep track of sales you've sent their way.
Vendors may also provide marketing materials, such as sales pages, blog posts, email series, or banner ads. But you can create your own as well. Every vendor is different, so it's best to check with each one to see what they provide and what they allow you to make.
Affiliate marketing is easy to break into as a beginner. It has low operating costs and you don't need to deal with any of the product fulfillment, such as payment and shipping. You can decide what you want to promote, and it allows for flexibility in your approach.
But on the other hand, affiliate marketing can be fairly competitive, because other bloggers and marketers are promoting the same products you are. You also have no control over the vendor's practices. If you send a customer to them and they have a bad experience, it can make you look bad.
You're also promoting someone else's products for a commission and giving them customers, whereas if you promoted your own products or services, you would be building your own customer base and keeping 100 percent of the profits.
If you're interested in trying out affiliate marketing with your blog, start by searching for products related to your niche and see if any of the companies have affiliate programs.
You can also check out affiliate networks, such as ClickBank, ShareASale, or CJ. These networks have multiple affiliate vendors you can choose from, depending on your niche.
If you'd like additional details on setting up an affiliate marketing strategy on your blog, check out our program on How to Write Blogs for Yourself and for Clients: A Step-by-Step Guide to Blogging Success.
5. Selling Your Own Products and Services
As we discussed in the introduction to this guide, a blog is an excellent tool to bring traffic to your website and attract potential customers and leads.
Depending on your individual business, or your client's business, you may want to sell your own products or services directly to your site visitors, rather than affiliate products.
This is also true for freelance writers. Your blog is a good way to attract potential writing clients.
Once a website visitor has joined your email list, you have the opportunity to develop a relationship with them through your e-newsletters or other emails. And this may lead to converting them into a client or customer at a later date.
"The majority of my income nowadays comes from courses and information products. We make a million dollars a year form our products... And by the way, when you look at other big blogs, you'll find the same for the most part. Information products are the biggest." —Jon Morrow, founder of Smart Blogger
This is an opportunity for bloggers who run their own personal blog as well. You have a host of different products or services you could offer as a solo blogger, such as these:
coaching or consulting services related to your niche
information products, such as e-books, courses, or special reports
membership programs
mastermind groups
speaking engagements
subscriptions to a newsletter or premium content on the site
You can promote your own products and services in a similar way as affiliate products, such as writing about them in blog posts and emails, or designing your own graphic ads to include on your site.
Whatever direction you want to go in, a blog gives you an excellent starting point for marketing your own products and services.
6. Joint Ventures
A joint venture is when you partner with another person or business and combine your resources to market a specific product or service—typically, a product or service that belongs to you or your partner.
Joint ventures allow for greater reach, because both partners can market to their respective lists and audiences. By combining forces, the partners can complement each other and potentially create a more powerful campaign than what either partner could accomplish alone.
For instance, if you have a strong email list and no product, you could look for a company with a good product to partner with. If you've developed an online course, but you have a limited audience, you could try to partner with a bigger publisher.
There are many ways to approach a joint venture. The key to success is to be clear with a potential partner about both of your expectations for the project.
Clarify the details and keep in touch as both of you develop your campaigns. Then compare results afterward to see what could be changed in a future partnership.
If you're interested in starting a joint venture with a company or other marketer you don't know, try following our suggestions for developing connections with influencers in Chapter 1 of this guide on how to become a professional blogger. In time, as you develop a relationship with them, you may want to explore the idea of doing a joint venture together.
Similar to any other monetization strategy, it's important to maintain a high standard when you enter into a joint venture. Make sure you're staying true to your own brand and providing your audience with value in your marketing materials.
And when you provide value, it improves the likelihood that your readers, or your clients, will be willing to pay you for it.
You Have Your Choice of Potential Income Streams!
There are loads of different options for making money as a blogger, which we've gone into in depth in this chapter. But it really all boils down to either working for clients as a professional blogger or starting your own blog.
As we've already mentioned, the number of blogs on the internet is growing every year. And many of these blogs need to hire professional writers to help them produce regular blog posts.
If you go to any of the bigger online job boards, such as Indeed, you're likely to find hundreds of job postings just for bloggers. And some smaller job boards, such as ProBlogger, specialize exclusively in job postings for bloggers.
If you're keen to write blogs for others, even just to get your feet wet in the blogging world, flip back to Chapter 1 and reread the section on how to find work as a professional blogger. But the take-home message here is simply that the demand is there. And where there's demand, the money will follow.
As in most industries, the amount companies pay for professional blogging services will vary. Some will pay more, and some less. As a new writer, you might start on the low to mid-range of that scale. But as your skills and experience grow, so will your income.
And to be honest… so will your confidence.
This might be the point where you decide to create a blog for yourself, which is maybe even the better option when your chief goal is to make money blogging.
Publishing your own blog is a long-term commitment that needs a clear strategy and focused effort to build and maintain.
When you build a blog as we've outlined in this guide, your dedication can seriously pay off over time.
For example, entrepreneur Yaro Starak has grown his personal blog to a seven-figure annual revenue. In 2004, he started a blog called Entrepreneur's Journey where he shared his experiences and lessons he's learned about entrepreneurism.
He had operated a few online businesses before that, but after a couple of years of blogging, he sold his other websites and focused solely on his blog. For the first time in 2010, his blog earned over a million dollars.
In 2018, Yaro rebranded to his current blog www.Yaro.blog, and he still blogs regularly, as well as offers coaching and online courses.
And Yaro Starak isn't alone. Many other bloggers, writing about a wide range of topics, have built their personal blogs to a point where they make a good annual income solely from their websites.
For example, take Nick Usborne. He writes a blog about making coffee called Coffee Detective: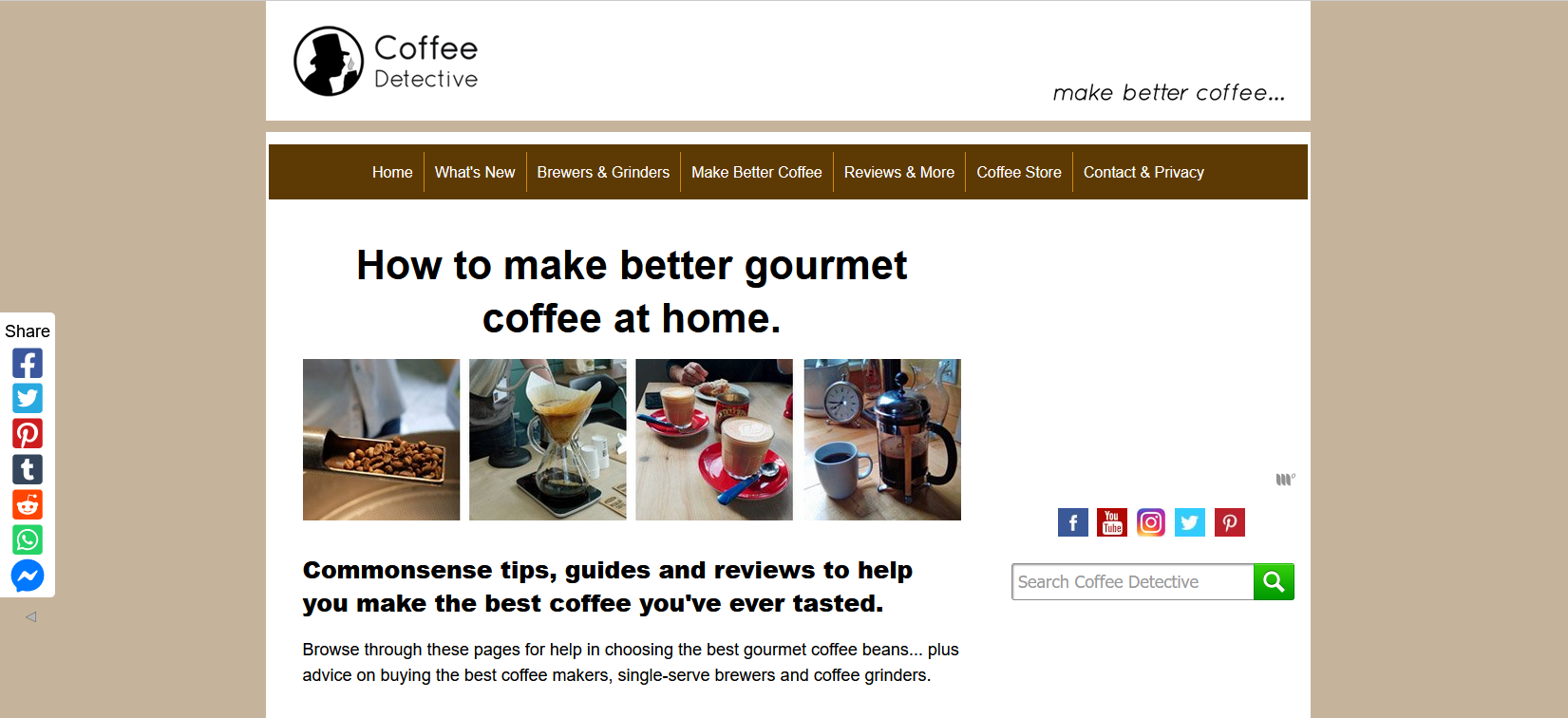 Nick makes an average of $3,500 per month from his blog. And Nick works on Coffee Detective only in his spare time. The earning potential for those who work full‐time on their blogs can be much higher.
Building a blog takes time, but with some dedication, it can become an excellent spare‐time or full‐time income, depending on your goals.
Chapter Summary
We hope How to Make Money Blogging: A Beginner's Guide has given you a good introduction to the world of professional blogging and how you can take advantage of the universal popularity of blogs.
You can become a freelance blogger who works with clients, you can start your own blog, or you can do a combination of both.
And once you've become a professional blogger, you'll be able to start making money with your blog (or helping your client make money with theirs), as we discussed in this final chapter of the guide.
If you like writing and you're thinking about becoming a professional blogger, contact us today to let us know how we can help you on your journey.
In this guide, we've introduced you to some professional bloggers who now make an excellent income from their blogs. And there are many more we didn't include.
You can build a successful business as a freelance blogger, or by creating your own personal blog. The choice is up to you.
But what's most important is to commit to that choice and start taking action today to make it a reality.
And remember to keep us posted on your progress. We always love to celebrate our members' achievements.
Here's to your blogging success!
YOUR NEXT STEP
>
AWAI's Bestselling
"Make Money Blogging" Program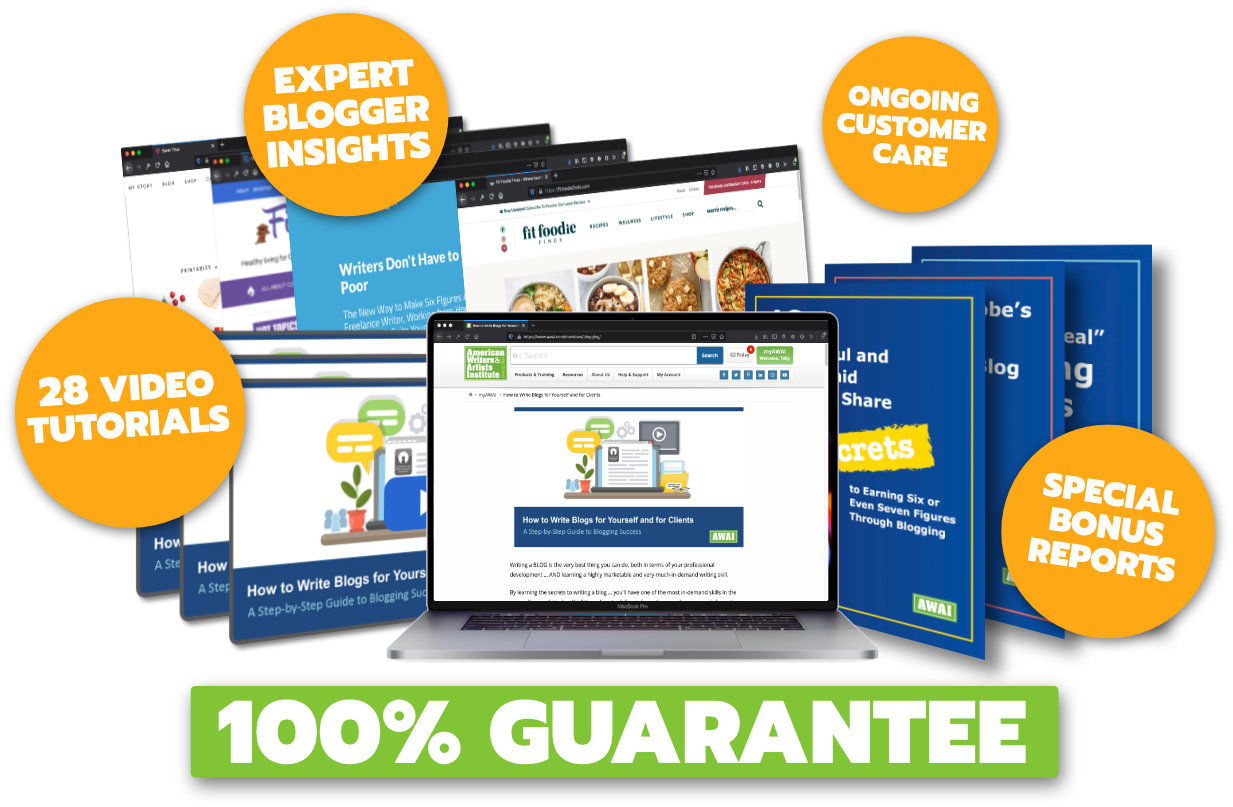 EVERYTHING you need to make great money writing blogs is included…
How to write blogs people actually want to read…
What to write about…
How to connect with the countless businesses that desperately need writers like you to keep their blogs relevant and current…
How to make money writing your own blog…
It's… all… in… the… program!