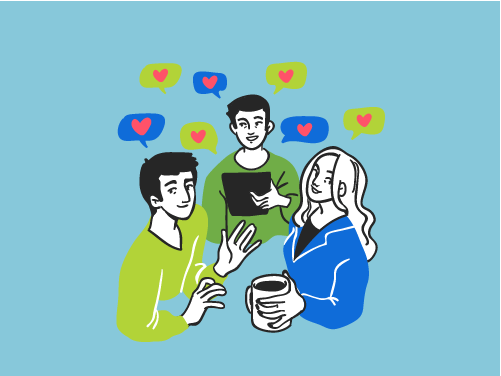 7 Tips for Writing a Blog Post Your Reader Can't Put Down
Whether you're a freelancer working with clients, or you publish your own blog, writing an effective blog post is an acquired skill.
But, it's a skill that can be learned fairly easily with some basic knowledge and practice.
That's why we're here to share our best tips for writing a blog post to help make the process as quick and easy as possible.
Use the following steps to craft a high-quality blog post that engages readers and makes them eager for more.
Step 1: Choose Your Topic
In Chapter 3 of this guide, we described many different ways to come up with an endless supply of blog post ideas.
If you haven't read that chapter yet, you can check it out here.
Once you have a short (or long) list of blog post ideas, it's time to decide which one you're going to write about for your post.
What makes a really great blog post topic?
Unfortunately, there's no clear answer to that question.
But there is one factor that's almost guaranteed to make your blog posts stand out from your competition. And that factor is quality.
An in-depth, informative blog post that provides value to the reader will almost always do well over time, compared with shorter, more general posts.
Take some of the following factors into account when judging whether your potential topic will make a quality blog post:
Is there enough information available about that topic that you can use to create a thorough blog post?
Could you write a solid blog post of 2,000 words or more without having to write any "filler"?
Does your keyword research suggest people are searching for that topic, like we discussed in Chapter 3 of this guide?
Do you feel the topic would resonate well with your audience?
If your topic idea hits at least a couple of those points, there's a good chance it will make a great blog post.
Step 2: Follow Proven Blog Post Formulas
Once you've chosen an awesome topic, it's time to consider exactly how you're going to explain it to your audience.
Regardless of your topic, there are certain formulas or templates for the structure of a blog post that tend to engage readers better and express the subject more effectively.
You've likely seen many of these formats yourself as you've read various blog posts.
This section will go through six popular blog post types and how to best use them.
a) How-To Posts
A how-to post clearly guides your reader through the steps to do something.
You'll typically start with a problem your audience wants to solve, and show them how to solve it.
Make sure you choose how-to topics that you can summarize in one blog post. You don't want to leave your reader hanging — make sure they can actually do the thing you've promised by the end of the post.
Images and videos can really improve a how-to post, because they can demonstrate a process far better than words.
Examples:
How to Build an Outdoor Pizza Oven: The Ultimate Guide
How to Write an eBook in 2021: Step by Step Tutorial for Beginners
b) News Posts
A news post reports on something factual that's relevant to your audience.
The topic could be a new research study, current events, a case study, a summary of pertinent statistics, or any other fact-based subject.
As you draft your news post, try to answer the five Ws and one H about the topic — who, what, when, where, why, and how.
Thorough research is vital for a good news post. Whatever you're reporting on, make sure you double-check all the facts and share only accurate information.
Examples:
3 Unexpected A/B Testing Lessons: A Small Business's Story
This One Little Pill Could Make Your Dog Live Longer
6 Hours of Sleep Is as Bad as No Sleep at All, Study Shows
c) Personal Story Posts
In a personal story post, you can share any personal experience from your life that you feel could be helpful to your audience.
You could take on a personal challenge and write about your results. You could describe different projects you've tried and how they went. Or you could share an inspirational story about how you overcame an obstacle that was holding you back.
The key to telling any personal story is to keep it real. Share your emotions and how you felt about the experience. Engage the reader's senses by using lush, descriptive language.
And make sure you don't hide any details you think might make you look bad. If you were angry or you failed in some way, be honest and describe what really happened.
This makes your blog post much more authentic and engaging to your readers.
Examples:
Our Year of No Sugar: One Family's Grand Adventure
I Ran Four Times a Week for Three Months… This Is What Happened
How I Overcame Depression Naturally
d) Review Posts
A review post is when you provide a personal review of a product or service.
Needless to say, you'll actually need to get the product or service and try it out to be able to write a good review.
When you plan on doing a review, start taking notes from as early in the process as possible. Perhaps you can record a video of unboxing your product, or take note of any shipping details.
Then, document your experiences and observations as you use the product or service. Was the product easy to set up and operate? Did a service you received meet your expectations?
Share whatever information you feel would benefit your reader to help decide whether they should try the product.
Review posts can also be part of an affiliate marketing strategy, as we'll discuss in the next chapter on how blogs make money.
Examples:
The Breville Grind Control brewer grinds and brews your coffee, for super-fresh coffee every time
The 15 Best Dog Harnesses [… And We Tested Them All]
Why You Should Definitely Try Goat Yoga
e) Question and Answer Posts
This type of post provides an answer to a question from your audience.
To find out what kinds of questions people are asking, keep a close eye on your social media channels, any emails or comments you've received on your site, or any external sources related to your niche.
Try not to guess what questions people have. It's better to find out what's actually being discussed by your readers, either on your site or somewhere else in the industry.
You can format question-and-answer posts as Frequently Asked Questions (FAQ), where the headline is the question, and the post is a straightforward answer.
Or you can simply address the question as your blog post topic. Either way, this is often a very effective format for a blog post.
Examples:
Drone shopping guide: What kind of drone do you need?
Is 6 Hours of Sleep Enough? 10 Answers Backed by Science
What Is the Best Horse Feed for Performance Horses?
f) Listicle or List Post
List posts tend to be very popular because they naturally include an element of intrigue and curiosity. These can also be called "listicle" posts, which is a combination of the words "list" and "article."
You can write a listicle about nearly any topic, such as a list of…
facts and tips;
resources appropriate to your niche;
"most popular" lists;
checklists;
rank-ordered lists, such as "Top Ten"; or
different options for doing something.
A vital part of crafting a good list post is to keep it on topic and keep it interesting. Make sure all your points are relevant and useful to your audience.
How many items are ideal for a list post? In general, most list posts have three to 10 items on them. And odd numbers tend to perform better, such as three, five, or seven, although bigger lists can also perform well if they're suited to the topic.
Examples:
10 Smart Ways to Use Leftover Sweet Corn
130 Furbulous Cat Names as Unique as Your New Kitty
Top 17 Health Benefits of Reishi Mushroom (Backed by Science)
Discover 347+ Lucrative Blogging Ideas to Start Your Journey as an In-Demand Blog Writer
Sign up to receive 347+ Lucrative Blogging Ideas instantly.
Step 3: Outline Your Blog Post
Once you've decided on the topic of your blog post and what type of post it's going to be, the next step is to create an outline for your post.
At first, it may seem obvious what you're going to write about. So why should you write an outline?
Having a good outline will make the post faster to write because you know exactly where you're going.
An outline also helps you create a clear structure for your post, which will make your final post much easier to read and understand. A clear structure is also beneficial for SEO because search engine algorithms can "read" your post more effectively.
To create your outline, see if your topic or blog post format naturally has a structure to it. For example, if you're writing a how-to post, you can start by determining each step to take for the instructions. Or for a list post, you can choose each of your list items.
Even a personal story or review post would have a natural sequence you can go through. You could describe how the story unfolded, or the steps you took as you tried a product or service. These steps would likely make perfect subheadings for your post.
This is a good example from Scott Jeffrey at CEOsage: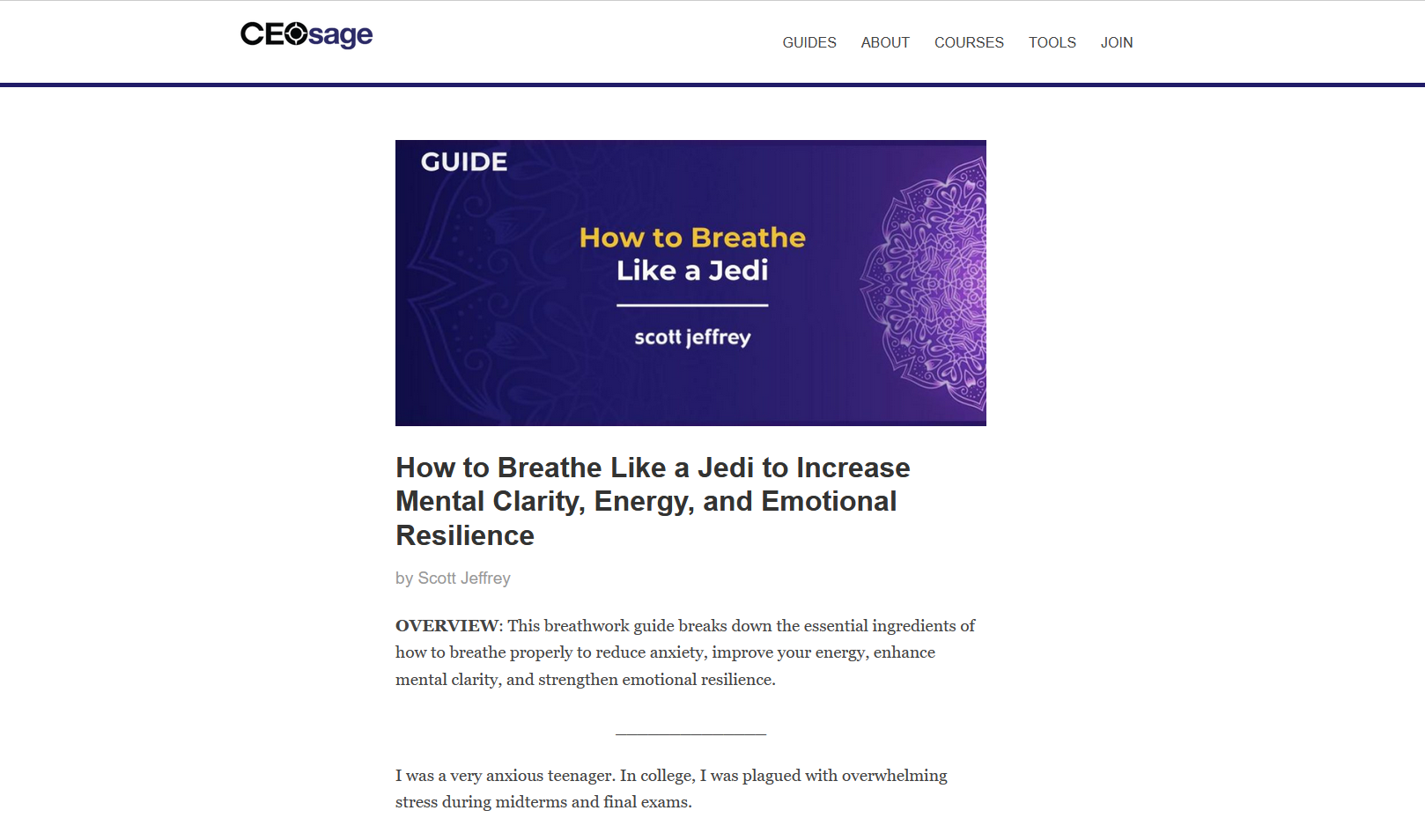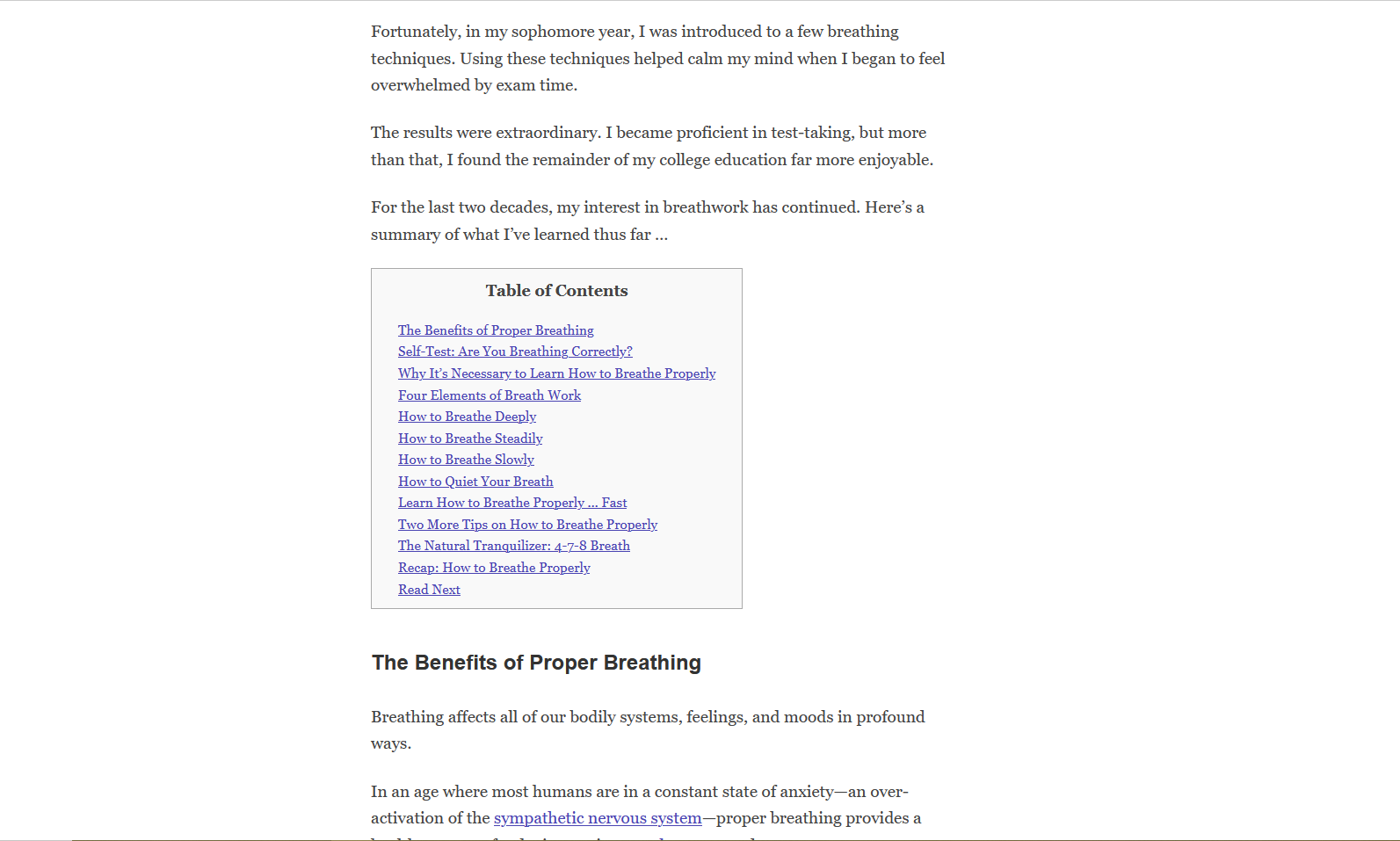 To help make the post easier to read and follow, you can see that Scott included a brief overview at the top of the page.
Then, at the end of the introduction, he included a full table of contents for the entire post.
This makes the outline and structure of the post very clear to his readers, which improves its readability and overall quality.
You don't have to include a full table of contents in your own posts if you don't want to, but starting with a good outline will streamline your writing process and help you create a better blog post.
Step 4: Write a Great Headline
Why are headlines so important?
Research has shown that 80 percent of readers never make it past the headline, or title, of a blog post. And on average, eight out of 10 people will read the headline, but only two out of 10 will read the rest.
Why do so many people stop reading after your headline?
Because it didn't grab their attention for some reason. Maybe they thought that blog post wasn't what they were looking for, or it didn't relate to them.
But they could also have left because they found the headline confusing or unclear. And with so many other distractions constantly vying for our attention, most of us would decide to keep on moving rather than figure out a confusing headline.
The same goes for search engines. Their algorithms are programmed to look at the quality of a headline as they calculate which web pages will rank the highest.
So how do you write an amazing headline that stops readers (and search engines) in their tracks?
Above all, you want your headline to make it clear what your blog post is about. Avoid using any puns or clichés that might confuse your meaning.
You also want to make it compelling in some way.
Take these headlines, for example:
Everything You Wanted to Know About the Keto Diet

Why I Started Giving My Dog CBD Whole Hemp Oil

Find Out Which Type of Coffee Makers the Professionals Use

Living on a Boat — The Good, The Bad, and The Beautiful

Do You Feel Guilty About Divorcing a Nice Guy?

7 Steps to Launch a Home-Based Business Selling Services Online
Each one of them makes the topic of the blog post clear while providing some enticing details or curiosity to make the headline more compelling.
The best way to get good at writing headlines is simply practice. When now seven-figure blogger Jon Morrow first started his blogging career, he set a goal of writing 100 headlines every day for practice.
After one year, he had written 35,000 headlines. He admits that most of those were bad, but he got better and better as he went along. Today, Jon runs Smart Blogger, where he shares his hard-won writing and blogging skills with new bloggers.
For more tips on writing headlines, check out Sandy Franks' article on how to write better headlines here.
Step 5: Make Your Introduction Stand Out
You caught a reader's attention with your headline — yay! — and they're starting to read your blog post.
But how can you keep them reading?
That's the art of writing a good introduction.
The introduction is the first paragraph, or few paragraphs, of your blog post. It needs to quickly draw your reader in and make them want to read on.
One of the best ways of doing this is to use what's known as the P.A.S. formula. P.A.S. stands for…
problem — identify the problem a reader has
agitation — agitate the reader's frustrations about their problem
solution — present the solution to the problem
This is a fictitious example of a blog post introduction that uses the P.A.S. formula:
Problem: Buying a used car can be stressful.

Agitation: It's hard to know the exact history or condition of a car before you buy it. You could be wasting your money — or worse, putting yourself at risk.

Solution: The good news is, there are ways to reduce that risk. In this blog post, we share steps you can take to make sure a used car is in good shape and worth the price.
An introduction using the P.A.S. formula empathizes with the reader, and clearly shows how the blog post can benefit them or help them solve a problem or concern.
This formula also makes the topic of the blog post very clear, so the reader knows right away if it's relevant and useful to them.
The P.A.S. formula is a great starting point for almost any blog post. But you can try other approaches to writing an introduction as well.
Regardless of your individual approach, just make sure your introduction remains relevant to your reader, makes the topic clear, and shows how the blog post is useful in some way.
Step 6: Write the Body of Your Post
A large part of learning the nuts and bolts of writing comes down to practice. The more you write, the more you'll find the most effective ways of expressing yourself and covering your topics.
But these are a few tips to keep in mind as you start writing the main copy for your post:
Always use clear and concise language to express your concepts. Avoid using slang, words that have double meanings, or anything that could confuse your reader.
Overall, keep your sentences and paragraphs short and easy to read. Readers often find large blocks of text intimidating, so include lots of white space to make your blog post more approachable visually.
Include smooth transitions between concepts as you progress through your post, and provide links to supporting information when appropriate.
Use bullets, numbered lists, images, block quotes, subheadings, and other formatting elements to help explain and illustrate concepts. These also help to break up the text and make your blog post easier to consume.
Research your topic thoroughly so you can provide accurate, useful, and up-to-date information. Also remember to provide references for your sources.
Stay focused on your reader as you write your blog post. What kind of language would they use? What details would be most important to them?
In the end, remember that every writer is different and blogging is also about finding your unique voice as a blogger.
So use these guidelines to help develop your own style and figure out what resonates with your individual audience.
If you want more suggestions to power up your writing, check out Jen Stevens' post on ways to improve your writing skills.
Step 7: Edit and Publish Your Post
You've got your blog post written — great!
Now it's time to get it ready to publish.
The first step is to read your blog post carefully to make sure it flows well and expresses your concepts clearly. Then, read it again to check for any obvious grammar or spelling mistakes.
It's also very helpful to read your post out loud. John Wood explains why reading out loud is such a powerful tool in his blog post here.
Whenever possible, we also recommend getting a second opinion about your blog post. If you're part of a writing critique or peer review group, bring your blog post for feedback. You can also get family or friends to read it and share their opinion.
And if you're writing the blog post for a client, submitting it to them for final edits is often part of the process.
Once your blog post is ready to go, the final step is to get it published. This might mean you upload it onto your own site, you send it to a web designer who does this for you, or you simply send it to your client and they handle the rest.
Chapter Summary
Especially if you're a new blogger, writing a full blog post can be a bit daunting.
But you can simplify the process by using some basic steps.
Start by choosing an engaging topic and decide what type of blog post format would best present that topic. Then, craft your blog post outline in a logical way based on your format.
The next step is to write the first draft of the blog post itself, including the headline, introduction, and body. From there, edit and polish your post and it's time to publish!
And that's when your blog starts to get serious. As you continue adding more content and building your site, or helping your client build theirs as a freelancer, you're ready to start monetizing and generating income from your blog.
In the next chapter of this guide, we explain exactly how blogs make money and why this is so vital for all professional bloggers to understand.
YOUR NEXT STEP
>
AWAI's Bestselling
"Make Money Blogging" Program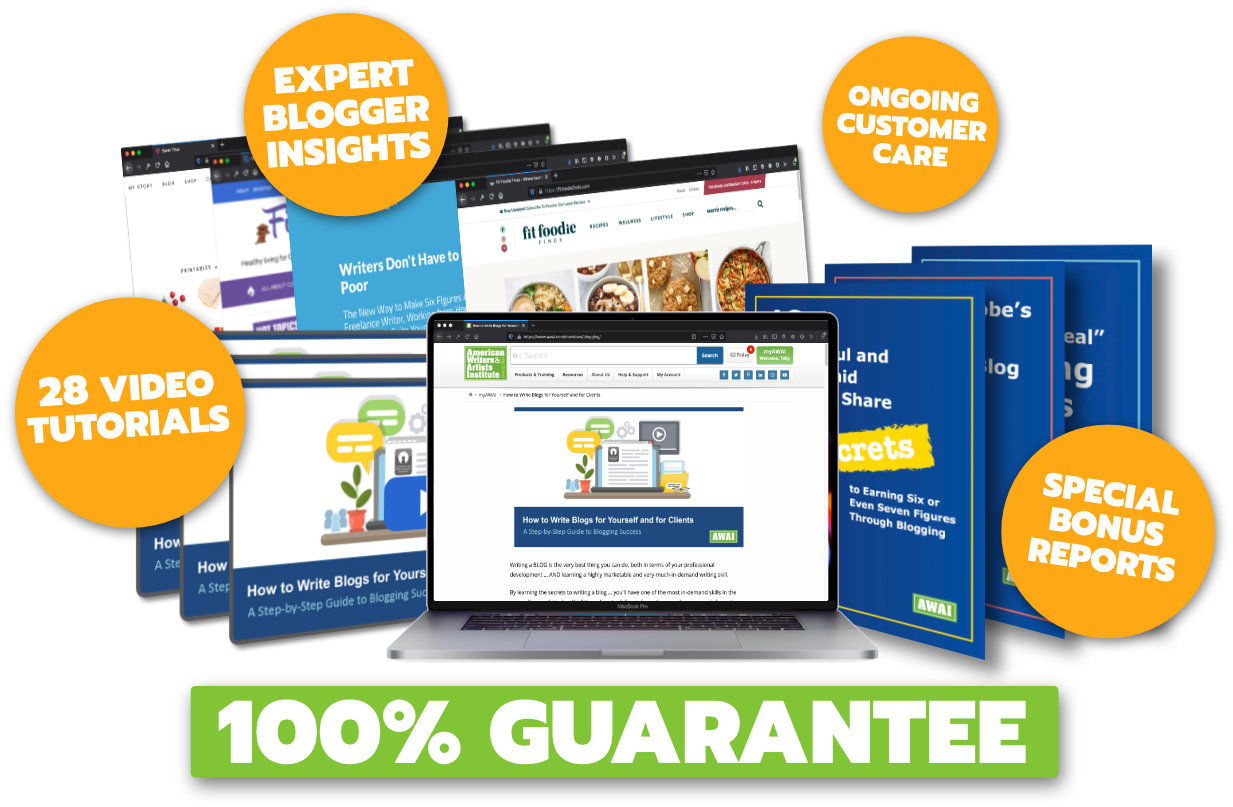 EVERYTHING you need to make great money writing blogs is included…
How to write blogs people actually want to read…
What to write about…
How to connect with the countless businesses that desperately need writers like you to keep their blogs relevant and current…
How to make money writing your own blog…
It's… all… in… the… program!