This Week from AWAI …
TODAY:


Make Great Money Writing Content for Blogs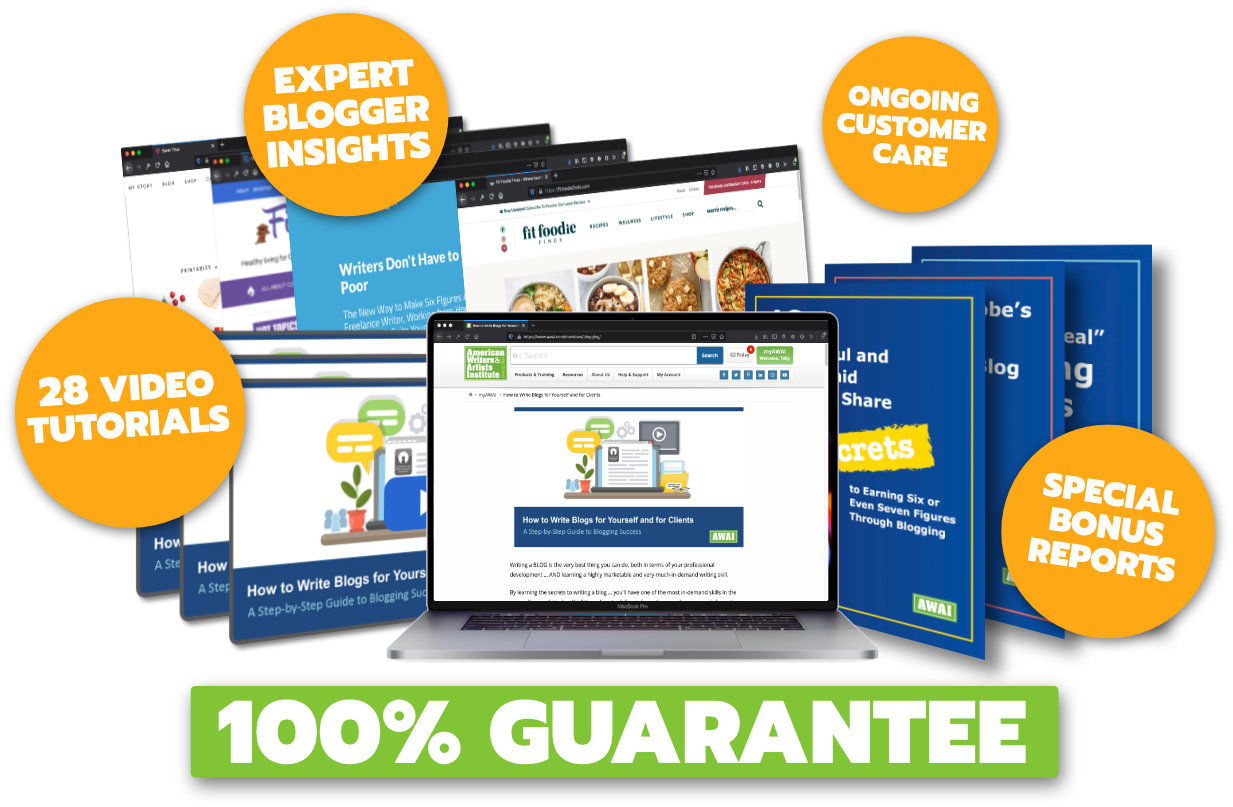 Studies show that 84% — more than 1.7 billion people — make buying decisions based on information they read in blogs.
That means that as a writer, YOU have real power… and serious earning potential.
Which is why writing content for blogs is one of the surest and fastest paths to making money as a freelance writer.
Grab our best-selling training program that teaches you EVERYTHING you need…
Including how to land the best-paying blogging assignments…
And save $200!!
Get the details here!
YOU a Professional Writer in
Just 5 Days!

Our proven system speeds you past any roadblocks and get you up and running as a writer...
With the confidence, skills, and polish to take on your first clients and get paid...
In just five days …
GUARANTEED!
See How We'll Do It
Browse Recent News
Find out writers get paid more to write a couple of these 7-page documents than most authors earn from a 300-page book!
What an Amazing Event! A Virtual "Masterclass" for Building Your Own Million-Dollar Client-less Copywriting Business … From Someone Who's Doing It Now — and Has Helped Countless Others Do It Too!
Join today's live "client-less" copywriting event with Ben Settle and Rebecca Matter! You'll hear all kinds of amazing tips for setting up your client-less writing business that you won't want to miss…
Jason Gaspero loves the beaches, community, and food on his adopted island home of Koh Phangan in Thailand. Working as a copywriter, he gets his ideas for promotions while enjoying the beach and laughs about how the monkeys are taking over the island. If you've ever thought of living your writer's life overseas, you'll love this interview where we catch up with Jason — nine years after we first featured him on our pages!
When Peggy Stankiewicz added copywriting as a side gig, she was hoping to complete 100 projects that first year. Combine her ambitious goal with her steady determination to learn all she could, and it's no surprise she reached her goal early… three months early! In this interview, you'll learn how Peggy combines copywriting with her love of fiction writing. She also shares her tips for how to get started with Fiverr when first connecting with clients.
UX Copywriting is fast becoming a skill every copywriter needs to stay ahead of the competition. But what is it, exactly? And how can you use it in your own writing?
Pam Foster announces the winner of AWAI's latest $2,000 Site Content Audit Report Challenge. The winner shared strategies for how she netted a 99.4 score out of 100 on the report, along with feedback after her Certification experience.
Check out this lively session where Carline Anglade-Cole, million-dollar health copywriter turned game show host 😉, shares the results of several copywriting tests, from conservative approaches to "crazy covers."
With marketing spend soaring, and the demand for writers at an all-time high, 2022 is going to be a HUGE year for writers. Let us know how we can help you achieve your goals.
If you'd love to build a freelance writing career as a professional resource for nonprofits and causes… join us to discover your many opportunities with charitable organizations, local service organizations, trade associations, marketing agencies that serve nonprofits, and businesses that promote causes they support.
Thomas Blake followed a twisty path in life before he landed on B2B copywriting. But today, he's living his writer's life while enjoying a newfound hobby of drawing pencil sketches. He even managed to score a free art course in exchange for his blog-writing services. Read below to learn Thomas' advice for how to avoid burnout and one sneaky trick to make sure you're always writing in a conversational tone.
When the pandemic hit in 2020, Jessica McKay realized it was time to make a change. So, she pulled out her copy of AWAI's Accelerated Program for Six-Figure Copywriting. It had been gathering dust on her shelf for the past several years. Within days, Jessica had her first client — a $1,700/month retainer. It was a strong start to an even stronger year, with her top-grossing month coming in at $18,000. Check out the interview below to learn how this former life coach found a way to transform her life through well-paid writing.
AWAI's executive director, Katie Yeakle, spoke to David Cross, CopyPress's director of marketing, about an exciting opportunity for content writers.
Watch as AWAI's Rebecca Matter explains the biggest trend – and opportunity – for copywriters heading into 2022
Learn basic marketing and you'll become a more valuable writer.
Every morning, you'll find Ashly Kimball and her cat strolling down the driveway to get her mail. At the same time, she's holding a phone to record a quick business tip to post on her Instagram account. According to Ashly, this has revolutionized her business. Read on to learn more about how she uses social media to connect with her clients.
It's been a long time since we showed his face, but it's time to share the story of our very own Barefoot Writer designer, Mike Klassen! Mike actually got his start working at Microsoft, but it wasn't long before he turned to AWAI to learn copywriting and then graphic design. Over the last 10 years, his career has continued to evolve, including a trip to Australia for a speaking engagement, time spent homeschooling his kids, and — of course — the freedom to work with nice people on his own terms. We hope you enjoy this peek into the design side of our magazine family.
Join us for this FREE session to learn how to get paid to write video scripts.
There's a simple way to start getting paid as a writer FAST. Learn these five writing projects businesses and organizations everywhere need most, and you could become a skilled, in-demand copywriter in four weeks or less.
From over 300 submissions, Nick Usborne announces the 3 winners of the $200 prize from our writing contest about the Sleep Buds in The Writer's Life.