This Week from AWAI …
LAST CHANCE:


Get Paid to Be a Copyeditor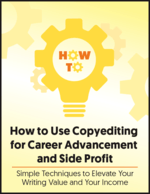 With demand for copy soaring, skilled copyeditors are needed more than ever.
That makes NOW the perfect time to dive into our brand-new program, How to Use Copyediting for Career Advancement and Side Profit.
You'll learn copyediting principles, skills, and strategies that will help you turn good copy into GREAT copy… submit a copyediting assignment and get professional feedback… find out how to land clients… and much more.
But today is your last chance to get access for just $497 $297.
Hurry — this ends today!
CLOSING:


Now Accepting New Members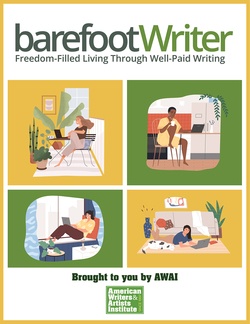 Your new life as a well-paid and in-demand writer is just one click away…
A life that offers freedom, lots of fun, no more money worries, and so many unique, high-paying writing opportunities.
But the clock is ticking…
The discounted new-member pricing disappears in a matter of hours!
Get it before midnight tonight!
TODAY!


Get all this for $1…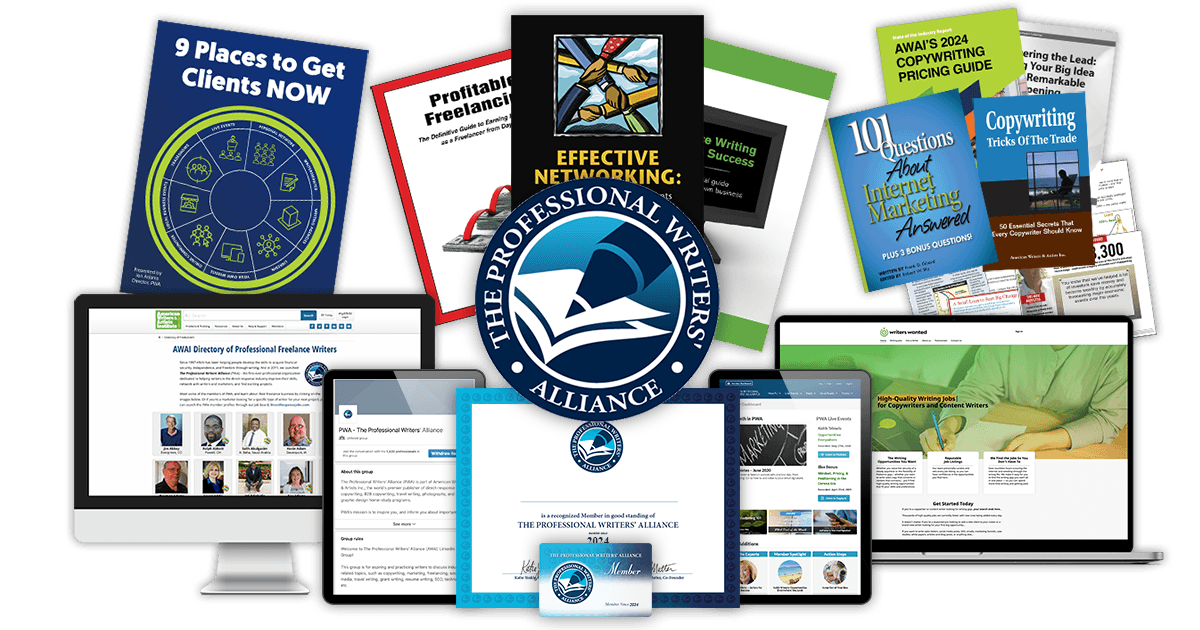 The Professional Writers' Alliance (PWA) takes the stress out of running your writing business.
With ready-to-use business forms, templates, and checklists… VIP job board access… networking opportunities… and a mountain of tips, tactics, and "been there, done that" advice from working freelance writers…
You'll minimize the "unbillable" hours you spend working on your business and maximize your time writing — and getting paid.
Claim Your $1 Access Here
Browse Recent News
Learn the art of negotiation from Ilise Benun! Discover how to tackle the "money conversation," boost your confidence, and network like a pro. And don't miss her at the AWAI Copywriting Bootcamp!
Join Terri Trespicio, a self-described "people expert," as she explores AI in writing. Discover AI's surprising limitations and gain practical advice in just 10 minutes! If you are an aspiring writer, you don't want to miss it!
From content writing struggles to copywriting triumphs, witness Steve's three-step journey to landing a game-changing writing project!
In today's Monday Morning Jumpstart, Director of Training, Jade Trueblood, and special guest, Terri Trespicio, talk about overcoming writing blocks and how to find your flow.
Build a successful freelance career writing e-newsletters… in just a matter of weeks. (Even if you're a complete beginner who's never been paid to write before!)
Uncover B2B's biggest secret with Steve Slaunwhite! Discover the ONE thing that sets successful writers apart, and conquer self-doubt. Join Steve at Bootcamp for an opportunity to skyrocket your B2B business!
Discover the keys to a fulfilling life with Jen Adams, a former corporate pro turned copywriter. Learn her three powerful tips for crafting a life you love while balancing career, family, and happiness. Get inspired today!
In today's Monday Morning Jumpstart, Director of Training, Jade Trueblood, and special guest, Terri Trespicio, talk about the comfort zone myth.
Jonas Munnich began his career in sales because he'd heard it would be a good option for anyone hoping to be successful in business and entrepreneurship. Selling over the phone was not a great fit, but the concept of crafting words to persuade and improve sales fascinated him. Then a life-changing quiz set him on a direct path to copywriting and the promise of a terrific career. Read on to discover how...
Don't miss Brian Clark's session where misconceptions will be shattered, and revealing an exciting opportunity. The revolution starts now. Join us at Bootcamp.
Nick Usborne is a trailblazer in digital marketing, always eager to explore new technologies and stay ahead of the curve. In this pre-Bootcamp conversation with AWAI's Jade Trueblood, Nick delves into the topic of AI and ChatGPT, addressing their potential benefits and drawbacks.
Discover the power of fear in copywriting success. Follow Guillermo Rubio's journey from side gigs to AWAI, where he conquered fear and ascended to new levels. Learn his three-step process and five-step action plan for unlocking your potential.
In today's Monday Morning Jumpstart, Director of Training, Jade Trueblood, and special guest, Terri Trespicio, talk about rules and baggage.
Alice Watts didn't want to sit around bored in retirement, and writing sounded like something that would fill the void and bring in money. After a few false starts, she found her footing, and now she fills a need in the writing world that she never saw coming. Discover what it is below…
Mari Smith, the Queen of Facebook, will be speaking at her first Bootcamp! In this video she touches on what she will address during her inaugural Bootcamp session and what she thinks is the most exciting thing happening in the industry today, and shares a profound question that transformed her.
Michele Peterson was NOT an overnight success. In fact, she didn't even complete the Accelerated Copywriting program… While she loved the idea of writing persuasively, she didn't have that same passion for writing sales letters. Choosing instead to dive headfirst into learning web copywriting and emails while also armed with an unshakable "why," she left her "security blanket" job and leapt into her writer's life.
Ted Capshaw digs into finding out what you want to get out of Bootcamp. You'll be encouraged to create a vision of where you want to take your writing and how it's going to serve your life regarding your time, finances, personal fulfillment, and more.
AI is a hot topic when it comes to writers. Watch the short four-minute video as AWAI Director of Training, Jade Trueblood, chats with some of our experts about their thoughts on AI and the opportunities it presents for writers.
Not only is digital marketing and SEO expert Russ Henneberry returning to the Bootcamp stage in October — the day before Bootcamp begins, he's also presenting a one-day workshop exclusively for people ready to take their writing business to the next level.
AWAI's President, Rebecca Matter, shares a special message about the 2023 Copywriting Success and Getting Clients Bootcamp!