Become a Resume Writer
and Work At Home
Imagine … Making $30,000 … $50,000 … $70,000 … Even $150,000
Per Year Or More – in Just a Few Hours Per Week – With a System
That's As Simple As Turning on Your Computer …
The Pro Resume Writer Program gives you everything you need to start and run a successful spare-time resume preparation service. The program quickly takes you from dreaming about starting your own business to doing it, with four easily downloadable PDF files including: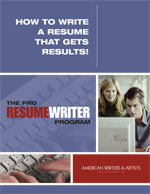 How to Write a Resume That Gets Results
(including your exclusive client questionnaire)
Complete Guide to Marketing Your New Business
(including sample ads you can use to get clients immediately)
Step-by-Step: Starting and Running Your Own Business
BONUS section: Successful Techniques to Expand Your Business
With our detailed guidelines, writing resumes is fun, quick, and easy. You can complete most assignments in 45 minutes to an hour. If you charge a client just $100 to prepare his resume, and it takes you an hour, you're earning $100 an hour.
There will never be a better opportunity to have the kind of part-time income you've always dreamed about. There are thousands of people in your area who need a resume – to get their first job … to get a better job … to make more money … or to get that dream job.
Learn More About Becoming a Freelance Resume Writer
Free Articles on How to
Become a Successful Resume Writer
AWAI's resume writing pros have put together an archive of articles that includes industry tips and insights to help you improve your skills and reach your goal of becoming a professional resume writer in the fastest time possible. You'll find answers to questions like "How to target the hottest growth markets" and "How to land those hard-to-reach clients."
Access the Archive of Resume Writing Articles
Get Ahead Faster
With These Recommended Resources
AWAI's team of resume writing experts has put together a comprehensive list of resources for professional resume writers.
You will find detailed information on certification for resume writers, and a comprehensive list of books and websites.
Access AWAI's Library of Resources for Resume Writers