Work At Home and Take Control of Your Life
Interested in working at home? You're certainly not alone!
Many working professionals, new moms, empty-nesters, folks who are recently retired or have been down-sized, and people who are just plain tired of the 9-to-5 feel exactly the same way. Just like you, they want to experience the benefits of owning their own home-based business. Benefits such as …
Releasing the daily stress that comes with commuting …
Saying goodbye to your boss's breathing down your neck …
Spending more time with your family and friends …
Enjoying flexibility in your daily schedule …
Working where you want – the mountains, the beach, even your kitchen table – not to mention, working WHEN you want …
Heck, you don't even have to get dressed!
We know what you want, we know how to get you there, and most importantly, after being in this industry for over 10 years, we know what makes a good home-based business.
AWAI's Work-At-Home division publishes home-study programs to quickly teach you a financially valuable skill, and then get you up and running in the shortest time possible.
Current Work-At-Home Programs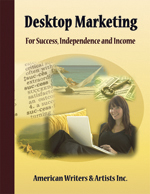 Desktop Marketing
Small business owners may be experts at delivering their particular product or service. But 90% of them lack the ONE skill that will put them over the top: HOW TO MARKET.
With AWAI's Desktop Marketing program, you'll have everything you need to start and build your successful freelance career as a desktop marketer.
Learn More About Becoming a Desktop Marketer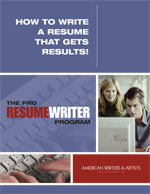 Resume Writing
There are thousands of people in your area who need a resume – to get their first job … to get a better job … to make more money … or to get that dream job.
The Pro Resume Writer Program gives you everything you need to start and run a successful spare-time resume preparation service.
Working at home doesn't have to be a dream anymore. Get started living the life you want … today!
Other Home-Based Business Opportunities
Interested in a work-at-home opportunity that has the potential to make you a six-figure income, and generate real long-term wealth? Then check out our Wealth Careers section of the website.
Useful Work-At-Home Articles
"How to Avoid "Business Opportunity Scams," by Katie Yeakle
"How to Become What You Want to Be," by Michael Masterson
"I Used to Think Working from Home Could Get Lonely … Not Any More," by David Chapman, Copywriter
Interview with AWAI Success Susan Clark on Going Pro
"5 Things to Consider Before Quitting Your Day Job," by Krista Jones
"How to Overcome 3 Common Work-From-Home Distractions," The Golden Thread Editorial Team
"How I Became a Six-Figure Copywriter in Only 27 Months – While Working a Full-Time Job …" by Ed Gandia
Have an article or resource to suggest? Send us a note!