Over the next year, 29 million workers plan to change jobs.
As a writer, you can help them.
And how many you'd like to help is up to you …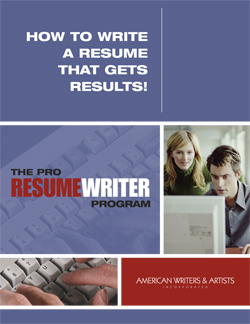 The Pro Resume Writer Program gives you everything you need to start and run a successful spare-time or full-time business helping job seekers with resumes, cover letters, and social media profiles.
Inside you'll discover:
How to write a resume that gets results for your clients, whether they're just getting started with their careers, changing fields, coming back to work after a break, or moving up to the executive level.
Your exclusive client questionnaire—this can save you hours of work every week – plus dozens of templates and examples to study so your work is fast, fun, and profitable.
A complete guide to marketing your new business.
Sample ads you can use to get clients immediately.
Step-by-step information on starting and running your own business.
Successful techniques to expand your business
With all the detailed guidelines you'll find inside The Pro Resume Writer program, writing resumes, cover letters, and social media profiles will be fun, quick, and easy for you. In fact, you'll find you can complete most assignments in 45 minutes to an hour. If you charge a client just $100 to prepare his resume and it takes you an hour, you'll be earning $100 an hour … and many top resume writers make much, much more.
There's no better time than now to add resume writing to your skill set and build the kind of part-time (or full-time) income you've always dreamed about as a writer. After all, there are thousands of people in your area that need professional resume help … why not become their go-to writer today?
The Pro Resume Writer Program: $197.00
For More Information, click here …