— Chapter 4 —

How to Make Good Money as an SEO Copywriter
We've already discussed how many companies are turning away from paid online advertising to focus on getting more traffic through SEO.
This has created a huge opportunity for SEO copywriters who can fill this need.
However, the money you make as an SEO copywriter can vary tremendously depending on what work you find.
Whether you're interested in a staff or contract position, or working as a freelancer, this chapter will tell you how you can earn top dollar for your SEO copywriting services.
How Much Money Can Be Made as an SEO Copywriter?
This is often the first question someone has when considering SEO copywriting as a career.
And rightly so.
As a web writer, you may have seen online ads for SEO copywriters that paid pennies per webpage.
These represent only a fraction of the SEO copywriting work available today.
Many businesses across a range of industries recognize the value you offer as an SEO copywriter and are willing to pay a premium for your services.
It's not unusual for a professional SEO copywriter to charge $350, $500, and even $1000 for a single webpage that may take less than a day to write.
Depending on how many pages you want to write, making $2000 to $5000 per week wouldn't be unreasonable.
And if you make that consistently every week, you could easily earn a six-figure annual income.
Should You Specialize in a Niche?
Absolutely.
This is one of the best ways to raise your value as an SEO copywriter.
As a niche SEO copywriter, you focus on helping clients in a particular industry, such as the health, financial, or sustainable-building industries.
Companies are willing to pay more for a copywriter who is already familiar with what they do, rather than working with a generalist who they will have to train from the ground up.
It's also great for you because you don't have to start from scratch every time you take on a new client. You can keep building on your knowledge of the industry with every new project.
This is also one reason why you should choose a niche you're naturally interested in. You'll be getting to know it very well, so it helps if you already love learning about that specific market.
For more details on choosing a niche, check out our article on how to pick the right niche to land well-paid writing jobs.
Also, keep in mind that another way to approach having a niche is to specialize in one type of project. For an SEO copywriter, that would mean specializing in one type of core page or certain core pages.
Should You Charge Hourly or Per Project?
How an SEO copywriter gets paid depends on what you've agreed with your employer or client.
Staff writers are typically paid hourly or on salary. You may be able to negotiate the amount, but not the payment type.
On the other hand, contractors may have the option of setting their own terms of payment.
When possible, it's best to ask for a fee per project rather than an hourly rate. As you get more experience writing SEO projects, your speed will increase. And if you're earning the same fee for those projects, you'll be making the same money for less work.
But, if you work for an hourly rate or on salary, you gain no benefit as you become a faster and more effective SEO copywriter.
Rebecca Matter shares some excellent advice on this topic in her article, "How to Set and Negotiate Writing Fees."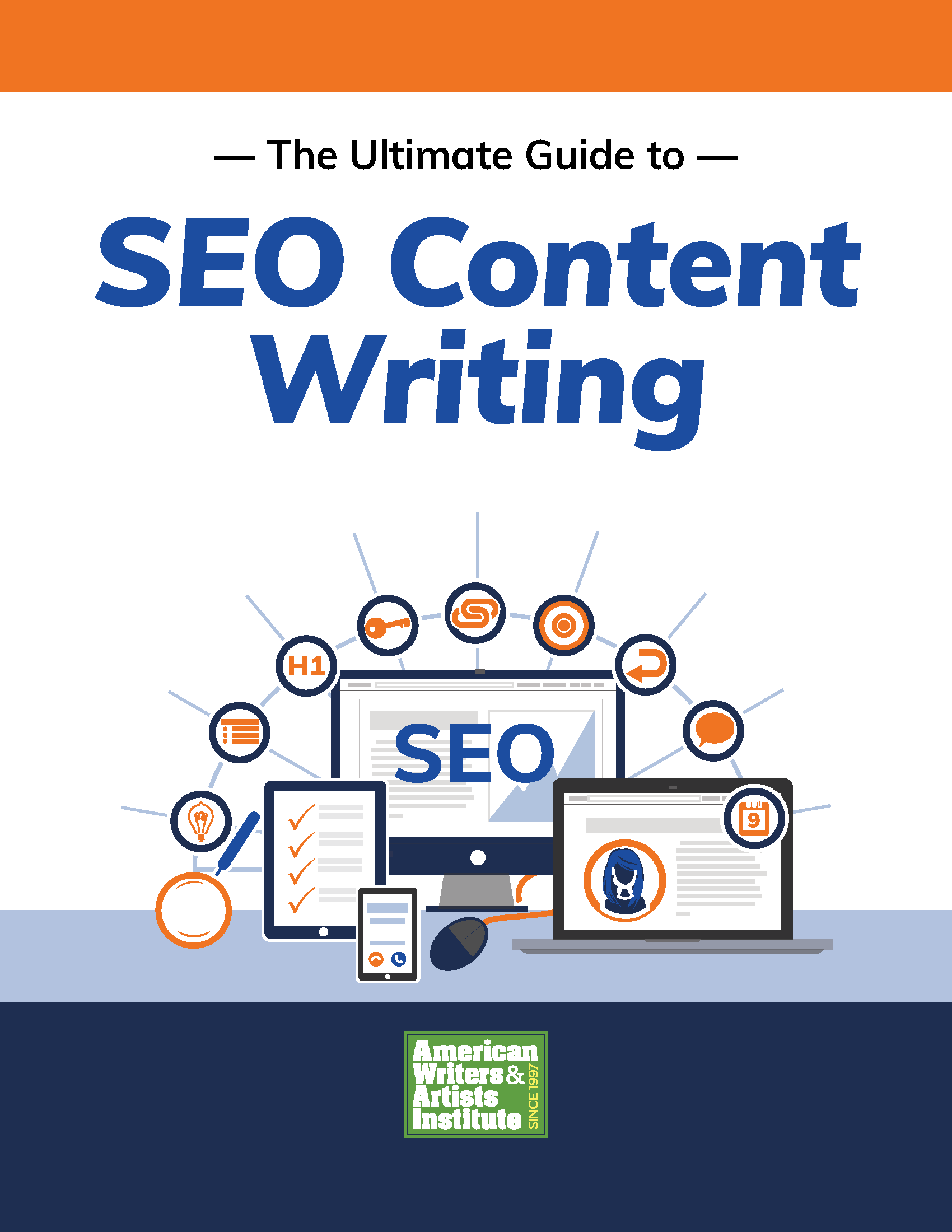 Want to download a free copy of this guide?
Simply click here to enter your email address, and we'll send you a free PDF!
The Value of "Productizing" your Services
What do we mean by "productizing"?
This is simply the process of bundling your services into packages, or "products," rather than offering general services.
As an SEO copywriter, the most common package you would create would be a group of webpages offered as one product.
This would mainly apply to freelance work where you're selling your writing services directly to potential clients.
Instead of vaguely asking a potential client, "Do you need any SEO writing done?", you can confidently tell them that you offer A, B, and C packages, and would they be interested in hearing more about them?
Productizing your services makes what you offer very clear, and it gives your services more credibility and perceived value.
You can also charge more for a product package rather than only charging per page.
The following are some suggested products you can create. We've recommended a price range for each product, which will depend on your experience level and the complexity of an individual project.
1. The Core Webpages Project
This would include writing a group of new core webpages for a client. Any of the core webpages we discussed in Chapter 3 could be part of the package.
A core webpage package could include writing the home, about, product, pricing, and FAQ pages for a new website.
Another type of package could include writing a group of blog post, article, or product pages.
Project Price: Five pages for $1000 to $5000, or a monthly retainer to continue writing pages on an ongoing basis.
2. The "Now with More" Project
This would include updating existing pages on a site to enhance their quality and freshness.
You could offer a bundle of blog post, article, or product pages, or offer to update other core pages as needed.
Project Price: Five pages for $1000 to $2500, or a monthly retainer for ongoing updates.
3. Serial Article Project
This would be a series of at least three articles that are all related to the same topic.
Serial articles are typically published two to four weeks apart. Each article stands alone, but you should include internal links to the previous articles as you publish them to enhance their SEO.
Project Price: $500 to $1500 for all three articles.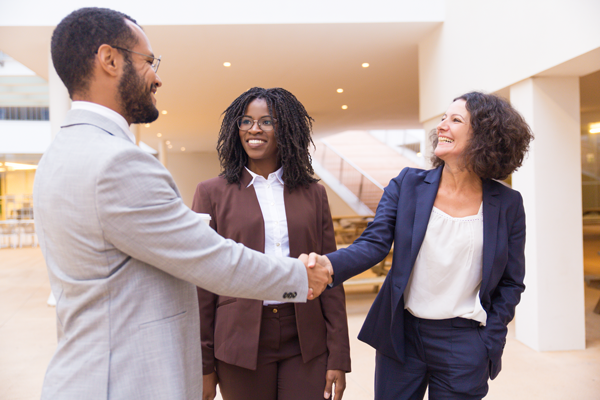 Tips on How to Market Yourself as an SEO Copywriter
If you want to find high-paying SEO copywriting opportunities, you'll need to get comfortable with marketing yourself.
This is often the hardest part for most copywriters, no matter what their specialty is.
But if you've followed the guide up to this point, you have everything you need to start marketing your services to potential clients or employers.
We've gone through the core skills necessary to become an SEO copywriter and what the job entails.
We also discussed choosing a niche and how to create products you can offer.
The next step is to get out there and find work.
What follows are some of the best steps you can take to get started on your search, whether you're looking for a staff position, a contract position, or freelance work.
1. Build a Network
This is our first recommendation for good reason.
We know that networking can be a bit scary for some of us because it involves getting outside of your comfort zone and meeting new people.
But most copywriters will tell you they have found some of their most valuable and rewarding work through the network of people they know.
So, where to start?
Try checking out some of these opportunities for networking:
Groups related to SEO or your chosen niche on Meetup.com
Meetings at your local Chamber of Commerce
Events and conferences on SEO, copywriting, or your niche
Local groups you're already part of, like a sports team or volunteer group
Classes on SEO or topics related to your niche
Professional associations
Online forums and social media
When you go to any of these in-person or online events, go with the intention to contribute to the group and have fun.
The idea is to build sincere, lasting relationships with other people in the group, not just hand out your card and never come back.
2. Get Referrals
As you meet and connect with other SEO professionals and people in your chosen niche, you'll need to get comfortable talking about what you do.
In this guide, you've learned the overall job description of an SEO copywriter. Put that into your own words and prepare what's known as an "elevator speech." This is a brief description of what you do that's about 30 seconds long.
Memorize your elevator speech so you're always ready when someone asks. And if you have time, you can get into a bit more detail about the product packages you offer and how you work.
This is useful for networking in general, but it will also help you get referrals. If people in your network clearly know what you do and what you offer, they'll know if you could be a good fit for an opportunity they might want to share.
Another great way to get referrals is to give referrals yourself. If you find an opportunity that's not right for you, but would be a good fit for someone you know in your network, make sure to pass it on.
3. SEO Your Own Website
Take all the tools you learned in this guide and apply them to your own website.
This will help you get found by potential clients or employers, but it will also provide a living example of your SEO skills.
These are a few key points to focus on when you optimize your site:
Use keywords that reflect where you live and what your niche is.
Create a separate SEO-optimized page for each service you offer.
Write an optimized article or blog post on your site at least once per month.
If you're interested in further tips on marketing yourself, check out our program called Your No-Stress Method for Getting Clients: 26 Field-Tested Strategies for Introverts, Extroverts, and Everyone In-Between.
How to Handle Your First Meeting with a Potential Client
If you're speaking to a potential employer for a staff position, it will typically look like a regular job interview where an interviewer from the company will ask you certain questions that you need to answer.
An initial meeting with a potential contract client is often much different, whether it's over the phone or in person.
You'll need to take a lead role in the meeting and essentially sell yourself to the potential client, rather than waiting for them to ask you questions.
Of course, the conversation will naturally flow back and forth, but you should take a few specific steps to make sure all the information you need to discuss with your potential client is covered.
Step 1: The Upfront Contract
Fairly soon in the conversation, you should let the person know what you like to cover in an initial discussion. The key things to mention are:
You'll ask them some questions about their company to determine whether or not you can add value to their business.
If, at the end of the discussion, you think you can add value, you'll send them a proposal outlining an initial project.
You charge 50% of the project fee up front, and 50% on completion.
If you don't think you're a good fit for their company, you'll do your best to find someone who is.
This will show them that you're a professional, and you have a specific process in place for working with a client. It also lays down your terms of payment.
If they have any questions about how you work or how you'll get paid, you've provided an easy opening for them to ask those questions upfront.
Step 2: Asking the Five Questions
This is when you ask the questions about their company that you introduced in Step 1.
Those questions are:
Tell me about your business and the products you sell.
Tell me about your ideal customer.
Who are your major competitors?
What goals are you hoping to achieve with this SEO project?
What assets do you have in place right now? Such as, do you have good site content already? Do you have a great team? What other assets can we draw on for this project?
These questions will give you a good idea of whether or not the project they are interested in fits your skills and interests.
Step 3: Agreeing on Next Steps
The last thing you want to do is end an initial discussion without determining the next steps involved.
If you think you can help the company with the main business goals they just discussed, let them know.
Also tell them exactly when you'll be sending them a proposal, and ask when a good time would be to schedule your next meeting together to discuss your proposal.
If you think the project is not a good fit for your skills, let them know you'll send them an email connecting them with someone else who could better fit their needs.
Or if you don't know anyone appropriate, simply apologize and promise to follow up in 30 days to see how they're getting on. You can also ask if you can offer any further assistance at that time.
Chapter Summary
Even if you're new to SEO copywriting, by following the steps in this chapter, you can position yourself to start earning good money from day one.
This, combined with the skills you've learned throughout this guide, will give you the tools you need to build the SEO copywriter's life you've always dreamed of.
But, keep in mind that no one else is responsible for your success as an SEO copywriter.
It's up to you to take the steps and start building your career today.
Remember, all of us at AWAI are waiting to hear your success story!
And if you're interested in taking your SEO copywriting skills to the next level, check out our SEO Copywriting Success and SEO Copywriting Mastery & Certification programs.