How to Price and Land
the Top 7 Web Copy Projects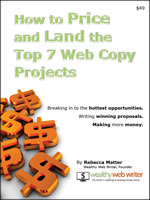 Whether you're just starting out as a freelance web writer or breaking into a new niche, knowing how to price your online writing services is the key to a successful career in web writing.
But, for many web writers, few things are harder than figuring out what to charge.
Here's the good news: AWAI's new report, How to Price and Land the Top 7 Web Copy Projects, takes the fear and anxiety out of pricing your online writing jobs.
In this report, Wealthy Web Writer founder, Rebecca Matter carefully breaks down the most common types of web writing projects into their individual components and then gives you a crystal-clear look at the standard fee ranges associated for each component and for projects as a whole.
Rebecca gives you targeted insights and tips you can use immediately to increase your income no matter what kind of web writing you do.
Tips like:
· How to break into the hottest web writing opportunities (including specific techniques you can use to get your foot in the door with prospects).
· Key questions to ask potential clients (including strategic wording you can use to pitch your prospect and get the ball rolling).
The 6 variables you MUST consider before determining your web copy rates (pricing is about more than just setting your rates).
Why you should never, EVER charge by the hour (and why you'll be shooting yourself in the foot if you do).
What you should write for maximum income.
The easiest ways to break into each specialty (even if you've never done work in that area before).
The 5 KEY questions to ask your prospect before you begin writing your proposal.
And, much more.
When it comes to running your freelance web writing business, some of your hardest questions just got answered. With this report, you can quote with confidence and focus your energy on what's really important — writing great copy.
How to Price and Land the Top 7 Web Copy Projects $49.00
For More Information, click here …