Showcase Your Writing Skills with a Portfolio One Sheet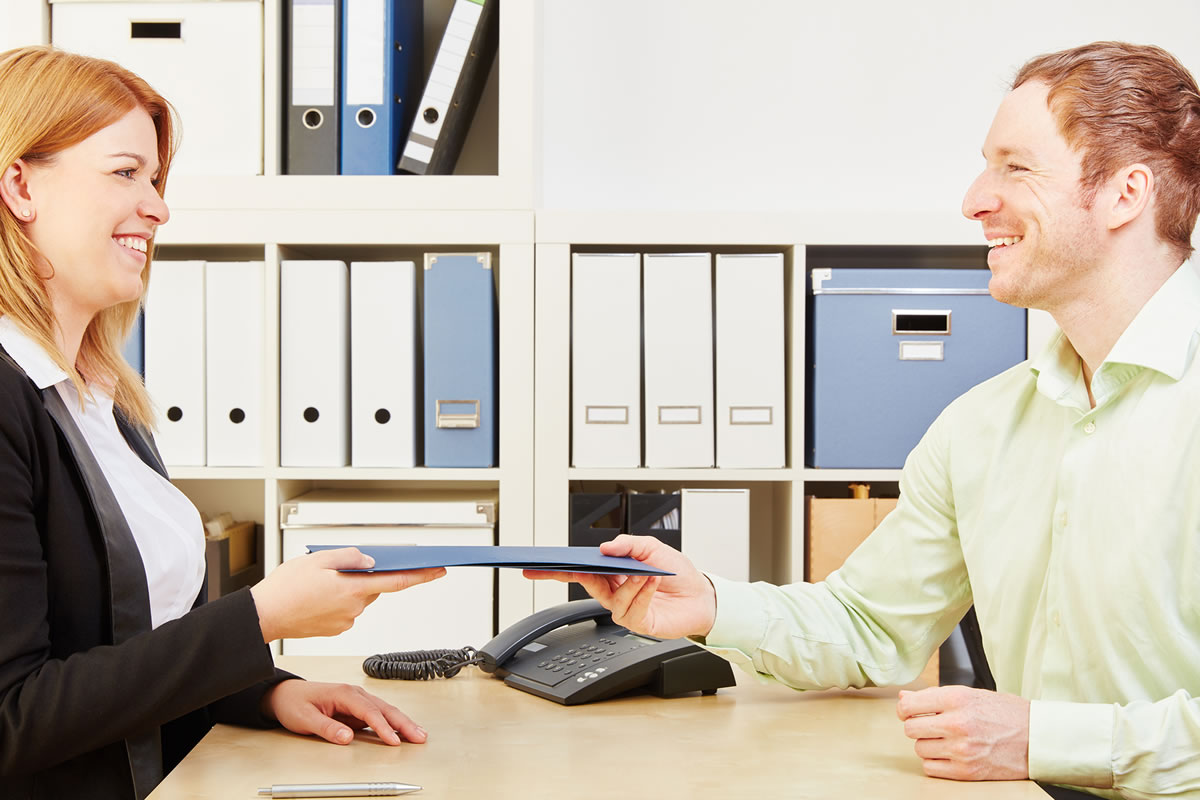 Many years ago, when I was just starting out as a copywriter, it was very common to present your portfolio to a client in person. When you visited a prospect, you would bring your writing samples with you, sit across the boardroom table, and show him or her your portfolio of samples.
At one meeting, a prospect asked to see my brochure writing samples. So, I showed him a four-page brochure I had written. Then he did something I'd watched other prospects do.
Instead of reading the whole brochure, he picked out one paragraph at random, and read that one paragraph.
And then he asked me very predictable questions: "How did this sales brochure come to be? What involvement did you have in it? Were you involved in strategizing how the key messages were to be presented? And did you write these headlines?"
This happened every single time I presented my portfolio.
I realized presenting an entire portfolio sample is not the best way to present my writing expertise and my credentials to a potential client. They may read a paragraph the client had changed, or that wasn't my best writing.
I struggled with this for a long time, trying to figure out a better way to present my writing samples.
Then I found the solution.
I happened to know a lot of professional speakers and I noticed they marketed themselves with something called a "one sheet."
The one sheet would describe their presentation and sell that presentation to potential clients. It included testimonials and other key information for the event planner.
I realized professional speakers have the same problem as copywriters. They're trying to sell themselves as a great speaker. But unless they have some video clips, it's very difficult to know if someone is going to be a great speaker unless you actually hear them speak.
We copywriters have the same problem. We're trying to convince a client that we can write well and with a high level of expertise. And yet, the only way we can prove our skill is to show some excerpts from our writing.
I decided to create a Portfolio One Sheet to see if it would work for my copywriting services.
I went to a designer and I got him to design a nice template for me to use. Then, I put a thumbnail of a direct-mail piece I had written. I had a section where I gave some background information about the project, my involvement in the project, the goals of this direct-mail piece, the ideas I came up with, and the results this direct-mail piece got for the client — basically all the questions a prospect would ask me when they're perusing my portfolio samples.
And then, instead of showing the entire piece, I picked the best excerpt of my copy from that direct-mail piece and put it on my Portfolio One Sheet.
So, when the prospect reads my Portfolio One Sheet, they are seeing my best work, the writing I want them to read, the writing that showcases my expertise in copywriting.
The results I got from clients were amazing. Absolutely amazing.
In fact, the first time I showed a Portfolio One Sheet to a potential new client, he read it from top to bottom and said, "Wow. You obviously know what you're doing."
He hired me on the spot!
(If you want to see an example of that first Portfolio One Sheet, you can find it here.)
Advantages of the Portfolio One Sheet
What are the advantages of creating Portfolio One Sheets out of your writing samples?
Well, over the last 15 years, this is what I've discovered:
It showcases your best work and your credentials to clients.
Instead of passing them the entire text of a website you wrote and risking the client reading an excerpt that may not represent your best work, you get to choose what the client reads. That puts you in a very powerful position. You're presenting your best self to every prospect.
It's a quick way for the client to see your skill.
A prospect doesn't have to wade through a lot of copy to get a sense as to whether you're good or not. They can look at this Portfolio One Sheet and at a glance get a real sense of your writing ability and your capabilities.
It's easy to share with prospects.
Because it's just a single sheet, you can publish it as a PDF or quickly print it. It's easy to send by email because it's small file. Even if you send several Portfolio One Sheets, the file size is still very reasonable.

It's an advertisement for your services.
If your Portfolio One Sheet gets shared with others or gets out into the open, your name, contact information, website address, and hopefully your phone number too are on it.

If you're sharing a white paper you wrote with potential clients, your name may not be on it. But if you have a Portfolio One Sheet, then it's an advertisement for you no matter who sees it. Your potential client may see it, and they may share it with others who will learn who this great copywriter is as well.
Prospects love the Portfolio One Sheet
First of all, it helps prospects make a decision quickly. They can look at one or two Portfolio One Sheets of your writing samples to immediately get a sense of the type of writer you are and the level of your expertise.
It also helps prospects sell you internally. I've been told by clients that they have taken my Portfolio One Sheets and clipped them to internal proposals to get budget approvals to hire me or they've shared them with colleagues saying, "Hey, here's a great copywriter."
Most prospects have never seen samples presented this way from other copywriters. I'd say 99 percent of copywriters do not use this Portfolio One Sheet technique. So when prospects do see them, they are very impressed.
For these reasons and many, many others, I highly recommend that you use Portfolio One Sheets as a technique for presenting your portfolio samples to potential clients.
I guarantee your chances of closing the deal with that client will double or triple because they will be so impressed.
What if you don't have samples?
If you're a new writer, you can showcase your practice writing examples on the Portfolio One Sheet.
For example, if you've completed a copywriting program with writing exercises, you can showcase these in your Portfolio One Sheet.
Let's say you took a program on writing white papers. As a part of that program, you wrote a part of a white paper. How do you use that in your portfolio? If you show potential clients part of a white paper, it doesn't look very impressive, does it?
But, if you showcase it within a Portfolio One Sheet, you have room to write a narrative about the writing sample and include your contact information in a sharp, professional way. That's a much more impressive way to showcase a writing example that you created during a copywriting program.
Creating a Portfolio One Sheet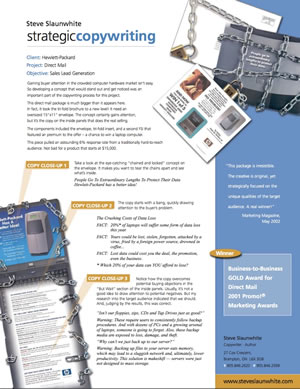 So how do you create a Portfolio One Sheet? It's pretty simple.
First, find a good freelance graphic designer and have them create a simple template that includes room for a thumbnail of your sample, an excerpt of the copy you want to include, an area for your narrative about the sample, and a spot for your contact information.
You can use my Portfolio One Sheet as a guide. (Go here to download it.)
Once you have a basic template, you can repeat it. It's very easy to create more Portfolio One Sheets from the template. You don't need to go to a professional designer for each and every one of them — just use the template you had created.
So that is the amazing Portfolio One Sheet technique for showcasing your best writing samples to prospects. I encourage you to give it a try — it's worked very well for me.
This article, Showcase Your Writing Skills with a Portfolio One Sheet was originally published by B2B Writing Success.

The AWAI Method™ for Becoming a Skilled, In-Demand Copywriter
The AWAI Method™ combines the most up-to-date strategies, insights, and teaching methods with the tried-and-true copywriting fundamentals so you can take on ANY project — not just sales letters. Learn More »

Published: July 6, 2017