Steve Slaunwhite:
Winner of the ACE Award for Direct Mail Copywriting
"The business-to-business market is booming right now. With the growth of content marketing, there are opportunities galore for copywriters who are willing to master their craft and promote themselves effectively. And the best part is, writing B2B marketing materials is a heck of a lot of fun!"
— Steve Slaunwhite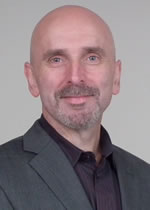 STEVE SLAUNWHITE has been helping companies write marketing copy that sells for more than 20 years. He is the author of The Everything Guide To Writing Copy (Adams Media) and co-author of the bestseller, The Wealthy Freelancer (Penguin). His insights into copywriting and freelance success has been featured in DM News, Inside Direct Mail, The Wall Street Journal, Marketing Magazine, Globe and Mail, The Writer and numerous other publications.
Steve has won multiple awards for his copywriting and marketing work, including the prestigious ACE Award for Direct Mail Copywriting. He is also one of the most sought-after corporate trainers in the business on the topics of copywriting and content writing.
Learn more about Steve Slaunwhite.
Steve Slaunwhite Articles
More Articles By Steve Slaunwhite …
Books by Steve Slaunwhite
AWAI Programs by Steve Slaunwhite
Imagine an Untapped, Virtually Unlimited Market for Freelance Copywriters With Almost No Real Competition Where You Can Earn $1,250 Per Day …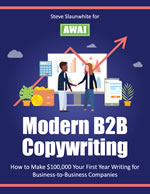 Do you dream of writing for a market where the work is plentiful … the pay scales are generous … the assignments are fascinating … and the competition is scarce? If so, you might want to consider your options as a Business-to-Business (B2B) copywriter — writing copy that helps businesses sell their products and services to other businesses, rather than to consumers.
The market's huge — $6.5 trillion to be exact — and B2B companies are often desperate to find skilled copywriters to write for them … writers who understand their needs and can give them clear, concise, compelling copy that motivates the business buyer.
Whether you're a newbie or seasoned pro, if you're looking for a copywriting market unlike anything you've seen or heard of before, you'll definitely want to check out AWAI's brand-new program, Secrets to Writing High-Performance B2B Copy, written by 10-year B2B copywriter, Steve Slaunwhite.
Steve's jam-packed this program, covering every aspect of B2B copywriting, including such hot topics as:
Why B2B companies need copywriters so badly … and what YOU need to know to get the work
How B2B companies market and sell their products and the most common types of B2B copywriting projects
How to get inside the mind of the B2B buyer and mastering the B2B writing style and tone
How to write copy for the 4 major B2B areas: Lead generation and direct sales, B2B "edu-marketing", to help the salesforce sell, and to get brand awareness and publicity
How to write copy for all three B2B markets: Fortune 500 companies, midsize companies and small businesses
Why you don't need any technical background or knowledge to handle B2B copywriting assignments with confidence and success
33 little-known techniques for writing more powerful — and more potent — B2B copy
How you can make $100,000 a year or more strictly from B2B work or as a complement to your other copywriting projects
And there's much, much more. Can you imagine what it would be like to write for prestigious Fortune 500 companies and have them pay YOU for your expertise? AWAI can help make this dream a reality.
Secrets to Writing High-Performance B2B Copy: $597.00
For More Information, click here …
Six "Painless" Steps to Landing All the Top-Paying B2B Clients You'll Ever Need
There's no better copywriting job for a new, eager writer than B2B.
The B2B industry pays well.
The demand for writers is big. BIG.
And you don't have to write "long" copy if you don't want to. Or take on projects that last months at a time.
There are a lot of different kinds of projects on every topic imaginable.
And whatever your background, there's a niche of the B2B world where your experience can work for you.
The only "catch" for anyone new to this field is that you need to know where to look for client and how to land them.
You're in luck. In Getting B2B Clients: How to Land Great Clients Fast in Just 6 Easy Steps Steve Slaunwhite reveals a quick, easy, painless way for B2B copywriters to start landing clients fast.
You'll learn:
Where to look for clients with an immediate need for your services … and how to figure out the right person to talk to.
What the most common mistakes are that writers make when marketing themselves … and how you can avoid them.
Focusing tips that will have you spending less time promoting yourself but with bigger success.
A daily habit you can develop to keep a steady flow of work coming your way.
And a whole lot more …
Don't wait another minute to start adding high-paying B2B companies to your client roster.
Getting B2B Clients: How to Land Great Clients Fast in Just 6 Easy Steps: $497.00
For More Information, click here …