Introducing the 2018 $10K Challenge Winner:
It's the Latest Milestone for Lawyer Turned Copywriter Candice Lazar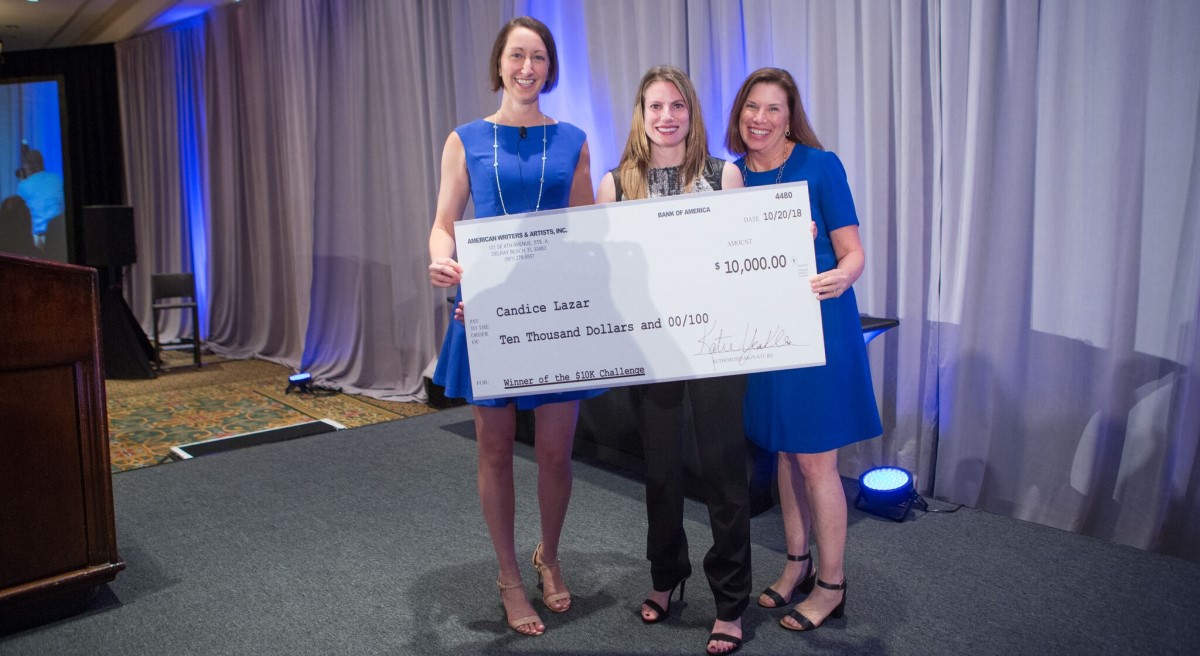 Candice Lazar first came across AWAI and the copywriting industry at the end of 2014. And this former lawyer has been busy since then growing her freelance career as a copywriter and content writer.
She won a Spec Challenge at the FastTrack to Copywriting Success Bootcamp and Job Fair in 2016 and was the Reality Blogger for AWAI's Wealthy Web Writer, while at the same time crafting winning copy for a variety of freelance clients.
This year she was recognized at the recent 2018 Bootcamp as … the $10K Challenge Winner, which goes to copywriters who've made a big impact with copy they've written for an AWAI program.
She's earned a $10,000, year-long contract with AWAI.
"I couldn't be more excited to win the $10K Challenge. When I first discovered AWAI and saw the Challenge on the website, I remembered wondering what it would take to win it one day. It turns out they'll teach you everything you need to know!" says Candice. "I'm grateful for everything I've learned from AWAI and am honored to be working so closely with them."
For Candice, previous Bootcamps were a turning point, allowing her to submit specs to potential clients and making contacts that advanced her career. She's a full-time copywriter these days working with one of the industry's top marketers, as well as other freelance clients.
But she still has plenty of opportunity to indulge in her love of travel.
As you'll find out in the full post-award interview with Candice in the video below … she's living her writer's life to fullest!
And you can get more details on the $10K Challenge, which is open to any active AWAI member, here: https://www.awai.com/10k/.

The Professional Writers' Alliance
At last, a professional organization that caters to the needs of direct-response industry writers. Find out how membership can change the course of your career. Learn More »

Published: October 27, 2018