Google's Search Journeys — What
You Need to Know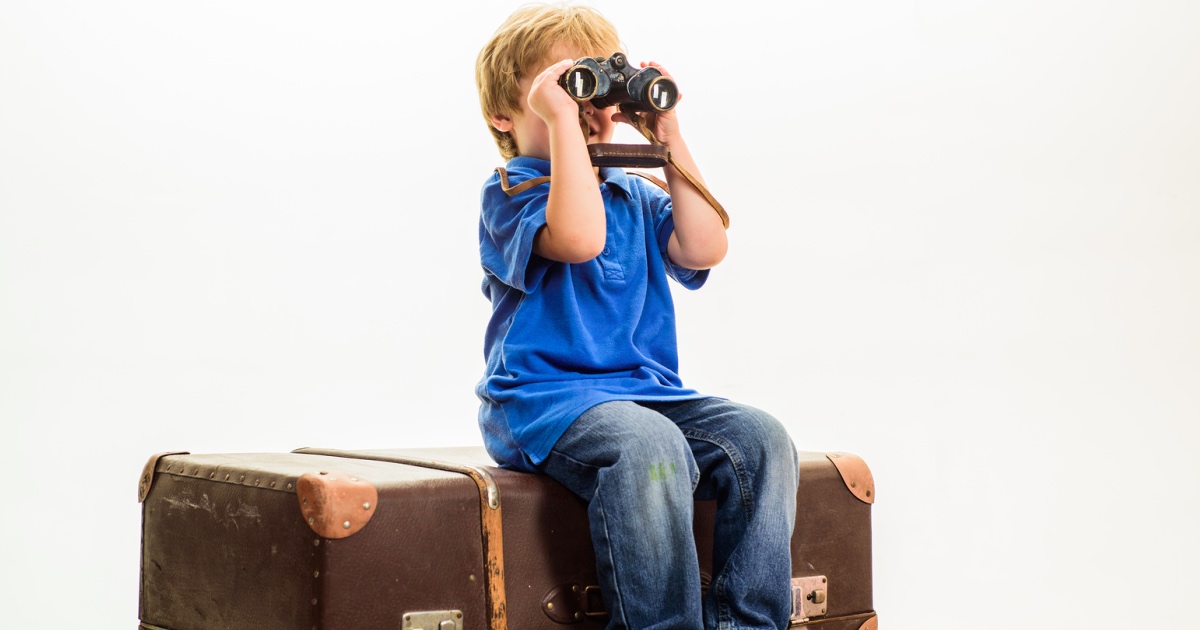 You're probably well aware, the web grows every day. But, if you're wondering exactly how much, Domo's 6th "Data Never Sleeps" report tells you exactly:
Over 2.5 quintillion bytes of data are created every single day, and it's only going to grow from there. By 2020, it's estimated that 1.7MB of data will be created every second for every person on earth.
Mind boggling!
Now imagine having to sift through all this information to find what you're looking for. This is what search engines do when you have a search request.
At Google's 20th anniversary in September 2018, they announced a significant update to search called Search Journeys. They're always looking for ways to improve your experience when using their mighty search engine.
As a web writer, you need to know what Search Journeys are and how they affect your content creation and marketing strategies. So, jump on board and get ready for the trip.
What Is a Search Journey?
Google realizes many people turn to the web as their primary source of information. Often their search isn't a singular request, but a series of related searches that may happen over the course of an afternoon, a week, a month, or longer.
Think of your own search experiences. Often, you're looking for more than an answer to a simple question; you're on a journey to find a solution to a problem. Over time, you're likely to return again and again to the search engine as you learn and discover more on your path to solving your problem.
When you embark on a web search, Google knows you follow a general pattern. You …
Start with a problem,
Search for a solution,
Consider your options,
Make a decision.
But, searches seldom take place in a linear step-by-step pattern.
In reality, they're like self-guided sightseeing tours. They're full of stops and diversions. You hop on, then hop off, disappear down a rabbit hole for a few days, pop back up, and continue.
Search Journeys are Google's answer to this behavior.
Why the Change to Search Journeys?
Until now, when you entered a search request, Google would give you the best answer to your query based on matching relevant keywords, phrases, and proximity.
Now, they want to understand the context and intent of your search, so they can give you a more accurate and efficient result.
It's not simply answering what you asked. Now Google is looking at why you asked, as well as your progress in finding information and solving your problem.
They want to anticipate what you'll do next, and then respond accordingly.
Through this, their answers are more intuitive and give you the content most relevant to where you are in your journey of finding solutions.
When you return to your search, Google wants to go one step further and help you pick up where you left off, so you don't have to start again.
How Does a Search Journey Work?
To comprehend what the changes mean and how to work with them, it helps to have a basic understanding of how a Search Journey works …
Google's knowledge graph algorithms (which examine the connections between people, places, facts, and things) have been upgraded.
Artificial intelligence has been added to understand all the connections better and how they grow over time.
The information Google gains about your search is mapped and stored on activity cards to be used later. It remembers articles and webpages you've visited. When you return to find out more about your topic, it uses your search history to predict what you're likely to do next.
Google is trying to anticipate what you need. Do you want to learn more about a subject? Or, have you advanced and now you want to know how you can invest in a solution to your problem?
By looking at the information you've already viewed, they predict what you want to know and do next.
When you understand how Search Journeys work, you can use this information when creating and evaluating your content and marketing strategies.
How Can You Benefit From Search Journeys?
Search Journeys offer benefits to users and content creators, and, as a content creator, you want to capitalize on this.
As a user, when you're searching for information, you get more accurate results targeted to what you're actually looking for. Each time you come back to a search term (or group of search terms), your search results pick up where you left off and grow with you.
As an online writer, if you want Google to find your content and show it to their users, you need content relevant to each stage of the Search Journey.
When you provide that, you have the opportunity to present it to your target audience at a moment when they need it most.
Prospects will begin seeing your content at a stage where they're ready to receive it and are more likely to stick with it. This puts you in an excellent position to nurture your leads, build a relationship with them, and turn them into clients.
Also, remember Google keeps track of the user's search history and how long they stayed on each site. They'll deliver the next set of results for the Search Journey based on this. If you have the right content mix, Google will help you nurture those leads.
How Do You Develop a Content Strategy for Search Journeys?
It starts with understanding each stage of the Search Journey and the buyer's journey. You want to know what the user is looking for, what they want to achieve in each stage, and what moves them to the next phase.
You can determine this through research, common sense, and customer surveys. Once you're clear on this, you're ready to create your strategy. Define the purpose and goals of your content for your prospect and your website at each stage of the journey.
Next, decide what type of content will work best to help you achieve the goals for each stage.
If you have an existing strategy or website, you'll need to identify if there are content gaps in any of the stages. Then fill the gaps, so you have a complete journey.
As with all journeys, a roadmap helps you plan your trip and stay on track. The roadmap below explains each stage of the search and buyer's journey, what the user is looking for, and what you need to help Google find you. It also suggests types of content that work well for each stage.
Awareness or Problem Aware stage:
The user realizes they have a problem and wants to learn more about it.
Content strategies and goals
In this stage of curiosity and discovery, your goal is to inform and educate your prospect. You must help them understand their problem better and how to solve it.
This stage is not for selling, but rather to give your potential clients valuable information as you establish yourself as an expert. It's an opportunity to start building a relationship with your prospect.
Content suggestions
Blogs, videos, infographics, and email series and autoresponders
Think about questions your prospect might have and what their pain points are. Then create content around those points.
It must be easy to understand but educational enough to showcase your expertise and give insight into the value your brand can provide.
Videos work well because they can provide a lot of information in a short space of time. Infographics present the most important information in an appealing overview and are easy to download and share.
Email series and autoresponders let you package information in "easy to digest" portions over a regular period. They help your prospect build their knowledge while you keep in touch with them.
Topics and content that work well for this stage include lists of questions your prospect might have and how-to articles. Examples: "How do you know if you have osteoarthritis?" or "Six signs your car needs new shock absorbers."
Consideration or Solution Aware stage:
Your prospect moves into the consideration stage as they learn more about their problem. Now, they're aware solutions are available and want to become better informed.
Your prospect isn't ready to invest in a solution yet — they're weighing their options. They're gathering information and deepening their understanding, so they can make the right decision.
Content strategies and goals
Help your prospect understand what options they have when it comes to resolving their problem and what to consider when choosing a solution.
Use your content to continue building your prospect's relationship with your brand. Give them a glimpse of the benefits of choosing your brand as they move closer to the decision stage.
Content suggestions
Blog posts, videos, e-books, downloadable resources, FAQ's, case studies and product reviews
Create content about the various solutions available. Discuss important factors to consider and compare them. Give advice on how to choose a solution.
Your content must be honest and authentic to attract your ideal prospect and turn away those who are not.
Comparison videos work well to answer people's questions about how your product compares to your competition.
Examples: "Five ways to choose the right vet for your cat" or "Should you choose cloud hosting or shared hosting for your website?"
E-books and resources such as guides, tip sheets, templates, cheat sheets and how to's are a great way to provide value to your prospect and showcase your knowledge and expertise.
Mention your resources in your blog posts and have a link to a landing page where they can download the resource.
These give your prospect insight into how others with the same or similar problem have found solutions.
Decision or Product Aware stage:
Now your prospect is ready to commit and become a client or subscriber.
They understand the options available and want information about who they should choose as their problem-solving partner. They're looking to be reassured they're making the right decision.
Content strategies and goals
In the decision stage, your content should be brand specific. Highlight the unique features and benefits of your product and why they should do business with you. Reassure your prospect they're making the right decision by choosing you as their problem-solving partner.
Suggested content
Blog posts, videos, white papers, case studies, reports and testimonials
Create content that features the unique benefits your company provides and highlight extra ways your product or service can add more value to your prospect's life.
Example: "How the Superjuice blender gives you 40% more nutrients per glass than other blenders."
Case studies, white papers, and testimonials help reassure your prospect and answer remaining questions they may have. They also highlight ways satisfied customers used your product or service and give proof to the prospect to push them toward a decision.
Retention or Post Buyer stage:
Your user has become your customer. Now it's up to you to make sure they remain loyal and become a brand ambassador.
Content strategies and goals
This stage isn't about being found by Google as much as the others. But, when you look at the stages you've gone through to get a new customer, it's worth nurturing this relationship. It takes a lot less effort to keep an existing customer than it does to gain a new one.
To turn this person into a loyal, repeat customer, follow up with great service and resources. Help them get the most out of your product, and address problems and queries they have. Keep in regular contact to maintain the relationship and let them know about new offers you have.
Suggested content
Blog posts, email newsletters, webinars and videos
Use these to keep in touch with your customers. Help them to get the most out of your product, keep them up to date with the latest developments in your field, and let them know about new offers you have.
Over to You
Remember, these content suggestions are guidelines, not set rules. Your niche and industry experience will also help you decide what approach to use. Then experiment and test your content to see what works.
You may be creating content for your own website or being hired to do it. Either way, by following these steps, you're placing your content in a strong position to help Google find you and send organic traffic to your website. Even if you aren't an SEO specialist.
Have you started adapting your content for Search Journeys? Please share your experience so far in the comments section below.

Digital Copywriter
Digital marketing changes fast. Join our community now to keep yourself up to date, build your skills, grow your network, and land top-quality clients. Learn More »

Published: October 16, 2019