How B2B Companies Use Social Media and How You Can Help Them Do It Better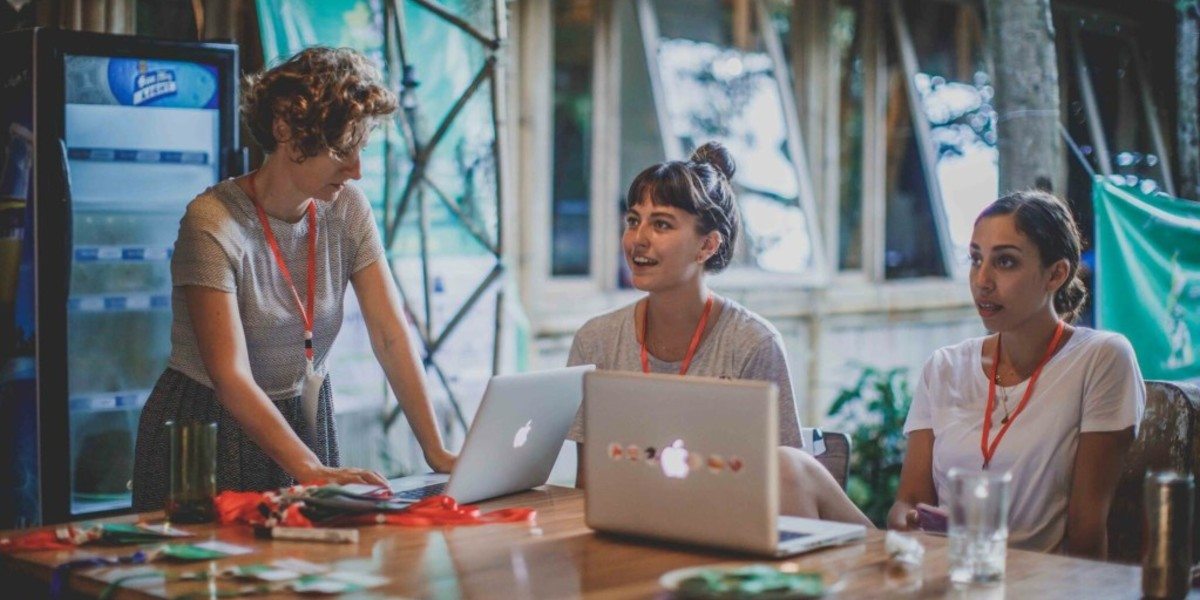 The Booming Business of Billions
Take a guess at what almost four billion people are doing today? Do you know what activity is demanding the attention of more than half of the world's population, as they go about their daily business?
If you guessed reading and responding to social media, you'd be right. Social media is a common means of connecting with people and products … and nobody knows that better than businesses selling to consumers.
But, social media isn't just a great option for personal connections and for B2C marketing.
Business-to-business companies (B2Bs) are tapping into the power of social media, too. Even though the products they typically sell are not glitzy or sold to individuals, savvy B2Bs know that building brand awareness, connecting with audiences, and generating sales leads are much easier to do when you leverage multiple social media platforms.
LinkedIn was the first social media platform to catch on big with B2B marketers.
No doubt about it. LinkedIn was built as a way for professionals to connect with specific industries, and B2Bs embraced it. Neil Patel reports that 97% of B2Bs use LinkedIn as their primary social media channel. Sprout Social lists that percentage at 89%. But, either way, the vast majority of B2Bs use the professional networking power of LinkedIn, a tool that wields a certain power with targeting niche markets.
Because LinkedIn is the most often used platform, it's also rated as the most effective by 63% of marketers who are enthusiastic about the 160 million people now using LinkedIn.
But, B2Bs aren't just using LinkedIn. More than 80% use Facebook and Twitter, as well. Companies that ONLY use LinkedIn are missing a vast potential audience and a way to humanize, connect with, and further their reach. Facebook, Twitter, YouTube, and Instagram add power to the arsenal of marketing tools that B2Bs can wield.
Why B2Bs Are Adding Social Media to Their Marketing Strategy
Cold-calling. Networking. Direct-mailing. Diving into databases and culling through customer lists. All are tools still used by B2Bs. But, more and more, B2B companies are embracing social media with 72% now planning to use social media marketing in their overall strategy.
They have a good reason for that decision:
Social media is where customers hang out. 74% of business executives are on social media platforms, and they're two times more active than the casual viewer.
Social media is where buying decisions are made. Buyers are conducting 90% of the purchasing process on their own using social media, and 55% of B2B buyers find information from those platforms. By the time they talk to a sales consultant, they have already made the decision to buy. In fact, 66% of marketers report they get sales leads from social media.
Social media is the perfect place for B2Bs to show support to their customers by answering questions, responding to concerns, and taking action to solve issues. Customers actually prefer customer care through social media rather than email, website contact, or phone calls.
Social media use drives customers to websites.
Can a Company With a "Boring" Product Use Social Media Effectively?
Some B2Bs have been slow to embrace social media outside of LinkedIn. After all, who on Facebook or Twitter would be interested in a hydraulic pump that works with water filtration systems? Or a complex web interface that improves data retrieval speed? Or a special chemical additive that improves the durability of resin?
Probably not many of us would be interested in a specific product, but many of us would be interested in the bigger concepts, the wide-angle lens of the story. Do I care about water filtration systems? No. But, I am concerned about water safety and health issues. Do I care about some web widget I don't even understand? No. But, I might be interested in the thought process of developing new innovations, or the personal story of the person who dreamed up this device. If I understood WHY we need long-lasting resin, I might care about the development of a new chemical additive to make it last.
You get the point.
B2Bs can effectively use social media by remembering this: Social media is NOT about posting product information. It's about engaging readers, not selling to them. It's about story-telling and brand-building with interesting, informative, visual, valuable posts.
Facebook is great for videos and photos.
Twitter works well for short, informational posts.
YouTube promotes tutorials and education.
Content Marketing Institute found that B2B marketers have noted the effectiveness of each of these platforms: 55% of marketers listed Twitter as their most effective social media platform, 48% YouTube, and 32% Facebook.
Scroll through any company's posts, and you'll know who's doing it right. If a company's posts are as boring as watching concrete harden, they don't have a competent copywriter or social media person behind their posts who thinks, "If I didn't work for this company, would I look at this post?"
How Copywriters Can Help B2Bs Do Social Media Better
If a B2B company doesn't understand the relationship-building aspect of social media, they won't create effective content for posts.
If a company is focused on producing, shipping, and selling product, it might not have the resources to manage an effective social media campaign. That's where you come in.
You can help B2Bs do better on social media. Plan your pitch now and showcase the ways you can make any B2B company a social media star.
Create a social media plan in writing:
Did you know that while 80% of B2B marketers have a social media strategy, only 32% of those companies have it written down?
Determine what the company wants to achieve, set goals, and make a plan to analyze results. If the goal is to improve the company's reach, then you'll look at the increase in the number of followers or the number of impressions made. If generating more leads is the goal, you'll want to evaluate the number of clicks and conversions.
Document the strategy you create and offer that as part of your service package. You'll add value and make it easier to reach the goals you set for your client.
Develop interesting content:
Since the goal of social media is engagement with customers, create guidelines and/or samples of "interesting" content that might include:

Employee profiles
Backstories of innovation
A behind-the-scenes look at any aspect of product development or manufacturing
Contests revolving around hashtags, naming of products, or tagging people

Create a company tone:

Post with a consistent "voice," whether it be smiley, sarcastic, informative, or funny.
Use humor and current events to engage people.
Deliver information in a conversational tone and be ready to respond to comments.

Develop an easy way for employees to share posts:

Employee advocacy programs work, because people are 16 times more likely to read a post from a friend than a business.
If employees can easily share information about the B2B they work for, the reach of the company expands exponentially.
Half the world is using social media every day. A company would be crazy not to embrace this inexpensive, powerful method of connecting with customers. From LinkedIn, to Twitter, to YouTube, to Facebook, social media channels are improving the reach of B2Bs by building relationships, creating brand awareness, and generating sales leads in a not-so-boring way.
You can help them do it.
This article, How B2B Companies Use Social Media and How You Can Help Them Do It Better, was originally published by Wealthy Web Writer.

The AWAI Method™ for Becoming a Skilled, In-Demand Copywriter
The AWAI Method™ combines the most up-to-date strategies, insights, and teaching methods with the tried-and-true copywriting fundamentals so you can take on ANY project — not just sales letters. Learn More »

Published: February 10, 2021