Congratulations to Our August 2022
Email-Writing Contest Winners —
Earning a $200 Prize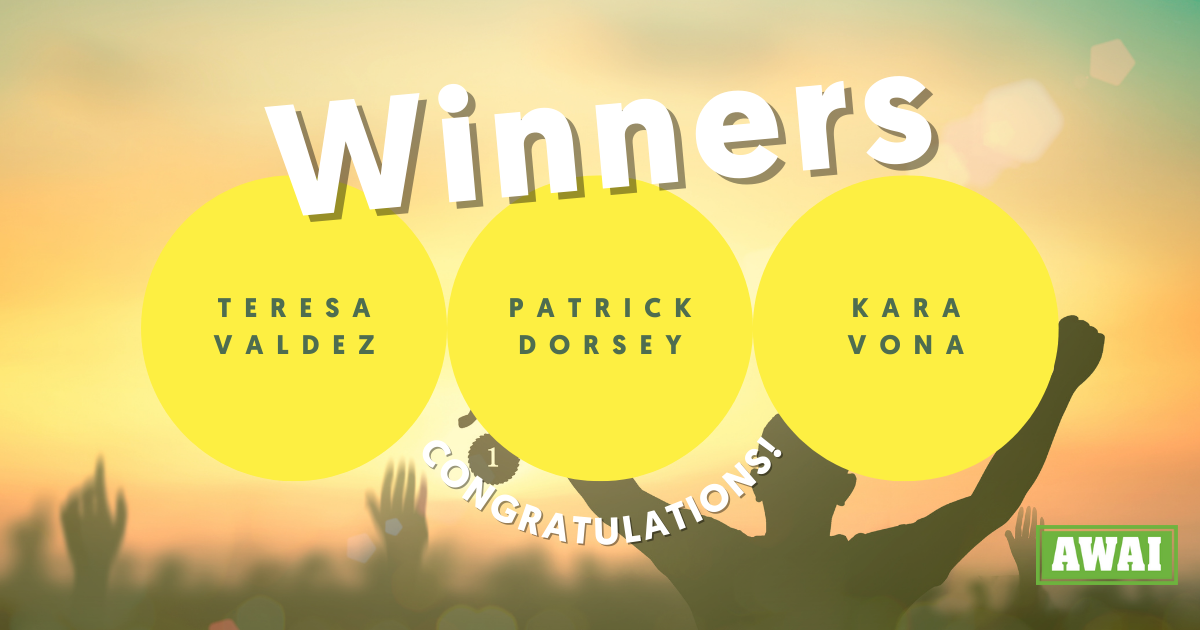 Kudos to everyone who entered AWAI's August 2022 email-writing contest! After reading through lots of great submissions, our marketing team chose several top entries for a $200 prize.
The mission: Write a Powerful Email on This Topic: "What I'll Do with the First $1K I Earn as a Freelance Writer" — and include a call to action that leads the reader to our free Inside AWAI sessions focused on learning about copywriting and content writing.
The audience for this email is a new or aspiring freelance writer who hasn't earned money yet from a client but is eager to get going and make it happen.
We encouraged contest entrants to focus on this main message: "Imagine what you'll do with the first $1,000 you earn as a copywriter and talk about it in your email, with the goal of inspiring/persuading/encouraging the recipient to try copywriting too."
With over 100 total entries for the month, we didn't have an easy task of narrowing down the finalists and then choosing our three winners. But we did, and here's why!
Read each of the winning entries below:
Teresa Valdez
Subject Line:
Discover how YOU TOO can earn $1K REPEATEDLY

Message:
Congratulations, future moneybags! Greetings from an apprentice copywriter! Imagine for a moment what it will be like when you earn YOUR first $1,000.

What I'll Do with the First $1K I Earn as a Freelance Writer? My first $1,000 is going to make my wonderful and patient sons happy, happy, HAPPY, happy to know that their transitioning-to-old-age mama can still bring in the bacon! YAY! And so, my first $1K will be used to have a great celebration!

I know it will be the same for you and YOUR first $1K earned as a freelance writer too, because anyone can live the writer's life — at any age and almost any circumstance — and the earning potential is excellent! Let AWAI show you how! This FREE webinar from Inside AWAI has everything you need to know.
---
Patrick Dorsey
Subject Line:
Your Zip Line Adventure Through Costa Rica Is Here!

Message:
Hello Bob, Can you imagine it … The wind is rushing past your face, and you give a scream of pure joy … Your feet just grazed the top of the trees from the rain forest below … The sun is shining, it is a perfect 82 degrees with low humidity, and you have dreamed of this vacation your entire life … In fact, you've worked hard all your adult life and could never afford the time or money to get away …

This is just one amazing trip you could take with THE FIRST $1K YOU WILL EARN AS A FREELANCE WRITER … AWAI will teach you everything you need to know to be a well-paid copywriter and you will earn your first $1K and a lot more … Get all the information FREE just by clicking the link below …

Don't Wait! Get Inside AWAI for FREE — Click Here.
---
Kara Vona
Subject Line:
How a $1K Writing Gig Gave My Dog Confidence

Message:
I adopted a dog after my divorce and named her Joy. For weeks, Joy cowered in her kennel. Truth is, I was just as terrified. After 24 years as a stay-at-home mom, how would I support myself? I'd been offered jobs, but at low pay due to being out of the workforce. At 50, I hated the idea of needing a roommate!

Since I loved writing, I wondered if I could do better as a freelancer. AWAI provided the answers and structure I needed to land a $1K project within two months!

To celebrate, I booked a night at a dog-friendly beach condo. When we jumped out of the car, Joy saw a seagull and barked for the first time ever! She never went back to her kennel, and I never looked at job ads again.

What will $1K do for you? Discover More Here.
To everyone who submitted an entry — again, great job!
And even if you didn't win, I hope you enjoyed the practice and challenge of writing a marketing email.
Watch for our next contest coming up in The Writer's Life next month …
And remember to keep writing every day.
How to Write High Impact Emails
Learn how to write winning emails from one of the best email writers in the industry today. From writing subject lines that get noticed to "call to actions" that get results, it's all included in this home study program. Learn More »

Published: August 26, 2022