What's Your "Why" for Your Writing Career? Here's How to Find out and Build a More Successful Writing Business

Everyone has a reason for wanting to be a writer …
What's yours?
Is it for the freedom?
To make more money?
To be able to choose your hours, vacation more, spend more time with family?
Is it that you just love writing — and you want to wake up looking forward to each day instead of dreading it?
Or is it something even bigger?
Answering what your reason is is an important step on your journey to the writer's life … and my partner and AWAI's Executive Director, Katie Yeakle, is here to help you figure it out.
Knowing your why will increase your odds of success — and your satisfaction along the way.
Katie and I and the whole AWAI team are here to help you on your journey to becoming a well-paid writer.
That's why :) we created a first-ever virtual event to show you everything you need to launch a successful freelance writing business.
Join us just 6 days from now for our first-ever Freelance Writer Fest …
It's a free, virtual event designed to put you on a clear path to success as a well-paid, in-demand freelance writer, where experts will lead you through 10 eye-opening sessions to answer any questions you might have.
Mark your calendar for October 28th.
And if you're not yet registered, go here now to claim your free spot.
You won't want to miss this!
To your success,
Rebecca Matter
President, AWAI
Digging Deep for Your "Why"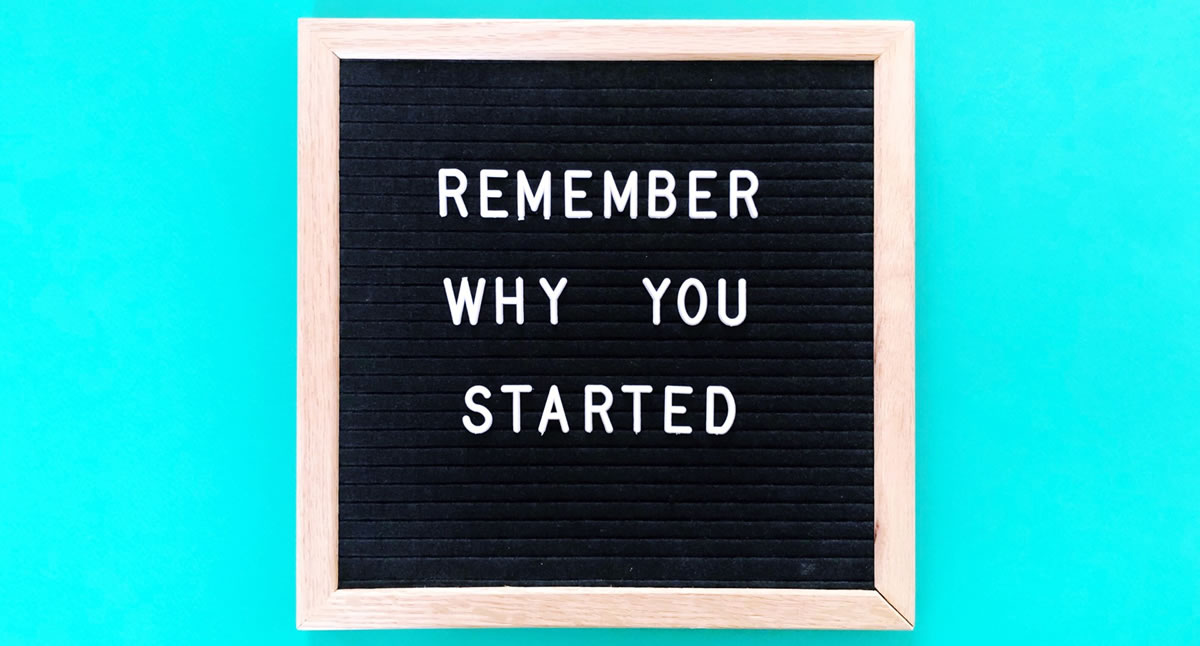 If you haven't done this yet, I'd like to encourage you to spend some time today thinking about your "why" for living the writer's life.
Specifically, why is living the writer's life so important to you at this point in your life? What's your motivation? What's your inspiration? And, how is your writer's life going to change not only your life, but the lives of the people you care about most?
Recognizing and acknowledging your "why" will inspire you to get out of bed early to start writing, or to squeeze in that late-night hour of writing after your day job …
It will be your "guiding star" that will keep you going even after a rough day.
It will help you own your personal definition of success.
So … Do you know what your "why" is?
If so, I'd like you to write it down or say it out loud right now.
(If not, meet me back here after you do … 🙂)
So now that you've said it out loud …
I want to challenge you to take it one step further, and dig even deeper …
There Is No "Why" Without a "Because"
When I ask writers about their "why," I get lots of great answers.
I want to make more money …

I want to finally quit my day job …

I want to keep my mind active …

I want to have more time for my kids …

I've always dreamed of being a writer and want to finally make it happen …
Those are all great goals, but are really what I'd call first-level or "surface-level" responses.
Let's go deeper!
I want you to take some time, find somewhere quiet, and really dig into what's at the heart of your Level 1 "why."
And one way to do that is to add a "because …" at the end of your "why" statement.
This is my "why" because _______.
I want to make more money because I want to be a happier person WITHOUT the stress and anxiety every month of trying to make ends meet.

I want to finally quit my day job because I want to be the parent who makes it to every soccer game and dance recital so my child always feels loved and supported, and to do that I need to have the flexibility of making my own schedule.
See what I mean?
And you might even want to do this "because" process several times, getting deeper and more specific each round.
Your goal is to figure out what's really at the root of your "why."
Is it because you want your children to have security you didn't have? Is it because you want them to have a memory of you that will last them years and years?
The more specific your "why" is, the more solid it is.
It will become a touchstone for you — your core value — that will keep you positive and motivated throughout your journey as a writer.
And once you've got it … once you've dug deep into the specific and personal reasons behind your "why" … write it down.
So You Always Know Where to Find Your Guiding Star
Write your "why" in your favorite journal, or on an index card or whiteboard … or take a picture of the "something" in your life that's a core part of your "why" …
And then put it somewhere visible. Give yourself the gift of having this as your daily reminder of WHY you're pursuing the writer's life …
THIS is why I'm going to wake up early tomorrow to work on the next chapter of my writing training.
THIS is why I'm going to set up my writer's website today.
THIS is why I'm going to finish this writing project and turn it in ahead of the deadline.
And whenever you find yourself doubtful or anxious about some unexpected turn in your writer's journey, just remember to go back to your "why" and you'll never lose your way.
Are you ready to nail down your reason "why" to embrace the writer's life? Share with us in the comments.
Celebrating Your Wins!
EG Orren had never even heard of copywriting earlier this year, and now she's unstoppable. She recently posted this HUGE news!
Honestly, it's going to sound like totally unbelievable hype … but the Writer's Launch Party changed my life!
A 27,288.9% return on my investment in the first 10 weeks!
That's NOT a typo!
Congratulations, EG!
Now it's your turn! You can become a well-paid writer in no time also.
>> Start here. (It's free!)

The Writer's Starter Kit: Everything You Need to Set Yourself Up as a Professional Writer (In a Weekend!)
Get all the proven tools, checklists, step-by-step blueprints, and templates — everything you need to launch your freelance writing business fast. Learn More »

Published: October 22, 2020