Video:


Quick Tip to Finding Your
B2B Copywriting Niche


You've probably heard plenty about how red hot the business-to-business (B2B) market is right now for copywriters.

But I don't mind reminding you again!

There are literally hundreds of thousands of B2B companies scrambling to find good writers to handle such projects as website content, emails, newsletter articles, brochures, case studies (aka product success stories), white papers, and more.

And the income potential hovers between $1,000-$1,500 per day.

But there is a huge advantage that the B2B market offers, and that's niches. There are hundreds, if not thousands, of niche markets up for grabs.

In this video Steve Slaunwhite reveals a niche market with plenty of advantages that most B2B copywriters often over look .
LAST CHANCE:

Get Paid $800 to $2,000 to Write E-newsletters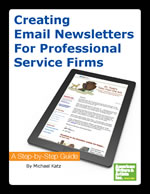 It only takes a few weekends to get your freelance writing business up, running, and ready to take on clients.
Click here to get all the skills you need to present yourself as an expert … and get you your first paying client, fast!
By this time next month, you could have a full schedule of loyal retainer clients paying you $800 to $2,000 every month.
Hurry! Discounted Enrollment Ends at Midnight.
Published: February 13, 2013