This Week from AWAI …
Our Best Value Deal is Back!
For nearly 20 years, Infinity has been by far the best VALUE DEAL that AWAI members can own: Lifetime access to over 120 learning and business-building resources — over $60,000 worth and MORE being added all the time — for a one-time fee that's a fraction of what you'd normally pay…
And Infinity is always changing… improving… to offer you even MORE tools and resources… making it a MUST-HAVE for any serious copywriter. Now is your time to
Gain full lifetime membership at current lowest pricing…
Take advantage of lowest-ever monthly payment plans…
Apply your FULL YEAR of AWAI spending credits before they expire…
And get all the benefits of what will become the "new and improved" Infinity in the days ahead!
Go here for full details on this Infinity offer…
Now Accepting New Writers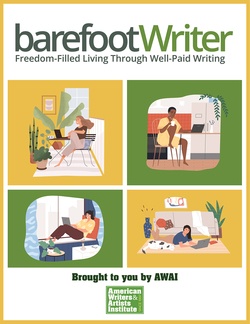 If you want…
high-paying gigs,
predictable writing income,
greater flexibility…
AND the satisfaction that comes with LOVING what you do for a living…
Then getting accepted into our influential club of Barefoot Writers can set you up for everything you're looking for in a writing career.
NOTE: Your acceptance window will be closing soon!
Apply Now
Free Training:


How to Start Making Money FAST as an Email Copywriter

Join top email copywriting expert Guillermo Rubio, this Friday, June 9 at noon ET.

Click Here for Details
Browse Recent News
If you want to learn the skills, make the connections, and jumpstart your copywriting career this year… check out this video!
The best way to get started as a writer fast — and on the right foot, with the right connections — is to get ahold of The AWAI Method™ for Becoming a Skilled, In-Demand Copywriter. Today is your LAST chance to test-drive it at a big discount…
Huge sale! Save up to 90% on our most popular training programs!
Today's the very last day to lock in your spot and be a part of the rare and exclusive training with content marketing legend Brian Clark.
If you missed the BIG Bootcamp Revealed session where we talked all about AWAI's upcoming Copywriting Success & Getting Clients Bootcamp, you can still catch the playback!
It's time to take control of your life! Enjoy more control over your time and your life … a better balance of family and friends and work … a level of job security nearly unheard of elsewhere … and the possibility of real wealth. Discover the opportunity that can show you how…
You can start making money as a writer within a month — even if you have no experience. Check this out!
We are going LIVE to talk about THE event of the year for writers at all levels — AWAI's Copywriting Success & Getting Clients Bootcamp!
A guide to starting a freelance writing career in just three hours.
Pam Foster announces the winner of AWAI's recent $5,000 White Paper Challenge.
Eddie Stephens had enjoyed fulfillment in his first career as a pastor, but after more than two decades in the field was ready for something new. When the allure of freedom through writing called to him, he dove in headfirst with a determined plan to succeed. Even as he made headway, a greater plan was in the works, and his niche eventually found him. Read on to discover how it all happened...
Join Katie Yeakle, and Rebecca Matter to see what all the buzz is about this landmark day for AWAI writers...
If you're wondering how to start a copywriting career, you might mention your new skills to your current employer. It could turn into big opportunity. We know many copywriters who've taken this approach with great results, including Erica Groneman. Find out how she made it happen very quickly...
Jerry Bures didn't hate his job in engineering, but the lack of control when it came to work hours and the time away from his family grew taxing. He was ripe for change the day a letter showed up in his mailbox that completely redirected his trajectory. On the other side, he found joy, freedom, and a revived ability to be there for the people who mattered most to him.
Portuguese teacher Eli Sousa has made the most of his new freelance writing skills to land work with clients AND launch two of his own business websites… putting his passions into an exciting new career. See how he did it, and let his path inspire you!
After trying different career paths and taking an extended break for family, Jill Wright is finally poised for massive writing success. But it's the fulfillment that matters most to her, now that she's found something she can really dive into and profit from while still maintaining her other interests. Read on to discover how she made the slow-and-steady path to writing work for her.
AWAI Member Sharlet Brennan's writing business ground to a halt when the pandemic hit her niche hard. But she found a way to rebuild a much stronger freelance business and she shares how she did it and offers advice for writers just getting started.
Join Executive Director Katie Yeakle and some very special guests today at noon Eastern Time. We'll be holding our 2023 LIVE Circle of Success OPEN HOUSE — so you can see once and for all HOW the program works and WHY it's such a turning point for so many AWAI members.
Join Executive Director Katie Yeakle and some very special guests this Tuesday, April 11, at noon Eastern Time. We'll be holding our 2023 LIVE Circle of Success OPEN HOUSE — so you can see once and for all HOW the program works and WHY it's such a turning point for so many AWAI members.
Steve Slaunwhite announces the three winners of the $200 prize from our March email writing contest about the WarmCo food warming unit in The Writer's Life.