This Week from AWAI …
AWAI's Anniversary Sale: 80% OFF AWAI's Hottest Resources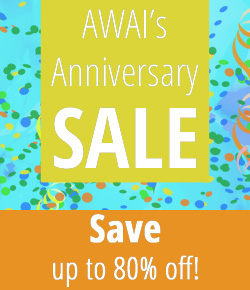 Get huge savings on many of AWAI's most popular programs — including some you'll NEVER see on sale any other time of year. Help celebrate our Anniversary by making 2018 the year you breakthrough, and start living your ultimate writer's life.
Hurry! Sale ends May 29th at Midnight!
Join B2B Writing Success for Only $1!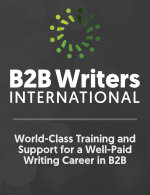 Whether you're a new or seasoned B2B copywriter, having access to the right information is key to launching and maintaining a successful B2B writing career.
B2B Writing Success is designed to provide you with a continuous flow of information, techniques, and strategies to help guide your B2B copywriting career so you can excel and prosper in this exciting and lucrative industry.
Don't wait! $1 Test-Drive Ends Soon.
Browse Recent News
It's an intensive program. But you can quickly gain the expertise in the most in-demand copywriting jobs.
As a Badge-certified copywriter you'll be in line for top copywriting jobs.
When it comes to negotiating fees, there's no need to guess. Know what you should be earning for each project AND how to take control when talking pricing with clients - with our Simplets Guide to Pricing Copy Projects ... available for $150 discount for a limited time!
With AWAI's Simplest Guide to Pricing Copy Project, you'll know what to charge for all of your copy projects AND have the confidence to negotiate. Find out more - and sign up today to save $100!
Marketing Expert Ilise Benun has been helping freelancers for nearly 30 years. Check out some of the AWAI members she's influenced - and find out how you too can learn from Ilise with her Simplest Guide to Pricing Copy Projects. Get all the details, and sign up today for a discount!
AWAI Member Elizabeth Blessing shares her plan to attend Bootcamp and land work via successful Spec Assignments. Here's her winning five-step plan.
After Bootcamp, Judith Culp Pearson was ready to take her career to the next level. Her next copywriting job helped her do just that.
Living the writer's life can be a blessing - especially for a mom. Read here to see how these AWAI members combine writing with being a mom and how you can too!
If you haven't signed up yet for this year's FastTrack to Copywriting Success Bootcamp and Job Fair, let these AWAI members show you how it changed their lives - and can change yours too!
Steve Slaunwhite knows B2B. And now he's sharing all the details on a specialty in this niche that has plenty of high-paying copywriting jobs.
Setting personal goals is crucial for copywriting success. When B2B copywriter Tammy Powell set a goal for herself to write an article everyday for 31 days … she ended up landing a client before even making it to the end of the month! It was a meaningful experience for her in many ways. Read more about it - and find out how you can be a successful B2B writer too.
Being able to play for an iconic team - like the Yankees - would be an exclusive opportunity for any baseball player. And as a copywriter - you can be on an exclusive team too … B2B Writing Success! Join this team today - for just a $1, and be on your way to B2B copywriting success.
B2B expert Steve Slaunwhite has personally seen the transformation in aspiring copywriters who attend Bootcamp. Learn more about the event's power here.
With B2B email copywriting jobs the work is quick and easy and you're well paid. Even better, this niche is very in-demand, so there's no shortage of work.
A B2B veteran reveals a well paid and in-demand specialty within the B2B niche.
Copywriting success comes with challenges ... and commanding top fees is one of them. But you don't have to be alone - find your support system in a membership with B2B Writing Success. Try membership today for just $1!
Celebrated six-figure writer Carline Anglade-Cole shares her best secrets for landing paid writing work.
Nick Usborne has been training up-and-coming freelancers for years in the skills they need to land web copywriting jobs.
The May Barefoot Writer issue is live! Mindy McHorse reveals what is featured in this month's issue.
The experts at AWAI's annual Copywriting Bootcamp go above and beyond for attendees. This spontaneous moment with legendary Bob Bly is a great example.