This Week from AWAI …
Until Midnight: Get Paid to Write for Social Media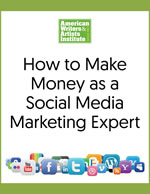 If you want to launch your writer's life with the one writing skill that can put you in instant demand with 90% of businesses …
Where you'll never run out of fun, short writing projects … and where just one or two clients could mean a retainer income of $130,000 a year — or more …
This is your opportunity. Go here to find out how fast you can start getting paid to write for social media.
And until midnight, save 50% on the training that gives you everything you need to get started.
Go here to save 50%.
Beginners: Launch Your Writing Business — By Next Friday!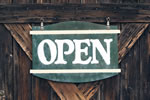 Want to get paid to write, but keep getting stuck at the start?
Believe me, a LOT of people do.
Over the last two months, we've developed a system to speed past your roadblocks and get you up and running as a writer …
With the confidence, skills, and polish to take on your first clients and get paid …
In just FIVE DAYS!
We're launching as many new writing careers as possible by next Friday.
Go here now to be one of them!
Browse Recent News
Join us for this FREE webinar to discover how to launch your writing business successfully in the midst of a crisis.
With AWAI, you're never alone. Join us for these live sessions where you can chime in, ask questions, and enjoy the company of fellow writers.
Christopher Dean received a tip from a friend that opened the entire world of writing for him, and he's made the most of it ever since. Find out how he escaped the daily slog of retail employment and replaced it with contentment and a relaxed lifestyle.
"Incredible" is the single word that comes to mind when you read Jason Gaspero's account of life as a Barefoot Writer. It's beyond dream-worthy, since all he does month-in and month-out is travel to far-off, exotic destinations and write about his experiences — and makes a great living because of it. Plus, he enjoys a lifetime worth of adventure on a weekly basis (fried scorpion, anybody?). If you've ever entertained a fancy for travel writing, you're going to love Jason's story.
Just released, the May issue of Barefoot Writer!
PWA Managing Editor Jen Adams put out a challenge for PWA members to share how they were figuring out life in our new reality. They answered in long-form essays, poetry, and deeply personal stories …
SEO is more important than ever for companies doing business online. And that means opportunity for copywriters. Companies are in dire need of quality and engaging website content that people actually want to read … and boosts SEO rankings at the same time.
3 winners of the $200 prize have been chosen for The Writer's Life writing contest to rewrite the content for a website intro section.
If you're ready for an upbeat example of how to pursue life as a professional writer — and how to do it across international borders — then you'll love Jan Marie's story. Not only has she embraced writing opportunities as a way to reach out professionally and grow her existing business, she's done it in a way that brings her terrific daily satisfaction. Pay particular attention to her on-target advice for new writers.
Gloria Rand is the perfect example of a Barefoot Writer who broke through her bashfulness and went on to excel. She's since been featured in media interviews, and her blog was even named one of the top 11 SEO Copywriting blogs of 2010 by search engine marketing firm Word Stream. Read on to learn how Gloria translates benefit-rich writing into benefit-rich living.
The results are in … and while all the submissions were of high quality … there can be only one winner: Kristen Stelzer earned a $5,000 check from AWAI for her winning white paper.
Julia Borgini is in the process of growing a focused, poised, and powerful writing career. Long ago, she defined autonomy as her core value, and as a result, she's built a professional writing career that gives her exactly that. Enjoy her story and take note of her specific tips on running an organized business, as well as how to succeed as a freelance writer.
That's what Susie Kuse told us when we connected with her to find out how Barefoot Living is treating her. Like so many, she's faced everything from burnout to health challenges to the near-impossible task of juggling family life with business. And at every turn, writing was the answer. Read Susie's story for a glimpse into just how fast a writing career can help overcome obstacles.
Just released, the April issue of Barefoot Writer!
On May 1st, we hosted a FREE online training with Russ Henneberry – one of the world's TOP SEO copywriting experts!
From 500 submissions, Nick Usborne announces the 3 winners of the $200 prize from our writing contest about the MyBlender Pro in The Writer's Life.
This Thursday, we're holding THE most important online event in AWAI's 23-year history.
If you could use some calm and clarity now too … as well as a great way to focus on overcoming any obstacles that may be holding you back from a more fulfilling writer's life … I hope you'll try Dr. Annette Annechild's 21-day custom meditation program created especially for writers.
By his own admission, Malcolm Smith had an uphill climb once he entered the world of copywriting. But, as he articulately points out, good writing can be learned, and the freedom it leads to is worth every ounce of persistence you put in up front. Enjoy Malcolm's uplifting story about how he made Barefoot Writing work for him, and what three things you can do today to pump up the quality of your own copy.
Professional Writers' Alliance announces a new $1,000 writing challenge.