This Week from AWAI …
AWAI's Anniversary Sale: 80% OFF AWAI's Hottest Resources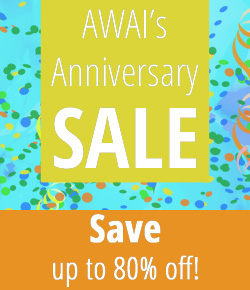 Get huge savings on many of AWAI's most popular programs — including some you'll NEVER see on sale any other time of year. Help celebrate our Anniversary by making 2018 the year you breakthrough, and start living your ultimate writer's life.
Hurry! Sale ends May 29th at Midnight!
Join B2B Writing Success for Only $1!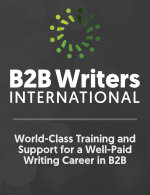 Whether you're a new or seasoned B2B copywriter, having access to the right information is key to launching and maintaining a successful B2B writing career.
B2B Writing Success is designed to provide you with a continuous flow of information, techniques, and strategies to help guide your B2B copywriting career so you can excel and prosper in this exciting and lucrative industry.
Don't wait! $1 Test-Drive Ends Soon.
Browse Recent News
Making six-figures doesn't have to be a dream ... in fact, you don't even have to play the lottery! Get this secret for copywriting success and earn a six-figure income every year. And save $300 when you sign up for Jay White's Email Copy Made Easy by April 17th - read here for more details.
Emails are one of the copywriting jobs Brad Dunse takes on for clients. Here's how he honed his skills.
Jay White has a secret ... secret for success, that is. And that secret is writing emails! Find out how you too can learn how to write emails and be on your way to earning a solid writing income. And save $300 when you sign up for his program, Email Copy Made Easy today!
Email copywriting jobs are fun and easy to write — and pay well … once you learn the tricks of the trade.
Check out this system for finding copywriting jobs on freelance sites and landing them consistently.
AWAI's FastTrack to Copywriting Success Bootcamp and Job Fair is more than just a way to accelerate your copywriting success - it's 3 full days of fun too! Check out how much fun our members had at the event in 2017 ... and make sure you sign up to for this year's while there's still spots available.
As a ghostwriter you can get plenty of copywriting jobs from those who have expertise in their field but just can't write.
If the Wealthy Web Writer site looks a little different to you lately ... that's because it's been given a facelift! Now you can find the resources you need - faster. Check out all the new opportunities to interact and boost your web writing success. And if you're not yet a Wealthy Web Writer Platinum Member, sign up today for only $1.
These AWAI members have launched their writing businesses and are well on their way to a steady stream of copywriting jobs.
Wealthy Web Writer is packed with resources - in fact, with so much on the membership site it can sometimes be difficult to find what you need! But not anymore ... check out this new guide featuring all of the best resources. And if you're not a Platinum member yet, find out how you can try it today for just a buck!
Clayton Makepeace shares how to get over your writing fears once and for all.
In this free Inside AWAI session, learn how to navigate client conversations with ease.
Less than a week after finishing the Virtual Business Building Intensive, Cathy Catlin had landed her first copywriting job. And she's been working with that client ever since.
The April Barefoot Writer issue is live! Mindy McHorse reveals what is featured in this month's issue.
AWAI is growing! We currently have three openings at our headquarters here in Delray Beach. Get more information and find out if one of these exciting opportunities are for you.
Heather Robson, Wealthy Web Writer's Managing Editor interviewed Ben Settle about his ongoing success writing emails. You can find out more about it here.
Famed email specialist Ben Settle explains why your writing pursuits should be fun.
Master Graphic Designer Lori Haller shares a different side of the Barefoot Writing lifestyle.
Ben Settle makes six-figures each year as a writer without clients. He's ready to show you how to get that kind of copywriter success too.
This AWAI Member needed an alternative to a typical day job to make ends meet. And they've found the ideal copywriting job to do it.