This Week from AWAI …
LAST CHANCE:


Get Everything for $1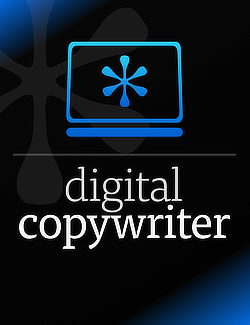 Everything you need to make $2,500 to $8,000 (or more) a month as a writer is in the Digital Copywriter membership site …
And you can get FULL ACCESS for just a dollar!
You'll get roadmaps … tutorials … how-to videos … job board access … an active member forum … the training webinars …
All for $1.
If you want to make good money as a writer, this is where you'll do it.
Get it all now for $1!
LAST CHANCE:


$11 today, $297 tomorrow

When you grab a subscription to Barefoot Writer magazine by midnight, for only $11 …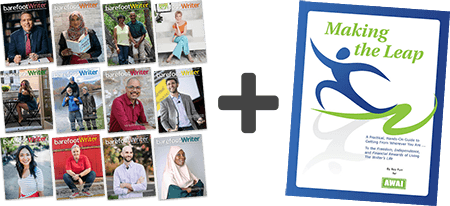 You'll get FREE access to our Making the Leap program, which takes you wherever you are today …
And shows you exactly how to make a smooth transition to paid writing, so you'll have success right out of the gate.
It usually costs $297, but you'll get it completely free today!
Grab It All for $11
Free Event:


Is AI About to REPLACE Human Writers?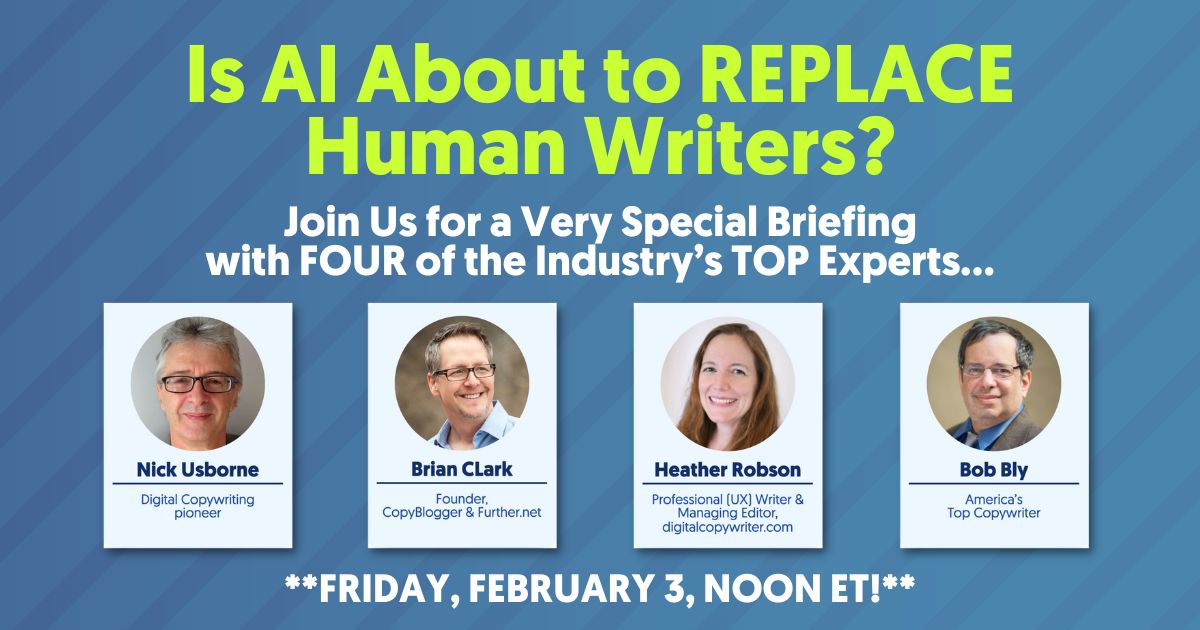 Will companies need to hire writers … how good is AI at writing … and where does that leave copywriters and freelancers?!?
If you're curious or concerned — be sure to join us Friday, February 3, at noon ET as our panel of experts share their thoughts and insights into AI and how it will impact your career as a writer.
Reserve Your Seat Here
Browse Recent News
AWAI member Jon Stoltzfus is a textbook case of someone who experienced breakthrough success very quickly after attending his first Bootcamp. Read more about him!
There are all kinds of freelance writing clients in your own geographic region — local clients who need help with SEO content writing to attract more online traffic and sales. Join us to discover what SEO content writing can do for local businesses … how to find clients near you … and resources to get started right away.
When she first started, this young woman took the copywriting world by storm — achieving incredible success while still in her 20s. Today, her name is a bit different and her outlook on life has evolved to include meditation, better self-care… and still… incredible copywriting skills. You'll love this peek into the daily life of copywriting rock star Rachael Aurora Gray.
As a writer you have choices … you choose what to write about and who you work with. You also choose how much money you make. Here are seven "levers" you can pull to make more.
From over 100 submissions, Pam Foster announces the 3 winners of the $200 prize from our writing contest focused on writing an email about "What I'll Do with the First $1K I Earn as a Freelance Writer" in The Writer's Life.
When did you first decide you might have some writing skill? Was it because of a writing contest? A blog article? Or, like John Diamondidis, was it on a TV set while filming a promo for your professional wrestling career?! We hope you'll enjoy this interview where John shares some of his top tips for new writers. And remember, when in doubt… "Writers write!"
HOT: Exclusive "One-on-One" Interview with the Master Writer Steve Slaunwhite. Learn why B2B writing offers one of the surest and fastest paths to making six figures a year with just a handful of clients.
"The Queen of Facebook" Mari Smith is taking the Bootcamp stage for the first time this October. Get a virtual front row seat for up-to-date copywriting guidance based on her work with AAA, AT&T, Adobe, Allstate, Bank of America, Cisco, Facebook, HubSpot, LS Retail, Pinterest, PNC Bank, Verizon, and more.
Gordon Graham, That White Paper Guy, announces the winner of AWAI's recent $5,000 White Paper Spec Challenge.
David Pederson is proud to live in the land of cowboys, bandits, and bankers… also known as SoCal. He found the world of copywriting through a desperate attempt to keep his job as a database administrator trying to persuade high-level executives to sign off on multimillion-dollar projects. Today, he uses those powers of persuasion to write in the health care and cybersecurity sectors. When asked about his dream location to live and work, David simply replied, "I'm here, writing to you from it."
Bonnie Fanning announces the 2 winners of the $200 prize PLUS a free ticket to our Copywriting Success & Getting Clients Bootcamp from our ad writing contest!
Check out this special Bootcamp 2022 video presentation and get the inside scoop on this year's copywriting event of the year.
Freelance writing? In this economy? Watch this news story about AWAI success Sean McCool, who started during the Great Recession and is still going strong!
Not everyone who joins AWAI ends up staying in copywriting. For many, this experience becomes a gateway to other opportunities they never expected to find. That's what happened for Bernie Boyd. She started with AWAI in 2018 and eventually discovered her true passion as a project manager. It just so happened that one of her biggest clients for years was a community run by A-list copywriter Marcella Allison. Enjoy Bernie's story...
The opportunities for digital copywriters are so vast - and growing at a breakneck speed – that, with the right persuasive writing skills, you could earn a great living writing about any topic you choose and specializing in a wide variety of project types. Watch to discover 10 of the best digital copywriting projects for new and experienced writers, alike.
From over 300 submissions, Nick Usborne announces the 3 winners of the $200 prize from our writing contest about MyBlender Pro in The Writer's Life.
Here are seven ways you can help any client's business — and set your writing career on a rocket path to success.
Pam Foster announces the winner of AWAI's recent $2,000 Site Content Audit Report Challenge.
Jim Abbey once asked a client why they had chosen to hire him. Much to his surprise, they mentioned an attraction to the way he laughed at an event they had attended together. Jim decided to take this as a lesson and now "laughs his way to the bank." He uses the resources from the AWAI community and Circle of Success to build a writing career focused on writing in the sustainability industry. You'll love the "aha moments" Jim shares that led to his life as a Barefoot Writer.
From over 160 submissions, Sandy Franks announces the 3 winners of the $200 prize from our article writing contest in The Writer's Life.