This Week from AWAI …
AWAI's Anniversary Sale: 80% OFF AWAI's Hottest Resources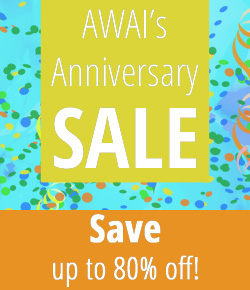 Get huge savings on many of AWAI's most popular programs — including some you'll NEVER see on sale any other time of year. Help celebrate our Anniversary by making 2018 the year you breakthrough, and start living your ultimate writer's life.
Hurry! Sale ends May 29th at Midnight!
Join B2B Writing Success for Only $1!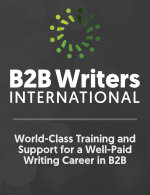 Whether you're a new or seasoned B2B copywriter, having access to the right information is key to launching and maintaining a successful B2B writing career.
B2B Writing Success is designed to provide you with a continuous flow of information, techniques, and strategies to help guide your B2B copywriting career so you can excel and prosper in this exciting and lucrative industry.
Don't wait! $1 Test-Drive Ends Soon.
Browse Recent News
There's no better person to teach you how to secure high paying web copywriting jobs than industry vet Nick Usborne.
More productive copywriters make more money and experience faster copywriting success.
Tony Boatright is living the writer's life abroad … and having no problem finding copywriting jobs.
B2B is one of the most lucrative freelance niches, with plenty of copywriting jobs available.
Advice from top direct-response copywriter, Don Hauptman.
Find out how you can write about you love AND make some additional income while doing so - with copywriting legend Bob Bly. Get more information about his exciting new program, and sign up today for a $200 discount!
Where some business events may keep presenters separated from attendees, there's one event where there's no limit to the networking opportunities.
Imagine ... making money in your sleep?! Find out how you can learn to generate a second income - from "America's Top Copywriter" himself, Bob Bly. Get all the details on his new program, and sign up today for a $200 discount.
Charmin Sterbenz gives the inside scoop on what marketers really want in a writer.
You're likely enjoying some great perks as a freelancer. But sometimes the fear of a "dry spell" is a concern. Find out how you can protect yourself with information publishing and Bob Bly's newest program.
Work just a few hours a week in this copywriting job and you can make six-figures per year. No clients needed.
As a freelancer, you're a business owner. And that levels the playing field with potential clients when seeking copywriting jobs.
Writing B2B emails is one of the most rewarding opportunities in copywriting success. Find out more from the E-newsletter expert himself, Michael Katz ... and save $200 when you sign up by midnight tonight.
With a retainer contract in hand for a copywriting job she enjoys, this copywriter is getting steady pay and enjoying her freelance life.
Every feel like you need to prove yourself as a copywriter? Our in-house copywriter Tim Matassa joined an Inside AWAI call where four common "working with clients" scenarios were role-played. Check out his advice on approaching clients with confidence and getting more projects.
Imagine your clients' inboxes are their homes ... and the emails they receive there are their guests! Learn how to write email newsletters that will get your clients to invite you in AND stay for awhile. Get more details on AWAI's Creating Email Newsletters for Professional Service Firms - and sign up today for a $200 discount!
When it comes to getting clients and making money, some writers get off to a "slow start" ... but you don't have to worry about any slow times - add writing emails to your services and start making money three times faster. Read here for more details and get started today!
You don't have to start from scratch when writing emails for clients. These templates let you leverage success in your own copywriting jobs.
Short, easy projects that pay well … with many copywriting jobs up for grabs.
Hugely successful blogger Mary Jaksch shows you how to launch a fulfilling writer's life.