This Week from AWAI …
AWAI's Anniversary Sale: 80% OFF AWAI's Hottest Resources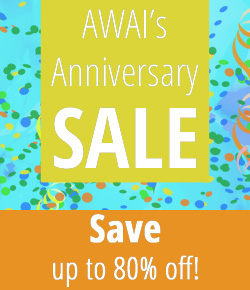 Get huge savings on many of AWAI's most popular programs — including some you'll NEVER see on sale any other time of year. Help celebrate our Anniversary by making 2018 the year you breakthrough, and start living your ultimate writer's life.
Hurry! Sale ends May 29th at Midnight!
Join B2B Writing Success for Only $1!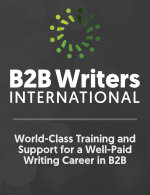 Whether you're a new or seasoned B2B copywriter, having access to the right information is key to launching and maintaining a successful B2B writing career.
B2B Writing Success is designed to provide you with a continuous flow of information, techniques, and strategies to help guide your B2B copywriting career so you can excel and prosper in this exciting and lucrative industry.
Don't wait! $1 Test-Drive Ends Soon.
Browse Recent News
Find out how to jumpstart your copywriting career at this year's FastTrack to Copywriting Success Bootcamp and Job Fair. Check out this video for more information.
Top copywriter David Deutsch reveals highly-effective ways to launch a profitable writing career.
A podcast recently named AWAI member Jon Stoltzfus the "Most In-Demand Copywriter on the Planet" ... but prior to that, he was named the $10K Challenge Winner at our FastTrack to Copywriting Success Bootcamp and Job Fair! The Professional Writers' Alliance has played a big part in his success - read more about it here.
Suzanna Fitzgerald used spec challenges to accelerate her copywriting success.
When it comes to money management, traditional financial advice just isn't the same for freelancers. But The Professional Writers' Alliance has experts who can help. Find out the advice they have for PWA members - and if you're not a member yet, sign up today for even more business writing advice!
Lorrie Morgan-Ferrero explains how she forged a radically unique trail in copywriting.
With expert-led learning, coaching, and mentoring, and many more benefits, it's no wonder these freelancers have found copywriter success.
Mike Palmer, Copy Chief at Stansberry Reasearch knows what it takes to succeed. But every successful copywriter has feared they won't make it-even Mike! Take a look at this FREE video to find out what it takes, and why you shouldn't give up.
You're ready for your career to take off — give it a boost and land top copywriting jobs with Circle of Success.
After participating in and winning multiple challenges, success is spiraling for Circle of Success Member Ricki Linksman. Find out what she did to achieve her goals and increase her income.
Are you aware of a syndrome you may be susceptible to as copywriter? It's not uncommon to fall victim to distractions - especially when you're on your way to copywriting success. Our in-house copywriter Tim Matassa has some advice, especially after listening to this Inside AWAI webinar. Read all about it here, and start making your plan to stay on track!
SEO has always been one of the hottest markets for copywriting jobs — and here's why
Award-winning copywriter John Forde talks about life as a writer in Paris.
The best type of copywriting jobs are retainer gigs. This AWAI member has two.
There's never been a better time to land copywriting jobs writing for the web.
Don't miss your chance to learn to write web copy and watch your copywriting success grow. Register for Web Copywriting 2.0 by midnight tonight to save $150 AND receive 5 special bonues. Get more details and sign up here!
Now is the best time to be a health writer! Find out more in this exclusive video interview from Katie Yeakle and 2017 FastTrack to Copywriting Success Bootcamp and Job Fair Keynote Speaker, Carline Anglade-Cole.
The highest paying opportunities for freelancers are in web copywriting. Land a copywriting job from the thousands of potential clients hiring right now.
Learn the direct response and copywriting terminology you need to communicate effectively with clients.
Best-selling novelist Jennifer L. Armentrout talks about the freedom in being an author.