This Week from AWAI …
There's an ALL-NEW Writing Niche Almost Nobody Knows About …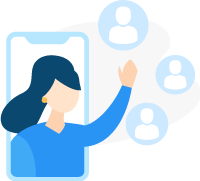 It's part of a growing $2.1 trillion industry, and companies are desperate to hire.
Just tell a prospective client you know how to write this, and you can expect an enthusiastic "YES!".
Not only that, but the opportunity is wide open. Almost zero competition.
And there are more than a dozen fast and easy writing projects that pay $1,000 and up.
Better yet, you can earn the skills you need to be ready for high-paying clients in just five weeks.
What is this new, fun, and lucrative niche?
Click the button below to find out.
Register to Attend Today for FREE.
TODAY:
You Get it All for Just

$249
$49!!!
The biggest hurdle to becoming a professional, paid writer is simply getting started. This is the answer: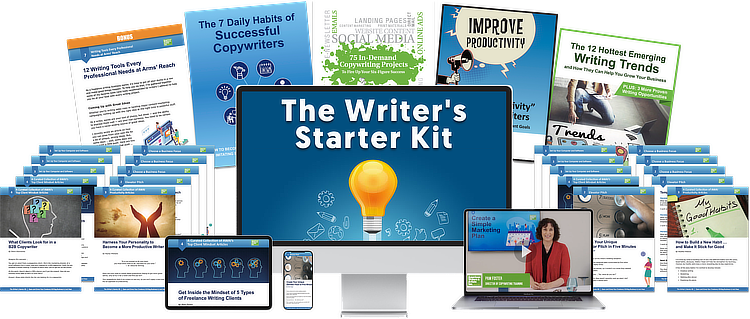 It's a vast arsenal of our very best writing and business-building resources … to help you set up your writing business FAST …
Like over the course of a weekend fast!
It includes all the tools, templates, resource lists, guides, and fee schedules you'll need to launch and run a successful writing business.
Grab The Writer's Starter Kit Now!
Browse Recent News
Chris Hardee never wanted to flee his day job, but he did want a little extra cash to use for some of the more important things in life. Writing proved to be the easy answer, with the trifecta of everything he wanted: flexibility doing something he enjoys while making good money doing it. Read on to discover how he wisely integrated part-time copywriting into his full-time work lifestyle.
Just released, the August issue of Barefoot Writer!
Growing up, Venu Sripada learned English as a third language in his native India. He traveled the world and built a thriving career as a business consultant but became frustrated by the poor-quality copy provided to him by his clients. It just didn't produce results. Venu decided to take things into his own hands and learn the new "language of copywriting," proving that nonnative English-speakers can be great copywriters in English too!
Hayley Michaels spent most of her days working with people in the beauty industry. But she longed for a break from the physical work and an outlet for her creativity, and soon discovered that web content writing fit the bill perfectly. Since then, she's built a steady career working with clients who need blog articles and online content. Read on for Hayley's upbeat advice to new writers trying to get started…
We're live! Join Rebecca Matter and her special expert guest from … as they reveal all the details about the #1 niche for new writers, hands down!
Answering these 8 questions will help us formulate a plan for sharing powerful money strategies used by the wealthiest freelancers we know. In exchange for your help, we'll make sure you're among the first to see these strategies – insights from money experts we're confident will be just as transformative as the writing skill you're now mastering.
From Indiana to Oregon to Rwanda, Dean Buse has followed his calling as a teacher of writing and marketing. Since taking the Accelerated Program for Six-Figure Copywriting back in the late 1990s, he's used his writing skills to help business owners add specificity and impact to their writing. Enjoy this inspirational story about the "professor of marketing" and his mission to help business owners succeed…
From 420 submissions, Steve Slaunwhite announces the 3 winners of the $200 prize from our short-copy B2B project writing contest in The Writer's Life.
Melissa Gouty launched her copywriting career with a bang in 2019, winning three spec awards at AWAI's annual Bootcamp. Since then, she's been working hard to build up her writing portfolio and connect with more clients. For Melissa, writing isn't just a pathway to money; writing is part of who she is.
Just released, the July issue of Barefoot Writer!
Sign up to get your hands on the perfect introduction into the world of professional writing. Get industry insights, writing tips, career advice, and more.
As a member, you'll enjoy professional-level resources, tools, and training you need to succeed. In order to join for a deep discount on the standard membership dues, you must sign up by June 27th.
Get practical strategies and tools for finding clients, self-marketing, and more from top copywriters and other experts.
The Barefoot Writer Club is accepting new members right now – and you can join at a deep discount for a limited time.
If you're ready to be among the first in the ENTIRE WORLD to specialize in this lucrative field, please act now before it's too late.
We're on the verge of something HUGE for writers. And right now, there's a short window of opportunity to get in early. Let me explain …
If you want to be a professional writer, check out what you get when you join the Barefoot Writer Club.
"Nano-writing" is taking the copywriting world by storm. It's why even Business Insider says: "The [nano-writing] era is here. Social networks are old-hat." And here's the really cool thing about it: "Nano-writing" is the ONLY high-paying writing project that's like texting or messaging a friend.
Eddie's story is similar to many other Barefoot Writers, where he discovered freelance writing while in need of a new career and never looked back. But what he did soon after starting is a path too many writers waver on: choosing a niche and staying the course. Not only has Eddie stayed focused on a specific niche, he now has regular clients hailing from all over the world. Read on to find out how he got there.
Companies in all sorts of industries use chatbots for lead generation and sales. Find out how copywriters are involved.