How to Pitch Writing Projects Like a Film Producer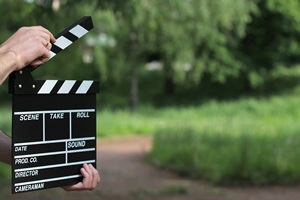 Raise your hand if you enjoy pitching your ideas to get work.
Anybody?
Sure, you may run into a freelancer now and again who says pitching projects is easy … but not many who do — especially not new writers. For many, and I can relate myself, approaching people to pitch your services and projects can feel daunting.
When I began my writing business, thoughts of panic would creep in when I thought of the pitch. Thoughts like:
What if I get rejected?
What if I sound too sales-y?
What if I stutter through all my words?
What if there's spinach in my teeth when I approach a decision maker?
These thoughts are normal. But if you want the big writing projects, proactive pitching will reap many more jobs than simply applying for jobs online or sending emails. And when you're meeting in person rather than the phone, even better.
Writers who land big, lucrative projects don't stay behind their computers. They get out there and connect. So if you want to write an e-course, establish an autoresponder deal on retainer, or something similar, pitching puts you on the fast track to achieve these goals.
Build Your Game Plan Like a Producer
I learned the tricks of effective pitching from the best pitcher I know, my friend, Chris Palmer.
Chris isn't a writer, he's a film producer. And his pitches have landed him truckloads of cash from big-name funders like Ted Turner. We're talking upwards of $3 million per project making IMAX documentaries.
So how does he do it? With a very simple formula he shared with me. Each step he takes is just as useful for writers as it is for filmmakers.
The Secret Keys to Success
Before any pitching begins, Chris lays out the groundwork with the two most important elements:
Enthusiasm and passion!
Radiate both of these. Pull in your prospect and let him see how energized you are about your idea. These emotions are infectious and show you love what you do and would be easy to work with.
Now with that in mind, here are the steps to follow for a perfect pitch:
Step 1: Nail Your Mindset
The pitching game doesn't need to be as intimidating as it seems. You just need to start by shifting your mindset. Stop thinking about any doubts and fears, and instead focus your attention on how useful your services are.
Companies need skilled web copywriters. Any idea you bring them has the potential to produce a positive impact on their bottom line. You offer solutions to attract sales, grow lists, engage audiences, and more. With results like these, potential clients will turn their ear to hear how they can get in on the action.
When your attitude shifts, you can escape feeling timid and instead be able to approach anyone as the professional you are.
Step 2: Master Your Introduction
First impressions really are as important as people say. Practice your basic approach to first meetings regularly so you know you haven't picked up any bad habits over the years.
This includes the standards you learn in your early days of job hunting. Good eye contact. Firm handshake. Genuine glowing smile. Body language is a big part of this impression. Stand up straight, speak clearly, and look happy to be there.
You might be nervous, but don't let that show. Use your grin and enthusiasm to hide the nerves. Then introduce yourself with a clear, confident voice.
Step 3: Reel Them In
Once introductions are finished, offer a "hook." This is similar to the type of hook you'd use when writing a fine piece of copy. Ask a question or state a fact that's sure to grab the attention of Mrs. Possible Job.
If you ask a question, leave time for your contact to answer and ensure she's fully engaged and ready to talk more.
An effective question Chris suggests is, "What challenges do you have with your web marketing strategy?" This question launches a dialogue that helps you get a feel for your prospect's primary needs.
Step 4: Briefly Describe Your Idea
Once your prospect is listening and ready to hear more of what you have to say, describe a key aspect of the project you have in mind. Explain why your suggestion is new and special and above all other ideas he may have heard.
This is your USP (your Unique Selling Proposition). Just as you want to use a USP in every sales letter you write, you also want to use it in selling yourself and your ideas. Why should someone choose you over anyone else? Answer this question.
For Chris, he likes to use a personal story and share how he came up with a film idea.
For a writer, this could work. Or perhaps you could use a compelling fact or figure about web traffic that could set you apart as a knowledgeable source. Someone who knows marketing just as well as web-writing strategy.
Whatever you use, only take about three minutes to say your piece. This shows that you respect your potential client's time and that you can get right to the point.
Step 5: Provide a Visual Finale
Chris likes to use photos, newspaper articles, or props to help others visualize his idea. This makes him stand out in the crowd and helps his prospect remember him more vividly.
For a writer, you could play around with ideas for props that might work, or you could simply bring writing samples to share.
Communicate when you're finished with the pitch by asking a simple question to request an action.
For Chris, he often says, "May I give you a treatment to read?" (A treatment in the film industry is basically a screenplay rough draft.)
For writers, you could use a similar approach and outline the general concept of content for the writing project you're aiming for. Another idea is to simply propose to send your writing portfolio.
Then, arrange for a follow-up conversation to spend more time talking a bit more in-depth about the project. That's when you'll have more time to get into details about your idea.
Make sure you get his phone number and email address.
Step 6: Prepare for Your Follow-Up
When you get to a follow-up meeting, focus on having a two-way conversation. You should listen more than you talk.
For great big film budgets, the buyer needs to be emotionally involved in the idea. It may be an idea he never thought of before, but when he gives input, it'll get him on board and eager to collaborate and make movie magic.
Use this approach for writing projects both big and small. Focus on a balanced conversation and how you can team up with your prospect to make a great writing campaign. Listen, offer advice, and make this a friendly, fluid dialogue rather than a hard sell.
With these simple tips, you can break down your resistance to pitching. You've got this … now go out and make some bold pitches.
Megan Tyson King is a social media specialist and web copywriter. She is also the co-creator of Copywriting for a Cause: How to Profit as a Writer and Make a Difference in the World, AWAI's program that shows copywriters how to team up with nonprofit and for-profit businesses to raise money and awareness for a cause while increasing customer loyalty and sales for a company.
This article, How to Pitch Writing Projects Like a Film Producer, was originally published by Wealthy Web Writer.

The AWAI Method™ for Becoming a Skilled, In-Demand Copywriter
The AWAI Method™ combines the most up-to-date strategies, insights, and teaching methods with the tried-and-true copywriting fundamentals so you can take on ANY project — not just sales letters. Learn More »

Published: October 1, 2014