Why You Should Choose a Niche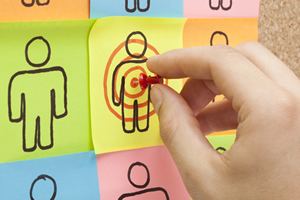 One of the biggest hurdles as a hopeful writer is how to get started on your business. You're ready to start making money, but you aren't sure where to begin.
It may seem counterintuitive, but uncovering your niche can make that process a lot simpler. It helps you focus your energy, get excited about what you're doing, and start getting clients fast.
That's why I'm showing you the extreme benefits of choosing a niche. How it will not only make your marketing process simpler, it'll make work a lot more fun.
You'll discover why a specialist commands higher fees than a generalist …
How to actually have fun in your business …
And how niching makes marketing a cinch.
The Power of Being a Specialist
Have you ever had to see a doctor for a specific problem? Perhaps you had a pain in your foot or a rash on your arm that wouldn't go away.
If so, who did you call first? Probably not your general practitioner. Although they're a good doctor, they don't necessarily have the expertise you're looking for.
And, often, they just send you to a specialist anyway.
Instead, you most likely contacted your podiatrist or dermatologist, respectively. Because they're experts in their field and are able to quickly analyze the problem and hopefully fix it.
This translates to your writing career as well. If you're just a "writer," you can absolutely get work, just like your GP. However, you'll end up dealing with a wide array of problems, and won't necessarily have the best possible solution for any of them.
If, instead, you're a Content Marketing Specialist, you solve a very specific problem. Yes, you appeal to a smaller pool of potential clients, but they'll all respect you for your expertise. And trust you can help them with their needs.
Also, since you're an expert, you can command higher fees. Your dermatologist makes a lot more per client than your general practitioner. Which means they can enjoy a smaller, more intimate client base while earning a great living.
And that's how you move from struggling freelancer to successful business owner.
Do What You Love
An often overlooked reason for choosing a niche is giving yourself the opportunity to focus on doing what you love.
As a generalist, you will be asked to do all kinds of writing projects. One day, you might create content for a local bank, while the next you write an email promo for a yoga instructor. The variety can be fun, but you will probably come up against projects you don't particularly enjoy.
For example, I recently took on a lawyer as a client as a favor to a colleague. My niche is Expert business owners — coaches, speakers, and authors. This was my first time working in the legal market.
And while I was happy to help a friend out, I discovered something very important from this experience — I don't like writing in the legal market!
Having to study up on laws and making sure the writing is both conversational and legally sound is very difficult. It also took me significantly longer to produce my work than normal, because I had to start from scratch. I didn't have any knowledge going into it.
When you work exclusively in a niche, you get to focus on an area that matters to you. I have a real passion and respect for teaching and self-help. I like to see people overcome obstacles in their lives and achieve their dreams.
So, for me, the Expert business owner niche is a no-brainer.
Imagine how much more exciting it is to "go to work" every morning if you love what you do. You're writing for businesses you care about and honing your expertise.
Your enthusiasm also helps you get really good at your craft. And that allows you to complete projects in a fraction of the time it would take a generalist. So, you can either spend less time working or have more clients — your choice!
Make Marketing Easy
One of the biggest challenges as a new writer is self-promotion. How do you market yourself to the vast sea of potential clients?
This is especially hard if you're a generalist. If you put an ad on Facebook as a writer, hoping to get a little work, it might look like this: "Expert wordsmith for hire! Here to help you with your writing needs."
You might get a few bites here and there, out of curiosity. However, because it doesn't target any particular audience or solve any specific problem, people don't know what to do with it. Do you create landing pages? Do you write blogs? Do you edit?
Now, let's say you've niched yourself as a landing page specialist for software companies. You know exactly where those clients see advertisements, what they're looking for, and how you can help them.
So you create an ad that speaks to all of their needs. "Boost your downloads by 20%. Impress more prospects with your demos and generate more customers." Position yourself as an expert and put it out there.
Sure, it may not reach as many people as the previous ad. But those it does reach will be the exact people who want to see it. And, if they have a need for your services, they'll give you a call.
Even better, the more you market and advertise to this audience, the better you'll get to know them. You'll discover what works and what doesn't, as well as where you can best reach them.
All of this helps you minimize your costs while maximizing your results. A win-win all around.
Take Your Business to the Next Level
If you want to make more money with less effort and have more fun in your work, consider choosing a niche for your business.
It may take a bit of thought for you to come to a decision about which niche to focus on. However, the important thing to remember is you're never stuck, so don't let this become a roadblock. Try out a niche and see if you like it. If you don't, you still have a great portfolio to get you work in another field!
Once you've picked a niche, you will feel empowered and excited to work on your business. Everything will be easier, and you'll love getting up for work every day. Plus, you'll narrow your target market down to the point where your marketing and advertising will bring in ideal clients with very little time and energy. Putting you on the fast-track to living the writer's life.
This article, Why You Should Choose a Niche, was originally published by Wealthy Web Writer.

The AWAI Method™ for Becoming a Skilled, In-Demand Copywriter
The AWAI Method™ combines the most up-to-date strategies, insights, and teaching methods with the tried-and-true copywriting fundamentals so you can take on ANY project — not just sales letters. Learn More »

Published: June 24, 2015