Circle of Success Member Discovers Shortcut to Landing Your First Freelance Client and Finding Copywriter Success
It's All About What You Can Do, Not What You've Done — No Experience Necessary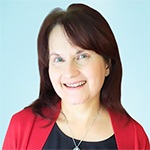 Elizabeth Blessing
When you're first starting out as a freelance copywriter, approaching clients can be intimidating. You've got the direct response knowledge, but you don't have a portfolio of past projects or list of companies you've worked with.
Fortunately, there's a way around that. In fact, many companies will give you a tryout so you can show your writing chops.
And when you do well it can land you not only one project but a long-term profitable relationship that could help you find your own copywriter success.
These tryouts are called spec assignments. And for Circle of Success member Elizabeth Blessing they've been key to her ongoing success as a freelance copywriter. Along the way she's worked on highly paid projects with some of the biggest names in financial publishing. And, maybe even more valuable, she's received one-on-one mentoring from the best copy chiefs and A-level copywriters working today.
First came a spec for AWAI's Accelerated Program for Six-Figure Copywriting. Her copy won the spec challenge — and a $1,000 prize — at the FastTrack to Copywriting Success Bootcamp and Job Fair back in 2014.
That same year she earned the chance to work with copywriting legend Clayton Makepeace after winning the spec for his main client, Weiss Research — a powerhouse in the financial publishing industry. Clayton mentored Elizabeth as she worked on real copywriting projects … and was paid $12,500 plus royalties for her work.
Last year, back at Bootcamp and Job Fair, Elizabeth was at it again and her streak continued.
"I entered Eagle Financial's spec challenge and was thrilled to have been selected the winner. Since January, I've been working with Eagle's Copy Chief, Wayne Ellis, who has been mentoring me on all the intricacies of writing persuasive sales promotions for one of their front-end financial newsletters," says Elizabeth.

"I'm a big fan of entering spec challenges as a way of improving my writing skills and connecting with potential clients. Eagle's challenge was a particularly great one to win because the prize included a full year of mentoring sessions with Wayne. His detailed critiques of my writing (which includes both written feedback of my work and phone conversations where he answers my questions) have proved invaluable in strengthening my copy skills."
Along with improving her copywriting skills, Elizabeth has been gaining a deep understanding of what makes prospects in the financial niche tick and how to address that in copy.
"I'd have to say the most useful technique Wayne has taught me is how to add believable urgency to my copy. I say believable urgency because it's not enough to just say 'buy now' or 'don't miss out' and expect that alone will convince people to purchase a product or service," says Elizabeth.

"People who buy financial newsletters need assurance that the newsletter editor can deliver timely recommendations that will lead to significant gains. Strong proof elements can help build excitement in the reader and stir a sense of urgency. Wayne taught me how to weave these proof elements throughout the sales promotion, from headline to close."
And now, Elizabeth's winning record when it comes to specs has attracted notice from another potential client and landed her latest freelance copywriting job.
"I've also been working with another financial publisher, Leeb Investor. They've hired me under a retainer contract to write both marketing and editorial content for several of their newsletters. The publisher at Leeb contacted me after reviewing my LinkedIn profile and noticing that I had previously won a spec challenge for Weiss Research. So, another example of great things happening from spec challenges!
For Elizabeth, the chance to win specs and work long-term with prestigious clients has been a tremendous asset to her freelance career. Her goal is to get away from the need to constantly find new freelance work to working out retainer deals with clients. That's where you work consistently with a client for a regular fee.
"Just about the time I was struggling with this, AWAI put on a free webinar on how to land retainer deals (https://www.awai.com/inside-awai/retainers-paid-freelance-writing-jobs/). Katie and Rebecca did a great job in explaining how to structure a retainer deal so that it's a win-win for everyone involved. I used the tips they discussed in the 'best practices' section of their webinar," says Elizabeth.

"I found that having this information gave me the confidence to broach clients with a proposal to consider me for a retainer. It was much easier than I thought and the biggest payoff is the peace of mind that I have with steady projects and income."
Find out more about Elizabeth and her freelance business here: www.elizabethblessing.com.
And right now you can join Circle of Success and find your own path to six-figure income and freelance success. Go here for more details about the different payment options to choose from AND all of the programs you'll have FREE access to.

The AWAI Method™ for Becoming a Skilled, In-Demand Copywriter
The AWAI Method™ combines the most up-to-date strategies, insights, and teaching methods with the tried-and-true copywriting fundamentals so you can take on ANY project — not just sales letters. Learn More »

Published: October 27, 2016