Email Copy Clients Made Easy: My 20-Minute Method to Consistent Marketing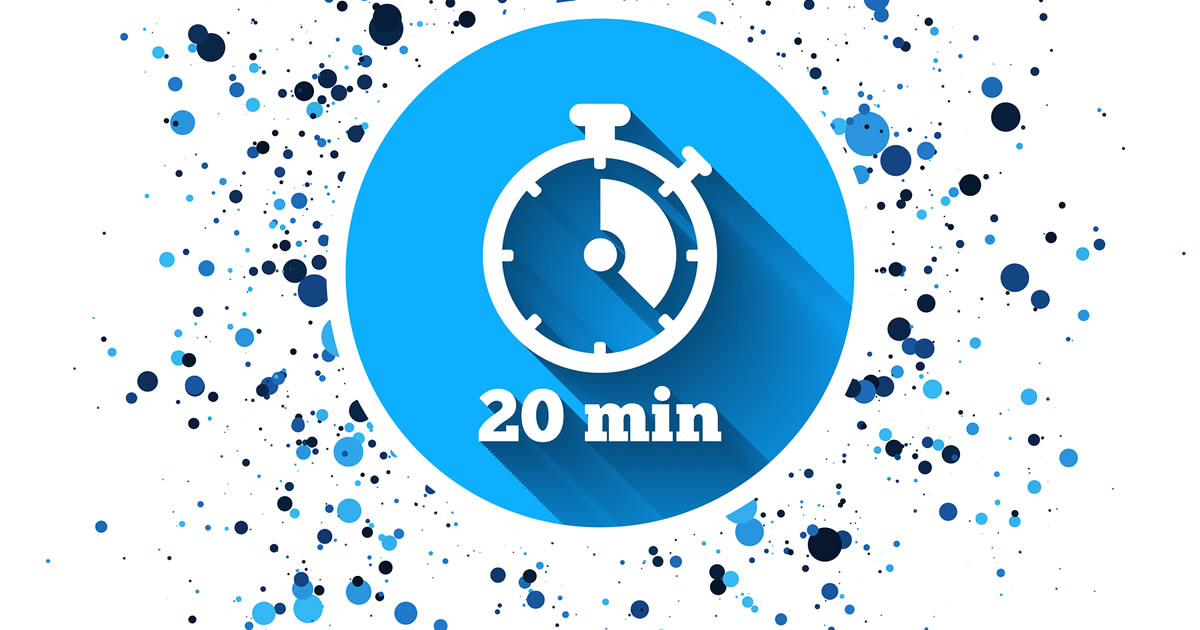 My first job out of college was selling radio ads for a station in Grand Rapids, Michigan …
In October 1991, with the ink still wet on my degree, I packed my '85 Cutlass to the roof with everything I owned and headed north. Didn't know anyone. Didn't know the area. But I was pumped to get started and excited about the possibilities.
15 months later, with tears in my eyes, I turned in my resignation.
Yep — I was a complete failure at radio sales. Oh, I had the look. Nice suits … cool ties … the prerequisite London Fog overcoat (a must for every salesman's attire) … snappy business cards … even the briefcase with my initials on it.
It was like Dale Carnegie and Zig Ziglar had a baby. I could have been the cover boy for Sales Schmuck Weekly.
But what I DIDN'T have was clients. Which is kind of important in that line of work.
So why did I bomb so badly? Two reasons:
1) I didn't spend enough time pounding pavement
2) I didn't spend enough time building relationships
If I had devoted more of my energy to those two things, I'm 100% positive I would have been a smashing success as a radio sales guy.
Now, let me be clear — I'm not lamenting my path in life. I'd say I've done pretty darn okay since then.
But what I DO want you to see is this: When you implement those two things into your own marketing efforts, you'll get more clients and make more money. Period. End of story.
No tricks, no gimmicks, no whiz-bang digital whoop-de-do magic fairy dust. Just two things — pounding pavement and building relationships.
So how do you do that exactly?
Well, this is where it gets FUN …
Because I'm about to show you how you can pull off both of these techniques with brilliance — and market yourself to over 100 people every month — in just 20 minutes a day …
That's right — 20 minutes a day is all it takes to become a successful copywriter — even if you have no experience. And I'm going to show you how to do it, right now.
Ready? Let's start with the pounding pavement part …
In the old days, getting in front of potential clients usually meant either calling them on the phone or going to their place of business.
And that could be tough. Rarely did a new prospect (who I had ZERO relationship with) take my phone call. Same with a store visit — I've actually had secretaries tell me "he's not in" after seeing the guy literally RUN to the back room when I walked through the door.
Discouraging, to say the least.
But today, we have the internet. Millions of potential clients only a click away. Pavement that was once under our feet is now under our index finger.
Which is great for you, since you can reach out to a LOT more potential clients in a LOT less time. But I only want you to reach out to five a day. That's right — just 5.
This is called Proactive Marketing. When you're Proactive, you're reaching out to THEM first — not waiting for them to come to you — with a message that's short, sweet, and to the point.
Now you're pounding digital pavement. And you're doing it the RIGHT way the first time — not floundering like I did back in the old days.
But I know what you're thinking: "What about the relationship thing? How do you have one with somebody who you've never met?" Stay with me here …
The key is not only to reach out to five prospects a day — but to reach out to five of the BEST POSSIBLE prospects a day. And that starts with finding common ground.
Focus on targeting niches where you have more experience, knowledge, or passion than other copywriters.
When you use that tactic, you already have a "relationship" of sorts, because of your common thread in the niche. Let me give you a quick example …
I'm a Chicago Bears fan. And if I'm out and about and see somebody in Bears gear, I usually try and strike up a conversation.
So what happens? You guessed it — that person is typically more open and willing to chat, based on our shared passion for our team. We have an INSTANT relationship built on common ground.
Same goes with your marketing efforts. When you target prospects in niches where you have more knowledge, experience, or passion for, you have common ground instantly. And that's seeds for a relationship.
See how this works?
Now, let's go over a quick step-by-step plan that gets you under that 20-minute a day mark …
Google businesses in niches that you're more knowledgeable, experienced, or passionate about.
Choose one and dig through the site to look for a target to send an email to. Think marketing or creative heads, people that would make decisions on freelance copywriter hires.
Send them a short email that highlights your experience in their niche and asks, "Is there anything I can do for you?"
Rinse and repeat four times.
Congratulations — now you're done marketing for the day!
Do this every day, Monday through Friday, and you'll reach out to 25 new prospects a week, or about 100 a month. And if you do this right, out of those 100, several are going to email back and want to continue the conversation.
I'm telling you — I've been doing this for my coaching students for YEARS and it works. Stay with it and you'll soon have a steady, consistent, and reliable marketing system that delivers fresh new prospects day in, day out.
A couple of other tips before I go …
If you have trouble finding an email address, there's several email-finding programs online that work really well (a couple are free).
Keep your message SHORT. Think 100 words or less. Longer cold emails tend to get deleted.
Have a link to your website in your signature.
And remember, if you want the lowdown on writing virtually every kind of email imaginable, check out my best-selling program, Email Copy Made Easy today.
So what are you waiting for? Set your timer to 20 minutes, get your stuff together, and GO!
That pavement isn't going to pound itself. ;)
So do you have any questions about my 20-minute a day marketing plan? Post your comments below and let me know!

The AWAI Method™ for Becoming a Skilled, In-Demand Copywriter
The AWAI Method™ combines the most up-to-date strategies, insights, and teaching methods with the tried-and-true copywriting fundamentals so you can take on ANY project — not just sales letters. Learn More »

Published: April 17, 2018