How to Make Money as a Ghostwriter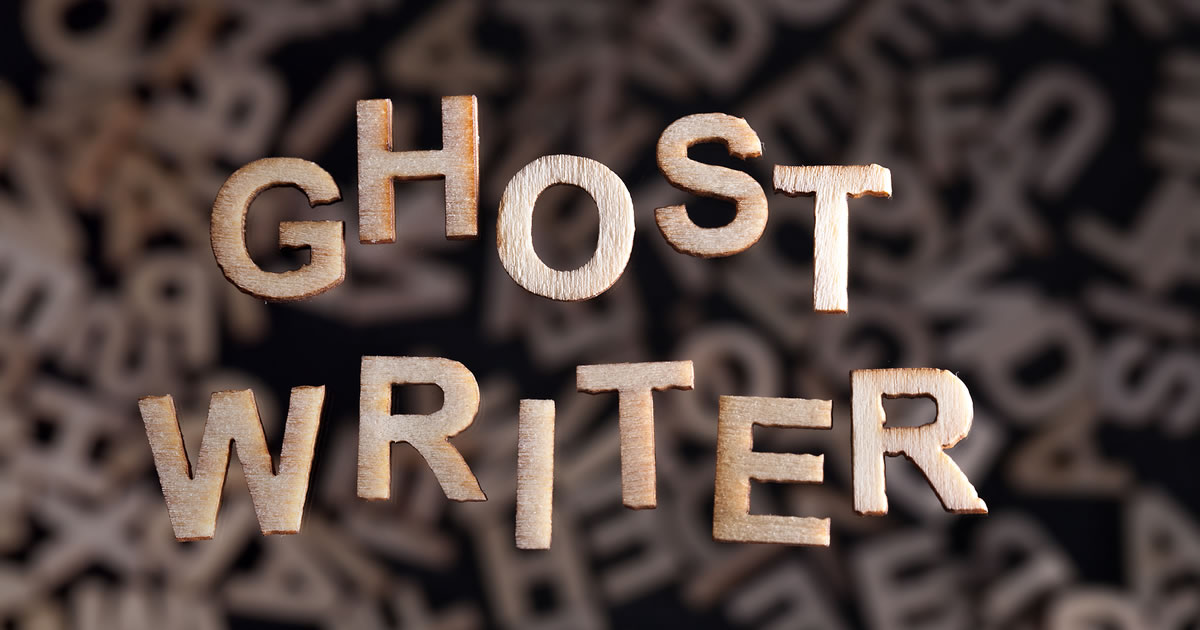 How does $10,000, $20,000, or even $50,000 for one writing project sound?
For ghostwriters, it's par for the course. Yet not many people know this kind of writing project exists.
Take Tim O'Leary, who stumbled on this opportunity while working an exhausting sales job in New York City, and hasn't looked back since. His only regret — not diving in sooner.
"If I had known ghostwriting was a career option, I would've jumped in right after college instead of spending time in offices where I felt creatively stifled."
Tim is one of many writers working "behind-the-scenes" to help people transform their story ideas into reality. Although ghostwriting is associated most often with books, projects range from academic papers to comic books to screenplays.
In a recent interview, I asked Tim about how he got his start in ghostwriting, how the work has shaped his life, and the advice he has for "up-and-comers" who want to break into the business (it's a lot easier than you think!).
Q: What were you doing before you started ghostwriting?
A: I was working sales at a high-end gym in the West Village of New York City to support my playwriting career. It was 60 hours a week minimum with hardly any time off, since gyms never close, and the burnout rate was incredibly high. I saw many, many people come in and out in my time there.
But, I stayed because the money was good and I was actually halfway decent at selling. Who knew?
Q: How did you get your start as a ghostwriter?
A: A good friend of mine who was working for a ghostwriting firm reached out to me because they were in desperate need of writers. Talk about a sentence I never thought I would hear … Writing is my first passion, and I was ready to leave my sales job, so I took the opportunity to send them a few samples of my work.
Thankfully, they liked my materials enough to give me a chance as a baby writer.
Q: Can you elaborate a bit on your writing experience and what samples you sent?
A: I was pursuing a career as a playwright, so I had done a lot of writing for myself — plays, short stories, and even a novel that was never published. Professionally, I wrote movie and theater reviews for two websites, as well as advice and dating columns.
I submitted a few columns I wrote, as well as a chapter from my book. Honestly, any writing you have lying around can work as a sample. It just has to show your style.
Q: What does being a "baby writer" entail?
A: Essentially it's like an entry-level position. They matched me with a client who had a smaller budget and I wrote a full-length novel for him. The experience was incredible, as I learned how to execute someone else's vision. It was my first time doing that.
Thankfully, he made the job easy by being easy to work with and very clear on what he wanted.
Q: How did things change after that first novel?
A: The client was so pleased with the work that the next book they gave me was a significantly higher payout. And before I was one-third of the way through that book, I got another offer for something even higher.
At first, I was worried about juggling multiple projects at once, but I found it was quite doable with a bit of planning.
Q: What does a typical ghostwriting project look like?
A: Projects vary quite a bit, but the first thing we always do is have a phone conversation to discuss what they're looking for. Sometimes they have an outline, sometimes it's just two sentences of an idea. It's my job to take whatever they have and help shape that into a story.
After that, I create an outline of every chapter, so we have a clear roadmap of how the book goes. Once the client approves, I get to work writing the pages.
I'll send anywhere from 5 to 15 pages at a time. If the client has notes, I'll make those revisions, and once they approve what I've written, it's locked. This makes it so we don't endlessly go back and forth.
Q: How long does a book take you to write?
A: Typically a novel-length book takes anywhere from six months to a year and a half. That's why the pay is high — it's a long-term commitment.
Q: Since you mentioned it, how does ghostwriting pay?
A: It's easy to make money as a ghostwriter. If you're self-employed, you can start around $10,000 per project and build all the way up to $50,000 or more. If you decide to work through a firm, you will make less but you'll be given clients. Either way, you get to work from home, which is the best payment!
Q: What's your day-to-day life like?
A: A typical day in my writer's life is waking up around 9 a.m. (I'm a night owl), having breakfast, and then getting to writing. I write well early and late, so I use those times to get pages done. In between, I deal with emails and phone calls.
I am also pursuing television writing here in Los Angeles, so I use my free time to write scripts, produce series, and apply for studio fellowships. Thankfully, ghostwriting allows me to keep my own schedule, so I work whenever I want, wherever I happen to be!
Q: Do you only work on books as a ghostwriter?
A: Novels, memoirs, and screenplays are my specialties. However, my firm offers services for any type of writing you can think of.
Clients hire us for editing, and even consulting on projects they want to write themselves. Basically, if you have a germ of an idea, we can take you from outline, to finished novel, to signing with an agent, to potentially a brokered deal with a publishing house. It's amazing!
As a side note, consulting is fun and quite lucrative if you enjoy developing stories but don't want to write a whole book for someone.
Q: What are your favorite genres to write?
A: I particularly enjoy action, sci-fi, thrillers. I'm also attracted to stories with unconventional lead characters.
Q: Aside from the money and time freedom, what draws you to ghostwriting?
A: Honestly, it's a thrill for me to help other people see the stories they've been thinking about for so long become a reality. So many people dream of writing books, but never make the time to get around to doing it. I give them the gift of checking that item off their bucket list.
It's also great to finally say, "I write for a living." It's the coolest feeling in the world and I constantly feel inspired by the projects I get to work on.
Q: How can someone get into ghostwriting if they're just starting out?
A: The best thing to do first is get a few samples together. Write a short story, or an article or two, showcasing your style and your writing expertise. They don't have to be particularly long.
Once you have a sample, you can start seeking work. You can either apply to work with firms or find work on writing sites. Or, you can get creative and ask people in your life directly if they want to write a book. You'd be amazed how well that works.
I landed a $30,000 project independent of my firm because a veteran friend of mine wanted to write a memoir. Another friend of mine who heads the psychology department for a university was ready to pay $10,000 for a novel.
At the end of the day, it comes down to building relationships and referrals. So many people are ready to have their stories told, and you could be paid handsomely to tell them!
So why not consider ghostwriting as a way to kick off your writer's life? You'll be well paid and get to do what you like most: write.
Do you have any questions about getting started as a ghostwriter? Share them below so we can help get the answers.

Wealthy Web Writer: The Writer's Roadmap to Making Money Online
With millions of websites and counting, the need for qualified web writers has never been higher. Get access to a growing resource designed to help web writers succeed. Learn More »

Published: October 31, 2018