7 Ways to Land Your First (or Next) Client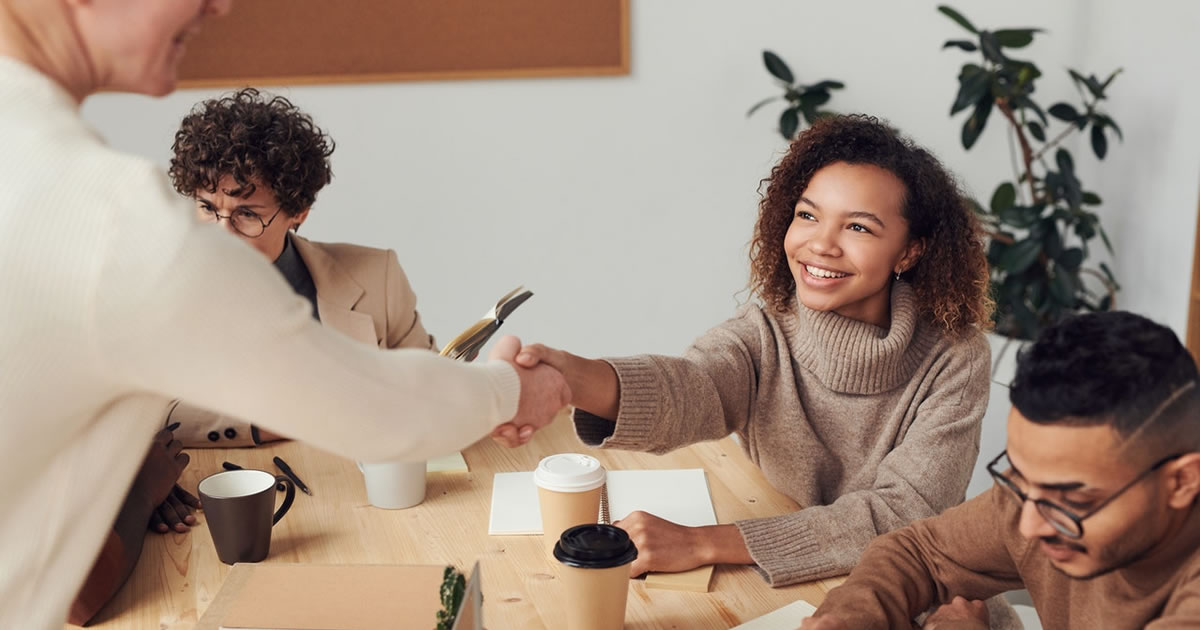 With a new year looming, now is the ideal time to set yourself up for success. Start laying the groundwork now, so you're prepped and ready to roll as marketers ramp up their efforts for a big year.
Taking a proactive stance will help you finish out this year strong — and give you a head start on new opportunities in the writing industry.
When you're starting your freelance writing business, there's a lot to consider:
What types of writing do you want to do?
What types of clients hire for that kind of writing?
What's your experience?
How do you land your first client?
Fortunately, with all the writing needs out there, it's never been easier to get started.
After all, content marketing is a $412.88 billion-dollar industry and growing. From web copy to blog articles to e-books, there's no shortage of projects in every sector.
Businesses need an endless supply of quality content and copy and they need writers who can provide it!
It's just a matter of connecting with the businesses in need of your help. In this article, you'll discover seven ways you can land your first client, even if you've never written for pay.
7 Ways to Find Your First (or Next) Writing Client
If you approach this with the proper perspective, it can be fun. You get to choose the types of writing you want to do, the kinds of clients you want, and ultimately, create your own paid writing adventure.
How do you start? To quote a yoga teacher, "with where you are." In other words, take small steps, gain some experience, and soon, you'll be amazed at how far you've come.
1. Assess Your Writing Experience
Take stock of what training you have and what training you need to get started. You don't want to get caught up in endless learning cycle, but you do need a starting point. Choosing one skill that will help you get your foot in the door is a good start. (Feeling like a total novice? Check out Are You a Newbie or an "Experienced Newbie?")
Then, you don't need an impressive, bulging portfolio, but you do need a writing sample or two.
Fortunately, that's not hard to create. Write an email if you want to get paid for writing emails. Write a blog post if you want to write blog articles. Not only will you have a sample to share, but you'll also learn by doing.
Learn how to wow clients with professional samples that prove you have what it takes … even if you've never worked with a single client! Watch this Inside AWAI session, How to Create a Winning Portfolio of Samples If You're Just Starting a Freelance Writing Career (Even If You've Never Had Any Clients!).
2. Update Your LinkedIn Profile
Sure, you can get writing leads from anywhere, but since I focus on B2B writing, LinkedIn is my social media tool of choice. With over 740 million users, it's the place to connect with other business professionals.
How do you update your profile? Give it a review. Does it share clearly and effectively what you do and who you do it for? Do you have a title that mentions you're a freelance writer? Do you include industry-specific keywords in your About section? You can find out more details about creating a fantastic LinkedIn profile here.
Once updated, it's helpful to review your feed and comment or at least "Like" relevant posts on a consistent basis. The more active you are, the more opportunity you have to connect with potential clients and build relationships.
3. Job Boards
AWAI has an exclusive job board where members can connect with marketers looking to hire AWAI-trained writers for their next assignment. You'll find high-quality jobs for copywriters and content writers, so make sure you're taking advantage of this membership benefit (it comes FREE with training programs like The AWAI Method)!
There are dozens of other job boards too …
Problogger
All Freelance Writing
Write Jobs
Upwork
Contently
Indeed (put "freelance writer" in search bar)
LinkedIn (search "jobs" and include "freelance writer" in the search bar)
Those are a few tools you can use to see what types of job descriptions people publish and how your skills can align.
My best tip on job boards?
Only to apply to things where you can show a sample. That way, yours will have the best chance of standing out.
Put yourself in their shoes. If they're looking for a cryptocurrency writer and all your writing experience is pet-related, yet they have 22 cryptocurrency writers apply, you're probably not going to get noticed. Instead, focus on areas where your unique mix of knowledge, experience, and skills will stand out.
4. Tell Everyone You Know
This is how I landed my first client — writing web copy for a dog trainer friend. But she wouldn't have hired me if I hadn't had told her I was launching a freelance writing business because she wouldn't have known.
You can post a social media message announcing your new writing career. Encourage your friends and family to share your name.
You can write an email message you send to everyone you know.
Your note can say something like, "Hey So-and-So, As you may know, I'm making a transition this year and have launched a freelance writing business. My specialties are x and y, and I'm taking on clients. If you know anyone who needs a writer, it'd mean so much to me if you'd share my name and contact info. Thanks!"
Obviously, you can adapt this as much as you like. The important thing is to let everyone know about your new venture. If you can personalize the messages, they will be even more effective.
5. Publish Your Own Post
Back up your one-to-one outreach by making your own post on social media. "Now taking on writing clients in the XYZ industry. Please let me know if I can help with your writing needs."
No need to overcomplicate it.
6. Cold Outreach (aka Letter of Introduction)
I know, this sounds scary. But when I got serious about my outreach, I doubled my business. So, yes, it's worth it. I recently compared notes with another long-time freelance writer, and she agreed that most of her best clients came from cold outreach.
Here's the gist. You've decided you want to write for the gardening industry, let's say. You've got a few writing samples and now you're ready to ramp things up. Plus, it gives you a way to be proactive about the types of clients you want to work with.
You can google "gardening + freelance writer" to find job ads. You can also make a list of all the gardening tools/brands you know. Then check out their websites and see what types of content marketing they're using. Do they have an active blog, and you write blog articles?
You can use LinkedIn or an email finder tool like Hunter.io to track down the marketing team and send a quick "Here's what I do for companies like yours" message.
7. Network
Get to know editors, content marketing managers, and other freelancers via social media. Make friends online, be generous with your knowledge, let people know what you do, and you'll plant seeds that will come to fruition down the road.
There you have seven ways to land your first (and more) clients. If you're looking for writing clients and you'd like more ideas, check this out … We'll show you the easiest places to find and land them.
All you need is the willingness to believe in yourself and let others know what you do. Once you get started, momentum will work in your favor!
One more tip, if you're eager to get your first paycheck as a freelance writer so you can build from there, start by watching this: 3 Ways to Make Your First $1,000 as a Freelance Writer.
Which methods will you try first? We'd love to hear from you in the comments.

The AWAI Method™ for Becoming a Skilled, In-Demand Copywriter
The AWAI Method™ combines the most up-to-date strategies, insights, and teaching methods with the tried-and-true copywriting fundamentals so you can take on ANY project — not just sales letters. Learn More »

Published: December 8, 2021