How to Make Good Money with Freelance Writing — in 9 Easy Steps
If you love to write, but you aren't sure what steps you need to take to make a good living, this blueprint is for you.
In this article, we lay out a 9-step blueprint you can follow to make very good money with freelance writing.
Discover …
Where the opportunities are (today's well-paying gigs)
Why all kinds of companies need you now (more than ever!)
How to choose writing projects you'll enjoy doing … and your ideal work schedule
How to find and attract potential clients
What you need to know about setting up your writing business
And more!
We leave no stone unturned as we show you the steps you'll need to take to supercharge your freelance writing career.
Let's get going.
Step 1: Understand the Opportunity
If you're new to copywriting, we'll start with a quick definition to set the stage.
Copywriting is persuasive business writing with the intent of driving an action.
In other words, copywriting refers to writing materials for businesses, instead of more traditional forms of writing, such as writing books or magazine articles.
Copywriters typically work on projects like writing web pages, online articles, social media posts, sales letters, case studies, or other marketing materials used by businesses.
And all of these materials have one thing in common — their purpose is to persuade the reader to take action in some way, whether it's to click on a link, contact the company, sign-up for an e-letter, donate to a cause, or buy a product.
Copywriters are trained to write persuasive copy that helps a business reach more prospective buyers and ultimately make more sales.
For a more detailed overview of all things copywriting, check out our free resource What Is Copywriting? AWAI's Essential Introduction to the Copywriting Industry.
1. Why Commerce Needs Copywriting
All the materials that copywriters create are vital parts of a company's overall marketing strategy. Businesses would cease to exist without them.
In order to do business, any company or organization must explain the following elements to their prospective customers:
What their product or service is
How it solves a problem, need, or wish
Why it's the best solution and value
How much it costs
How to order it
And they need trained writers who know how to clearly — and persuasively — explain these elements to their readers.
At first glance, this may seem like anyone could do it.
But many companies struggle to effectively communicate these fundamental points in their marketing due to lack of knowledge or lack of staff.
This is why many companies actively look for freelance copywriters to fill this gap and provide the professionally written materials they need to stay in business.
It also explains why copywriters are consistently in such high demand, and why they can command such high writing fees.
2. The Size of the Copywriting Opportunity
According to Statista, global advertising spending was approximately $689 billion (U.S. dollars) in 2021. And that figure is expected to reach $850 billion by 2024.
That's a lot of money being spent on marketing and advertising. And a portion of that money goes to pay copywriters.
When it comes to online or digital marketing, eMarketer found that the average company has allocated 69.7% of its ad budget to digital in 2022, which is predicted to grow to 74.9% by 2024.
This shows the growing need for copywriters who know how to write for digital marketing channels as well, which we'll discuss a bit more later in this article.
For both digital and printed marketing materials, every business needs copywriters to help them compete, thrive, and even survive in our ever-changing world.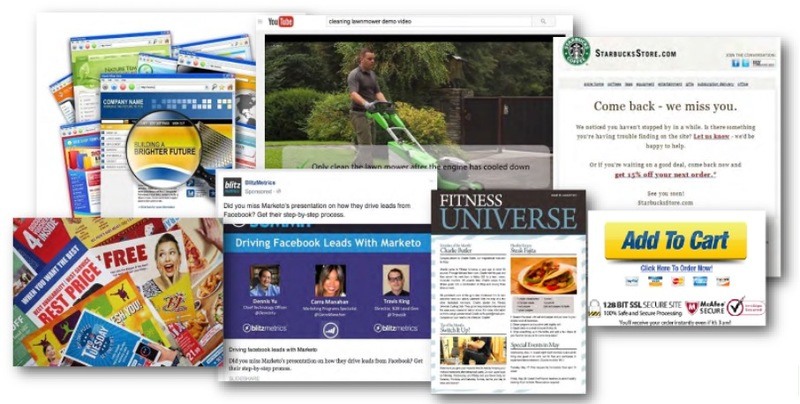 Step 2: Determine Your Money Goals
As we've just covered, copywriting holds a wealth of opportunities for writers.
But before you dive in, it's important to pause and ask yourself what you really want to gain from copywriting.
In particular, what are your financial goals for your copywriting career?
There are no right and wrong answers when it comes to deciding how much money you need to create the life of your dreams. It all depends on your current life situation and your future goals.
Perhaps you feel that your life is already on the right track and you'd just like a little extra "fun money."
Or perhaps you have a specific need in mind, such as saving for college tuition, retirement, or a dream vacation.
Or maybe you want a total career change and your goal is to earn the equivalent of a full-time income through copywriting.
All of these options — and a huge range in between — are possible through copywriting.
One of the best parts of being a freelance writer is that you can choose how much or how little you want to work.
For example, you can take on single copywriting projects, where you're not committed to any ongoing work. Some common one-time projects include:
Article or blog post — $150-$700+ each
Site audit — $1,000-$2,500
White paper — $2,000-$7,000
Case study — $1,200-$2,000
Short video script (1-5 minutes) — $500-$1,500+
Chatbot script — $2,000
This allows you to work whenever you want to, or whenever you need some extra cash.
But if you're interested in a more reliable source of income each month, retainer agreements are a great option. These are agreements you make with a client where you provide them with a certain amount of work each month for a set fee.
For example, you might enter into a retainer agreement where you write an e-newsletter for your client every month for $1,000. Or you might manage a client's social media for $2,000 per month.
This is an excellent way to earn a stable income each month without the uncertainty of repeatedly finding single projects.
You can also choose to include a mix of single projects and retainer agreements in your freelance workload.
Whichever income sources you choose, the next step is to clarify exactly how much money you want to make as a freelancer.
Start by asking yourself the following questions:
How much money are you making now?
How much money do you need to make?
What other considerations or upcoming expenses do you have?
Take some time to think about your answers and write them down for reference.
Then, start to explore how you're going to reach your money goals. For a detailed breakdown on how to do this, check out our free webinar How to Create Your Success Roadmap.
As you develop your plan, remember that nothing is set in stone. You can always change your mind and shift as opportunities arise.
But having a plan will get you going in the right direction and help you reach your writing and income goals faster.
Step 3: Explore Your Copywriting Options
This is an area that can feel a bit intimidating as a new writer.
With so many copywriting opportunities, where do you even start?
To help clarify your options, we created what we call the AWAI Copywriting-Content Continuum. This graphic gives you a visual representation of the most common types of copy and content companies use in their marketing.
It also shows how the content you create helps to guide a potential customer toward a purchase along what's known as the "buyer's journey." Here's the diagram: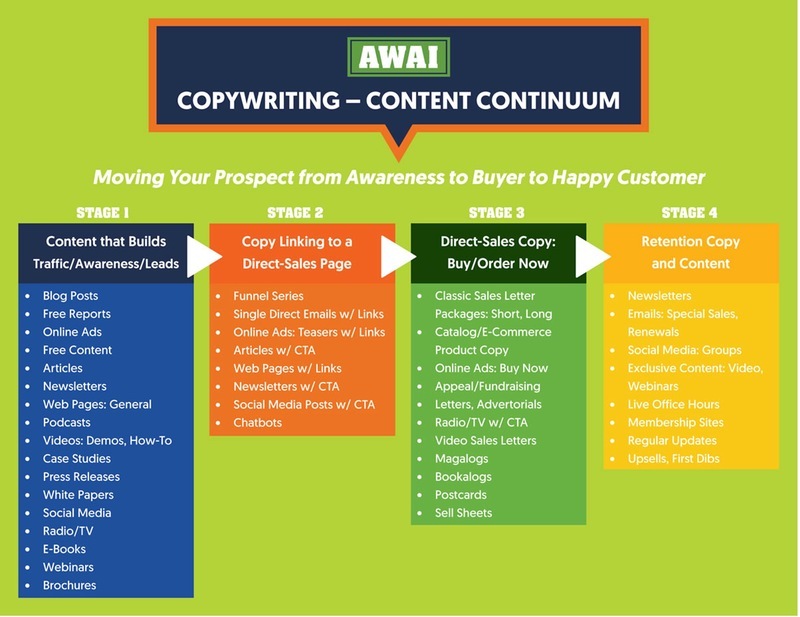 You can see the first stage of the buyer's journey includes content that builds traffic to your client's site, as well as raises awareness of their products or services and brings in new leads or potential customers. Examples of content used at this stage are blog posts, white papers, or webinars.
The second and third stages relate more directly to getting those prospects to buy the product or service, such as emails, online ads, sales letters, or other materials that include a direct call-to-action.
And the fourth and final stage supports new customers with additional materials to help them effectively use and succeed with their purchase, such as newsletters, social media groups, or exclusive content like video updates.
As a copywriter, you can write anything on this Copywriting-Content Continuum … and make a great living doing it.
In fact, we've compiled 80 of the most in-demand copywriting projects and their average fees in our Copywriting Pricing Guide. You can download the guide for free right now and start researching what kinds of projects you might want to work on.
Companies need materials from all of these stages, and no stage is more important than another when it comes to promoting their businesses and driving sales.
So it really comes down to deciding what you want to write, and finding a business that needs what you have to offer.
And if you want any additional information on the individual types of copy and content you could write, check out AWAI's product catalog here.
All of these projects are in high demand, and each of our courses has a sales page with much more detail about the opportunity.
This will give you an idea of the huge variety of copywriting projects companies are looking for.
And if you're ever asked to write any of these projects in the future … know that there's almost certainly a course in our catalog that can teach you how to write it!
Step 4: Decide Who You'll Write For
The next important step to making money with a freelance writing career is to decide who your ideal clients would be.
As a starting point, businesses typically fall into one of two main categories:
Business-to-Consumer (B2C) companies sell directly to consumers. This would include any products or services you've bought for yourself, such as your computer or phone, pet supplies, home repair services, or even online courses.
Business-to-Business (B2B) companies sell their products and services to other businesses. For example, companies that provide construction materials, business software, or in-house training would sell exclusively to other businesses.
Some companies may be a mixture of both B2C and B2B, such as gym equipment, pharmaceuticals, or fish tanks.
In general, it's easier to find freelance writing work in the B2B industry because it's not as well-known as B2C. Fewer copywriters typically approach B2B companies, so there's often less competition.
But there's still ample opportunity in the B2C industry as well because of its sheer size.
Regardless of the market they serve, all companies need a wide variety of written materials across the Copywriting-Content Continuum to promote their products and services.
In other words, they need YOU!
So, which types of companies should you target when you start promoting your writing services?
Whether you're interested in the B2B or B2C industries, we recommend that you start by choosing a copywriting niche.
A niche could be writing for the financial or healthcare industries, which are both massive industries. But you could also write for a smaller niche, such as barbeque manufacturers, craft beer breweries, or marital arts trainers.
Choosing a niche will help you find clients who are a good fit for your personal skills and interests. It will also increase your value as a copywriter because potential clients will see you as an expert in your field, rather than a "general" writer.
As an initial brainstorming exercise, write down a few of your answers to the following questions:
What kind of buyer are you? What kinds of products do you typically buy?
What personal interests do you have?
What work and life experience do you have?
The answers to these questions will help guide you toward a niche that's perfect for you.
Our free webinar on How to Choose a Copywriting Niche shares more in-depth tips on discovering your ideal writing industry and clients.
Step 5: Get the Skills
Before you start looking for clients, it's important to have the hands-on copywriting skills you'll need.
Now, this doesn't have to take a long time. You can learn the basics of some writing specialties in a week or two, such as writing emails or blog posts. But others may take a few months to learn, such as writing long-form sales letters.
And, naturally, you'll get better over time as you get more practice.
But you don't need to get a degree or spend years learning your craft in order to start working as a copywriter.
At AWAI, we've purposefully created in-depth training programs on how to write nearly all of the top copywriting projects that companies use on a regular basis.
If you're not sure where to start, these are our most popular courses:
Each of these programs is designed to cover essential copywriting fundamentals you can apply to nearly any writing project, including hands-on exercises to practice the concepts you're learning.
And our courses don't stop at writing skills — they also include full training on how to get clients in that particular industry or writing specialty.
Many of our courses are self-study programs you can complete at your own pace. We also offer more advanced certifications and live training events periodically.
If you have any specific questions about any of our courses, don't hesitate to contact us here. We'll be happy to help narrow down your choices.
Another great resource is our collection of writing prompts.
The best way to learn how to be a knock-out writer is to write every day. So choose one of our writing prompts and start practicing!
Step 6: Market Your Services
Some beginner freelance writers get a bit nervous when it comes to marketing themselves.
But keep in mind that "marketing" can include many different ways to connect with potential clients. You don't have to do cold calling or attend in-person networking events if you don't want to.
In fact, we've identified 26 different "getting clients" strategies for ANY personality, including:
LinkedIn
Your website
Blogging
Email prospecting
Using your personal network
Whatever your personal style is, you can almost certainly find a marketing method that will work for you. You can also use a mix of two or three different strategies and make it your own.
Every freelance writer is unique, but the most important step is to start doing something to market yourself.
You can start with these five ways to find copywriting jobs.
Or try checking out WritersWanted, AWAI's own job board. We collect and curate the best job postings in one place so you don't have to spend hours searching on your own.
You can also consider taking our Writer's Launch Party, a five-day online event where we help you set up your writing business and start your client search in less than a week.
Step 7: Complete a Project
Let's say you've done an amazing job marketing yourself and you've found a great client … now what?!
After taking a deep breath, remember that you've already got the skills to write this project. And if not, simply contact us and we can connect you with the resources you'll need to learn it as quickly as possible.
It's also helpful to stay realistic about what's expected of you as a copywriter.
Clients want you for your writing skills, and they're excited to see your finished product. They do not expect you to also know web programming, graphic design, photography, or other additional skills.
If you have any of these skills you can offer as additional services — great!
But all you need to know to be a successful freelance copywriter is how to write effective copy.
Most copywriters deliver their final project as a simple Word document. Your client is then responsible for preparing it for publication.
You can help establish these expectations with your client in your initial conversations. Give them an overview of how you work when you first meet them, and how your first project will proceed.
And when you deliver your final project, you can include an email highlighting what you've included, such as:
Dear [Client],
I've completed a full draft of your website's homepage. Here it is, attached. Please note that I included these best practices:
Attention-getting headline offering your prospect a unique promise
Interesting, benefit-rich subhead that supports the promise message
A few bullets bringing the promise to life in full detail
Quick summary and incentive to act now, with a call-to-action button
I look forward to going over this with you. How about tomorrow?
When you interact with clients, focus on being professional and delivering your best possible work, rather than being perfect.
Remember, there will always be a learning curve when it comes to writing. Even well-established copywriters set aside time to keep learning their craft and improving their writing skills.
So, as long as you do your best, maintain your professionalism, and keep learning, your freelance writing career will skyrocket over time.
These are a few resources you may want to explore to help you with your first client conversations:
Step 8: Get Paid!
You've completed your first project — yay!
Now, how do you get paid?
The following are three important steps for finishing a writing project on a high note.
1. Invoicing and Payment
First, make sure you thank your client for the project and express how much you enjoyed working together.
At this point, you can also let them know you'll be sending an invoice for your services.
For the invoice itself, you can use a template like the one in our Essential Templates for Your Copywriting Business package.
It's best to discuss the invoicing and payment process at the beginning of the project so you and your client both know what to expect.
You can receive payment by check, direct deposit, wire transfer, PayPal, or other services. It all depends on what works best for you and your client, as well as which respective countries you live in.
2. Closing Out a Project
Another important step when finishing a project is to ask about the next one!
Take the initiative and pitch another project you could do for your client.
Maybe you did a group of blog posts for them … suggest some topics for another group of posts. Or perhaps propose a series of social media updates to drive traffic to the blog. Or maybe you did an email series for them … ask if they need an e-newsletter as well.
Now that you know their company and what they might need, it's easy to come up with suggestions for how you could help them.
And if they say they don't need any further writing at this time, make sure you schedule a time in your calendar to follow up with them at a later date to see if anything has changed.
Remember: the best time to ask for the next sale is when someone is happy about the current project.
3. What You Need to Ask Your Accountant
We're not accountants and can't offer financial advice, but these are a few things you might want to discuss with a professional accountant as you start to grow your business:
Taxes
Keeping records
Deductible expenses
Business structure, e.g. sole proprietor vs. incorporating
Sending and tracking invoices
Making your accounting easy
All these factors will be unique to your individual situation, and an accountant will be able to provide advice on the best ways to organize your finances and business systems.
If you need any further details on setting up your business, negotiating your fees, or other business-building tips, check out these resources:
Step 9: Celebrate and Repeat!
Make sure you always take time to stop and celebrate your wins and achievements as your freelance writing career advances.
If you launched your website, found your first client, or raised your rates — tell someone!
No achievement is too small to celebrate.
And if you don't have anyone in your life who's excited about it — post your win on our Facebook page and we'll celebrate with you!
We love hearing our members' success stories and cheering you on.
Acknowledging the work you've already done helps to keep your momentum high as you take the next steps to build your business.
Final Thoughts
We don't know of any career opportunity that's as easy to get started as freelance copywriting.
Just think … you don't need an expensive degree, a fancy office, a lot of equipment, or any previous experience to become a successful copywriter.
You only need to learn the fundamental skills of writing good copy, and to follow the nine basic steps we've laid out in this article to start making money as a freelance writer.
If you're looking for the best place to start, we recommend taking The AWAI Method™ for Becoming a Skilled, In-Demand Copywriter. This program includes hands-on practice writing five in-demand projects and guides you through finding your first clients — all in four weeks!
Regardless of how you get started, know that we're only a phone call away if you need any help. You can reach our Member Success Team at toll-free 866-879-2924 from 8:30 a.m. to 5:00 p.m. Eastern Time, Monday to Friday. Or click here to contact us by email.
If we can do anything to help you be successful, count us in.
Webinar Materials
Additional Resources
Determine Your Ultimate Money Goal
Inside AWAI — Creating a Personal Roadmap to Well-Paid Writing
Decide Who You'll Write For
Inside AWAI — The #1 Easiest Way to Choose a Copywriting Niche and Start Attracting Well-Paying Clients
Foundation Programs
The AWAI Method™ for Becoming a Skilled, In-Demand Copywriter
The Digital Copywriter's Handbook
Get the Skills
Complete Collection of AWAI Skill-Building Programs
Writing Prompts (Write every day!)
Resources for Marketing Yourself
Inside AWAI — Landing Assignments and Building Your Business
Step-by-Step Programs — Business Building
Free Articles — Marketing a Business
AWAI's Job Board — WritersWanted.com
Resources for Completing Projects
Working Effectively with Web Clients – 7 Steps to Making Sure They Love You and Continue Paying You the Big Bucks
Essential Templates for Your Copywriting Business
Resources for Running Your Business
AWAI's Copywriting Pricing Guide
AWAI's Simplest Guide to Pricing Copy Projects
Inside AWAI — Setting Up Your Business
What to Do Next
Go through each step
Make decisions (and take action!)
Invest in yourself
Learn the skills
Set up your business
Keep going and growing
Most importantly … let us help you! If we can do anything to help you be successful, you can count us in.
Access the Inside AWAI archives here.