Get Paid to Travel!

Six Months From Now, You Could Be Getting Paid to See the World
Imagine sliding out of bed and knowing your "work" for the day is to scuba dive along the Great Barrier Reef … or to shop at an open-air market in Madagascar … or to attend the opera in Vienna …
The Ultimate Travel Writer's Program will show you how easy it is to earn extra income while you travel the world … meet new people … and enjoy the freedom and independence of living "the writer's life."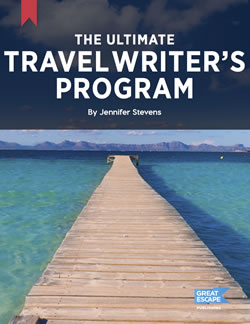 With The Ultimate Travel Writer's Program, you'll learn:
Where to find the best story ideas and how to find publications that will pay you for them.
How to make the most out of every trip you take by coming away with three or more articles.
What to do and what not to do when you approach an editor, so you're sure to land repeat assignments.
Little-known techniques travel writers use to land concert tickets … meals … vacations … and more … without paying a dime.
Also included: Money-Making Travel Photography. This special report (a $24.50 value) contains all of the secrets you need to know about taking profitable photographs – secrets used by some of the top photojournalists in the world.
If you've ever dreamed about the romantic life of a travel writer … of getting paid to explore the world … here's your chance to actually live it. And with the new and improved online fourth edition, you'll get quick and easy access to convenient, downloadable chapters, new audio clips and extra bonus tips to help you get paid to travel and make money even faster.
The Ultimate Travel Writer's Program: $399.00 $319.00 or start today for just $49.00.
Learn More About Becoming a Freelance Travel Writer
Free Articles on How to
Become a Successful Travel Writer
AWAI's travel writing pros have put together a comprehensive archive of articles that include a wide-range of topics such as travel and photography tips and featured publications to help you improve your skills and reach your goal of becoming a travel writer in the fastest time possible. You'll find answers to questions like "how to present an idea to an editor," and "how to avoid editing errors." And don't forget to check out the "Get Paid to Travel" series.
Access the Complete Archive of Travel Writing Articles »
Already a Travel Writer?
Then You Need an ITWPA Membership …
How would you like to spend two months exploring the wilds of Australia … all at no charge?
You could enjoy a day fishing on the sun-drenched Great Barrier Reef … or a lazy weekend in the balmy breezes of Brampton Island, where tall palms list over the azure waters on 12 golden, sandy beaches …
Sound extravagant?
Well, that's exactly how Brian Norris spent a couple of months this past year – and those are just the highlights. Brian clocked over 2,000 miles – and enjoyed amazing meals, fabulous hotels, tremendous pampering, and all the best activities.
And it was entirely free! Plus, he was paid thousands of dollars to tell others about it in a special full-color travel section in his local newspaper.
Perhaps you're thinking, "I could never land a sweetheart deal like that." But that's just not so. You most certainly can – faster and with a lot less footwork than you probably imagine.
Join the International Travel Writers & Photographers Alliance (ITWPA) today and get on the inside track for a whole host of opportunities for complimentary travel and VIP treatment. Membership in the ITWPA puts you firmly on the path to a whole new life as a jet-setting freelancer.
Membership in ITWPA includes:
A personalized ITWPA Member I.D. Card, which helps give you the polish of a real pro and can "grease the wheels" when you travel.
The ITWPA Insider, an advice-packed e-letter delivered twice a month, which provides how-to tips for writing better, traveling smarter, and earning more … plus you get listings of press trips as well.
Top priority, as an ITWPA Member, when you submit your articles to Travel Post Monthly, the ITWPA's online magazine – a great place to land a by-line and get your articles in front of editors looking for content for their own publications.
Discounts of more than $300 on writing- and travel-related resources, including workshops, travel supplies, books, magazine subscriptions, and more.
Access to the password-protected ITWPA website where you'll find a vast collection of valuable resources, including the Writer's Tax Guide (a $24.50 value), yours at no charge with membership.
The ITWPA's Members-Only Online Forum, an excellent place to go to get answers to your questions and share your ideas, opinions, and experiences with your fellow ITWPA Members.
Your own Professional Online Photo Gallery, a website where you can maintain your photo portfolio and send editors interested in buying your shots.
12-Month Membership in ITWPA: $219
For More Information, click here …