Let Your Writing Pay for Your Next Vacation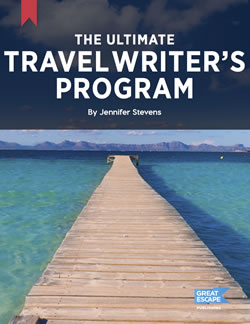 Duane and Harlene Harm were just your ordinary retirees — bored with golf and looking for a sideline to keep them busy. After taking AWAI's The Ultimate Travel Writer's Program, they spent the following summer traveling to 23 dude ranches in Colorado, Wyoming, and Montana, staying for free an average of three days at each ranch. The total value of their summer stays? About $55,000 … and they didn't pay anything. Not one cent.
What's more, they wrote an article for Steamboat Magazine, a high-end coffee-table publication based in Steamboat Springs, CO, that comes out twice a year. And they were paid for their work.
Imagine if you could slide out of bed knowing your "work" for the day would be to scuba dive along the Great Barrier Reef … shop for the perfect cup of coffee in Paris … or kayak from island to island in the sleepy San Juans. If you ever dreamed about the romantic life of a travel writer, here's a very unusual opportunity to actually live it!
With The Ultimate Travel Writer's Program, you'll learn:
Where to find the best story ideas and how to find publications that will pay you for them.
How to make the most out of every trip you take by coming away with three or more articles.
What to do and what not to do when you approach an editor so you're sure to land repeat assignments.
Little-known techniques travel writers use to land concert tickets … meals … vacations … and more … without paying a dime.
Find out how easy it is to earn extra income while you travel the world … meet new people … and enjoy the freedom and independence of a writer's life.
As a bonus, you'll also get Money-Making Travel Photography. This special report (a $24.50 value) contains all of the secrets you need to know about taking profitable photographs — secrets used by some of the top photojournalists in the world.
If you've ever dreamed about the romantic life of a travel writer … of getting paid to explore the world … here's your chance to actually live it. And with the new and improved online fourth edition, you'll get quick and easy access to convenient, downloadable chapters, new audio clips and extra bonus tips to help you get paid to travel and make money even faster.
The Ultimate Travel Writer's Program: $399.00 $319.00 or start today for just $49.00 with 7 additional payments of $49.00 each.
For More Information, click here …