Writing for big money — it's within your reach


Discover the Income-Boosting Secrets
That Could Set You Free …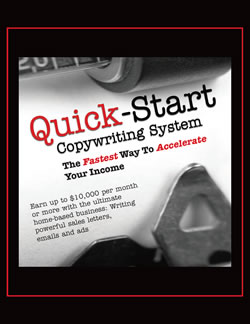 How would you like to know the SAME copywriting secrets used by one of the world's highest-paid copywriters?
His name is Clayton Makepeace. He's spent the last 43 years in the world of direct-response and is a living legend in our industry.
He's helped his clients generate close to $1.5 billion in sales. As a result, he's earned checks totaling $300,000 … $600,000 … up to $1.4 million per month.
And it's all thanks to a number of proven secrets he uses time and time again.
Now, he's giving away the farm by showing YOU everything he knows about copywriting, in his best-selling program, The Quick-Start Copywriting System.
This comprehensive copywriting system walks you through everything in a foolproof series of steps, where you'll discover all the insights, tips, and strategies that will turn you from an ordinary copywriter into a superstar.
It SHOWS you how to do what the very best PROS do when writing for big money.
You'll never be left guessing about how to use or apply these explosive, moneymaking techniques. Instead, you'll see examples of the principles in action in real-life copy examples that mailed and went on to become record-breaking controls.
You'll never be overwhelmed — because you can use Clayton's system to suit your own unique needs.
Whether you're a future copywriting star who wants to follow Clayton's own A-Z process for creating a blockbuster promotion … or you're a super-busy freelancer already …
The Quick-Start Copywriting System is designed to effortlessly give you the breakthroughs you need to grow your copywriting career.
PLUS —
You also get $1,214 in powerful business-building bonuses:
The six-part Getting Started: A Lesson with the Masters audio series (a $474 value, Free!)
Three eye-opening one-hour-plus Video Training Sessions (a $297 value, Free!)
Swipe Files of the Copywriting Superstars (a $197 value, Free!)
The ground-breaking, 60-page Emotional Trigger Words (a $147 value, Free!)
The eye-opening, 40-page reference The #1 Way To Electrify Your Ads (a $99 value, Free!)
Remember, Clayton is one of the top earners of our industry. And right now, you have a chance to get all the same tools and strategies that can rocket you to copywriting success.
You'll learn the exact same secrets and process Clayton's used to help his clients rake in close to $1.5 BILLION in sales. And, you'll discover the insights he's used to bank royalty checks of $300,000 … $600,000 … up to $1.4 million per month.
Clayton Makepeace's Quick-Start Copywriting System: $1495.00 $1295.00
For More Information, click here …