Break Free from the Chains of Isolation:
How to Live the Full Writer's Life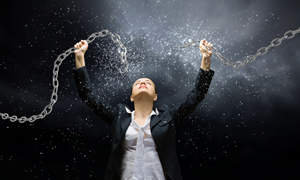 You've seen the cover of the Accelerated Program, right?
The picture of the guy at the beach, enjoying a carefree day of casual writing under the umbrella, piña colada in hand?
It's the classic image of The Writer's Life, and a fitting one at that.
Well, I'm here to tell you that's not just a cliché. Since becoming a full-time copywriter almost two years ago, I've actually done the sitting-under-the-coconut-palm thing.
Not on a regular basis, but I've done it. (More often, I do the work-in-your-pajamas thing. So far I haven't been able to convince Katie or Rebecca to use that image on the cover of the Accelerated Program.)
I've also enjoyed the perks of working with …
No boss
No dress code
No interruptions from coworkers
No noise
No phone calls
No set schedule
No limits to how I work
No limits to where I work
It's a beautiful thing, this Writer's Life! If you've experienced a slice of this life, you know what I mean.
You get to spend more time with family and friends on your terms, not your employers. You get to do creative work without a boss breathing down your neck. You get to be a rugged individualist. Forge your own path. Carve out your own destiny.
This may shock you
But, if you're just diving into this freelance lifestyle or testing the waters, let me unveil a dark little secret …
Working by yourself is hard.
You won't hear us self-reliant types admit this too often. But the fact is, working as a freelance writer is hard.
A big part is the isolation.
It's not natural to be by yourself for long periods of time.
The average person doesn't function well in isolation. You have to be determined. Self-motivated. Focused.
Which is why The Writer's Life isn't for everyone.
I thought it would be easy. I had a 16-year background in direct sales. I spent 50-60 hours a week without any direct supervision.
This is different.
In that job, I still had regular interaction with my prospects and clients. As a freelance writer, you really do work long hours without any specific direction, and often for long stretches without face-to-face interaction.
Back in 1624, John Donne wrote, "No man is an island, entire of itself …"
In other words, human beings do not thrive when isolated from others.
And therein lies the problem.
When the masses join the rush-hour traffic, we're in our cozy home offices. When friends are stuck in endless, boring meetings, we're creating masterpieces (in our own minds, at least).
When others are getting performance reviews, we're giving ourselves a pat on the back (and a raise, to boot!).
So, those very things that make The Writer's Life a joy also present a set of serious challenges:
Loneliness. Yes, the work of a freelance writer can be downright lonely. This is especially true for extroverts, but even introverts aren't immune. You can't get around the fact that writing requires large amounts of time alone. And if you thrive in an atmosphere of lots of social interaction, this can be tough.
Lack of direct supervision or direction can limit your productivity. The job of a manager is to get more production out of a person than they would on their own. It's the same reason we use personal trainers and life coaches. Now, if you can find a good writing coach, hire them! If you're in the beginning stages of your career and it's cost-prohibitive, I have an alternate solution below.
Solitary work inhibits communication skills. As a freelance writer, you need to do a lot more than write. You have to market yourself to clients and network with other professionals. Skills that are hard to develop when you're holed up writing in your office doing what you do best.
If you're not careful, these challenges can be like chains. They'll keep you isolated and hold you back from achieving your full potential.
So how do you overcome them? How do you enjoy all the benefits of The Writer's Life – time freedom, flexibility, creative expression, huge income potential – while conquering this isolation giant?
It's not as hard as it may sound.
Here are three ideas to help you really live the full writer's life. Plus one overarching solution that can help you stay super-connected as a solitary writer:
A cure for loneliness: leave the house!
Obvious, you say. Well, the key is to make your time out of the office productive.
First and foremost, whether it's business or social, meet with people on your terms. Meet at a convenient time and place for you, and be selective about who you spend your time with. Ideally, meet with prospects or professionals you can network with.
If you can, schedule social interaction into your daily schedule. I'm a regular at a local independent coffee shop, same time and same table every day. I only spend a few minutes in small talk (I'm there to write, after all), but I feel like I'm getting out in the world and out of my office "cave".
Besides just getting out of the house, I highly recommend meeting with colleagues once or twice a year at conferences. There's a huge advantage to sharing ideas, swapping stories, and networking in person versus online.
I wouldn't miss AWAI's Bootcamp for anything, and I'm stoked about the upcoming Web Copywriting Intensive in San Diego! My wife is coming along, so she'll finally get a glimpse of what this copywriting deal is all about. And I heard that Rebecca is guaranteeing I'll leave with a paid web writing assignment! Can't beat that.
No boss? Maximize your productivity immediately
This may sound like the opposite of the carefree, flexible, anti-corporate writer's lifestyle you crave, but it seems to be the norm for the most successful copywriters I know:
Establish a very specific routine, and stick to it.
I can hear the protests already.
"But I'm a writer. I like to go with the flow." Or, "I don't like to be locked into a
schedule. I have too many conflicts that come up."
I felt the same way.
But then Michael Masterson sold me on rising early. Bob Bly showed me the value of every hour of my time, and has made over six figures for twenty years (over half a million each of the past two years). Other successful copywriters I heard at Bootcamp like John Forde and Jen Stevens talked about their writing routines.
I figured they all knew something I didn't (and they all make just a bit more than I do).
All I know is, when I established my own daily schedule, down to the minute, my productivity immediately doubled.
Up at 5:59 a.m. Write three pages of anything before 7:00. Breakfast and shower. (No pages written, no breakfast – I'm a tough boss.) Take kids to school. Write copy from 8:30 to 11:00. Work out and lunch from 11:00 to 12:30. Write from 12:30 to 3:30. 3:30 until 9:00 is family time. 9:00-10:30, write some more. Go to sleep by 11:00.
Do I always stick to it? No. But the closer I do, the more I get done. If you have a full-time job like I did for three years while I wrote on the side, it's even more important to do this.
Establish a definitive schedule around your other commitments, and you'll ramp up your productivity and your income.
Improved communication skills = higher writing income
Dan Kennedy was the one who impressed upon me the need to do more than just write. If you want to make more money, you need to learn how to market yourself, sell yourself in person, and network effectively.
Since being a good writer is just part of the equation, consider getting involved in outside organizations. Toastmasters International helps you become a better public speaker. Social Media Breakfast is a great face-to-face networking group (and it's currently in over 40 cities nationwide). I've enhanced my skills and even gotten business directly from being involved in these groups.
Taking a leadership position in these types of groups will develop your non-writing skills even further, and possibly lead to more connections and future work.
Finally, my #1 secret weapon if you are a freelance writer who wants to stay more connected … combat the loneliness of solitary work … network with like-minded professionals … pick up occasional projects … take your business to the next level … and develop skills you can parlay into an additional service and revenue stream …
Social Media: The Golden Ticket
Okay, I know social media isn't a substitute for real, live interaction. But even if I never ventured outside my home office, I would feel connected with others because of Facebook, LinkedIn and Twitter.
More important, it helped me land two copywriting projects before I even knew what I was doing.
I have to admit. Until recently, I didn't have a clue about social media.
But now that I have Nick Usborne's How to Become a Social Media Expert, the sky's the limit.
If you haven't already, make social media your secret weapon for 2011. This one is going to be big.
You're not alone
Take these four steps to address the challenges of working by yourself, and you'll soon be living the full Writer's Life.
I'll be there, too. Under the umbrella on the beach, sipping a piña colada, in my pajamas.

The Professional Writers' Alliance
At last, a professional organization that caters to the needs of direct-response industry writers. Find out how membership can change the course of your career. Learn More »

Published: February 14, 2011