Earn Your "Badges" –
and Get Officially Certified in the
Hottest Web Copywriting Skills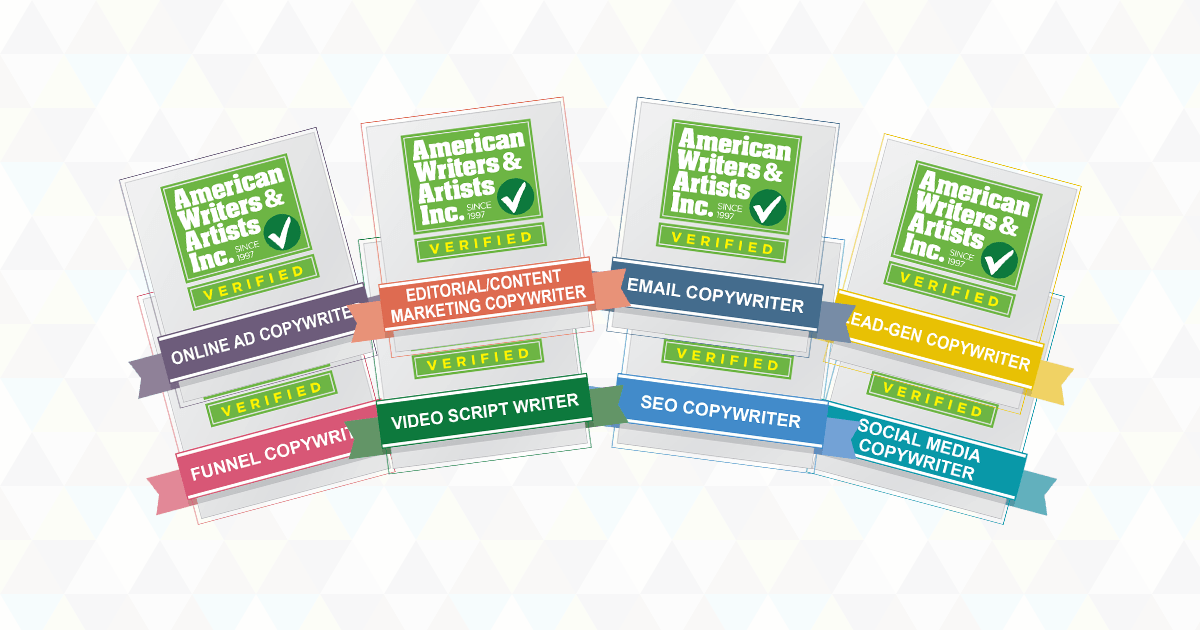 The world of selling products and services online is always changing. Online marketing techniques that work to generate leads and get customers are constantly tweaked and updated.
That means copywriters who work for online companies – and just about every business is online in some way these days – have to keep their skills fresh. They must master the types of clients want.
That's where this program comes in: AWAI Verified™: Mastering The 8 Collateral Marketing Projects Every Copywriter Must Know.
There are eight sections of online training in AWAI Verified™ (you can call it "Badges" for short):
Social media posts
Emails
Sales funnel copy
Space ads
Lead generation landing pages
Editorial/content articles
Video scripts
SEO web content
These are the hottest web marketing tactics right now and when you're looking for freelance jobs, you'll see that many, many clients are seeking this sort of copy.
Consider that …
Good content can increase blog traffic by up to 2,000%, according to ThemeIsle.
A study from BlueOpps shows that search engines drive 93% of web traffic.
Growing SEO is the biggest priority of 61% of companies surveyed by Digital Strategy Consulting.
Spending on Facebook ads increased 62% over the last year, according to e-Consultancy.
According to Meaningful-brands, 84% of people expect companies to create relevant and quality web content.
Learn some or all of the skills in the "Badges" program and you expand the range of services you can offer – and go after high-paying clients.
With your Badges training, you'll know how to craft copy that gets results. It is rigorous training. But once you pass the test for each section (yes, there is a test), you'll be officially certified in that skill by AWAI … and you can put that "Badge" on your website, business card, and self-marketing materials.
You can join AWAI Verified™: Mastering The 8 Collateral Marketing Projects Every Copywriter Must Know and start getting certified and earning your "Badges" now.
Until May 10, you can sign up for a nearly 60% discount.

The Professional Writers' Alliance
At last, a professional organization that caters to the needs of direct-response industry writers. Find out how membership can change the course of your career. Learn More »

Published: May 7, 2019