New Year's Issue: What's your word?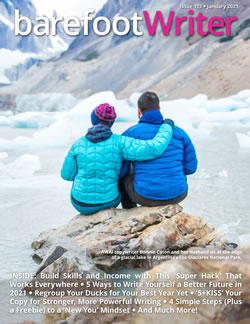 It's becoming a mainstay in freelancer culture …
Largely because it leads to more wins, greater confidence, and an accelerated rate of success — especially for writers.
I'm talking about choosing a guiding word for the year in lieu of a resolution.
Click here now to read your January issue of Barefoot Writer.
You pick a word, and then every day, in good moments and bad, you turn to that word for direction.
I prefer to have a word that drives my professional goals, and then a different word for my personal goals.
You can take that approach, or go with one overall guiding term.
Either way, if you want 2021 to be the year you really bust past your hurdles …
Your single, guiding word could make all the difference.
After all, words have power. They open doors. Launch entire careers and livelihoods.
They're our clay to shape. Our tools to hone.
And they can guide you to the writing life you dream of, with plentiful income, ample freedom, and satisfaction every day because you get to work on projects you love.
Here's a quick guide for picking your word:
Think about your past year. Reflect on your highs and lows.
Think about what's coming in the year ahead … what's inevitable and what you hope will happen.
Write down any words that come to mind. Choose the one that gives you the most clarity. Don't choose a word you think will impress others; choose one that fits your personality. Nobody else has to understand it like you do.
And then, use it. Write it down. Post it everywhere. Think about it daily. When faced with a decision, a crossroads, or a conundrum, use your word to help you choose your path. Let it motivate you, inspire you, move you to action.
You may be wondering … can a single guiding word really hold this power?
Yes.
Our January issue is evidence of all the ways your words — and how you interpret them — can lead you to paid writing success.
We kick off this New Year's issue by sharing some of our best past interviews and their key takeaways.
You'll also enjoy simple steps to help you create a "new you" mindset, plus write stronger, more powerful copy, plus build your skills and income with a little-known "super hack."
Enjoy the read, and then commit to jumping into this new year with refueled commitment.
After all, it's already being called "the Year of the Writer." Make sure you get in on that!
Click here now to read your January issue of Barefoot Writer.
Happy New Year — may it be your best writing year yet!
Published: January 1, 2021