Leadership Is Assumed, Not Assigned
Why You Shouldn't Wait for Validation of Your Good Ideas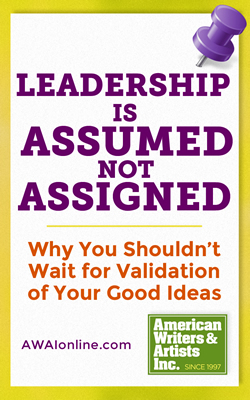 After I became a full-time freelance copywriter three years ago, I had all kinds of grandiose visions.
I would be an A-level copywriter and marketer like Clayton Makepeace or Dan Kennedy very quickly.
I was going to become a prolific author like Bob Bly. I was going to live in three homes like self-publishing master Gary Scott.
Yes, I had big plans.
I've always been proud of doing things that other people didn't think I could do, whether it was my parents, a teacher, a coach, colleagues, or friends.
I've accomplished a lot of my goals in life.
I've taken my cue from my favorite Dr. Seuss book, Oh, the Places You'll Go!
"You'll be on your way up! You'll be seeing great sights! You'll join the high fliers who soar to new heights.
"You won't lag behind, because you'll have the speed. You'll pass the whole gang and you'll soon take the lead. Wherever you fly, you'll be best of the best. Wherever you go, you will top all the rest."
Reality smacks down my Dr. Seuss vision
There was only one problem when I joined the ranks of freelance professionals in the writer's life.
It was all up to me.
I don't mean that my writing colleagues and the AWAI community didn't want me to succeed. They certainly did, and I got a great boost when I won the "New Hopes, New Goals, New Life" contest in 2009. That was an AWAI contest where I submitted a YouTube video explaining how the writer's life had already made a significant impact on me.
And my family was supportive.
But even if you find someone who encourages you to pursue your dreams, do you think they'll check back with you every few months to see if you're making progress? Probably not.
This was much different than my previous corporate world, where my sales manager, the vice president, and even the president of the company always knew what I was up to.
Now, one of the appealing things about the writer's life is that you get to do your own thing. You don't have to worry about a manager or boss expecting big things.
You can make a decent living taking on assignments from job boards, completing them, and moving on to the next one.
The big, the brave, and the bold
But I'm going to make the assumption that you're a high flier who wants to soar to new heights. I believe that if you've read this far, you have a desire to do some really big things.
Beyond being a freelance writer, you have goals you've maybe never even told anyone.
You're careful about revealing your goals because some people will laugh. Others will be envious of your ambition and hope you fail. Still others will secretly wish they were as motivated as you.
How do I know this? Because I've been having some fantastic conversations with writers lately.
Not Facebook or email chats. Real, authentic, old-fashioned conversations where you pick up the phone and talk for an hour or sit down in a café for two hours.
I know an AWAI member with young children who's already traveled extensively to Nicaragua, Mexico, Puerto Rico, and Ecuador. He plans to use his publishing and copywriting business to fund his world travels in the next five years.
Another member is already a successful author in a typically male-dominated field (football). She plans to parlay her book into a nationwide and possibly worldwide speaking business. She's using her copywriting skills to market herself and make a good living until the speaking gigs really kick in.
One other friend of mine, also an AWAI member, is a copywriter who owns a photography and vintage clothing business with her husband. She has big ideas for her retail store and the online possibilities.
My recent revelation
In talking to these big-thinking high achievers, something struck me.
No one gave them the green light to move ahead with their ideas. They just did it. And once they made the decision to do it, magical things started happening and people started appearing who wanted to help.
Here's the big takeaway: people do want you to succeed. But you have to be bold and make the first move in confidence.
Me? After testing my idea last summer of living in Ecuador, I've decided that I'm going to own a home there within five years. I'm also going to run my business from wherever my wanderlust takes me, whether that's Buenos Aires, New York, or Paris. I'm going to put my energy into writing, publishing, consulting, and traveling.
Can you relate to this idea of stepping out, claiming what you want, and being a "leader," even if you've never considered yourself a leader?
Do your dreams not necessarily fit into the normal niche box? Are you a bit of an oddball (and I mean that in a good way)?
Here are a few tips to start making things happen:
Go with your gut instincts. Listen to your heart.

The cool thing about freelance copywriting is that you can go in any number of directions. Don't feel like you have to follow the normal path that experts before you have followed.

Strike out on your own like my friends who are indulging in their passions in life.

Stay true to who you are.

Don't try to be something you're not. If you have no interest in the financial world, don't write a spec assignment just because you could land a big project.

If your nature is soft and caring, don't try to emulate Dan Kennedy's brashness. If you couldn't care less about the non-profit world, don't try fundraising copywriting.

Figure out who you are first, then find a direction, not the other way around.

Act on good ideas, but on a small scale.

Test out a new niche before diving in all the way. Do one or two projects before you fully commit. Write an ebook before you shell out big money to get a book published and marketed. Try out your idea with a Facebook group before you launch a full-fledged website. Once you feel you're on to something, then …

Don't wait for someone to validate your good idea.

See if it has potential, for sure, but if you wait for someone to tell you it's great, you'll be waiting forever. Make your move and show confidence in it.

You won't become a star overnight, and you may grind away for years before anyone even knows your name.

Don't let that stop you.

Hopefully, you find one trusted friend or advisor who gives you encouragement and support. But be prepared to forge your own path.
Remember, leadership is assumed, not assigned.
Let me leave you with the words of my favorite poet, Robert Frost:
"I shall be telling this with a sigh
Somewhere ages and ages hence:
Two roads diverged in a wood, and I -
I took the one less traveled by,
And that has made all the difference."
Writing Project Pays $800 to $2000 Month After Month …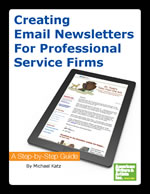 Get paid to write 700 to 1,000 words in a "quiet" niche with very little competition and more potential clients than you'll ever need.
You can count on one of your clients paying you at least $800 – month after month … year after year. Even if you've never been paid to write before!
Click here to get started today.
Published: October 4, 2012