Living the Writer's Life: Tim Geiger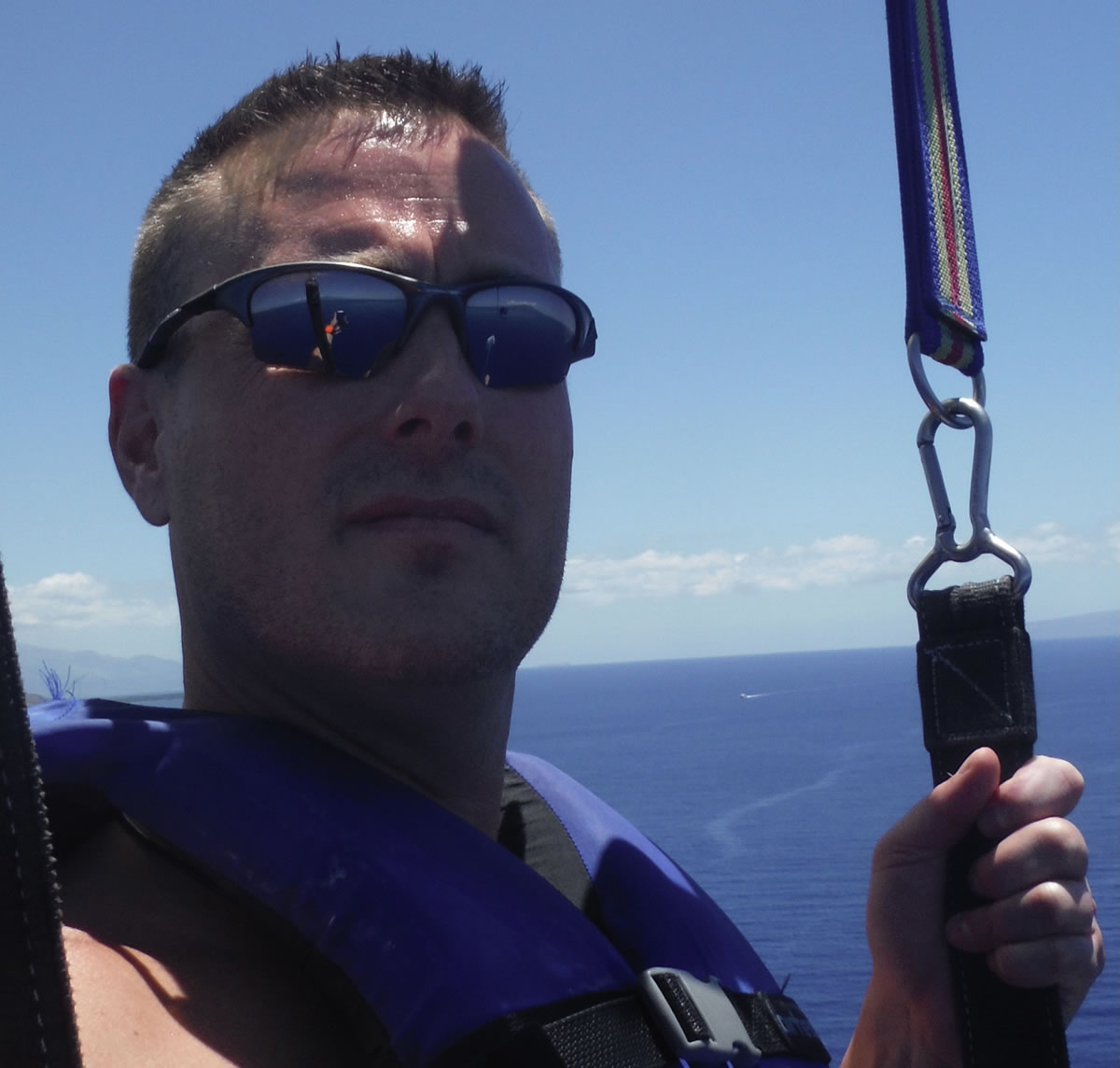 Tim parasailing off the coast of Maui in Hawaii
How were you able to make the switch to writing while juggling 90-hour work weeks?
Even with working those insane hours, I still made the time for one of my passions — reading and writing. I've been developing a legal thriller for way too long. I had a subscription to Writer's Digest, and through that email list I received an email from AWAI about copywriting. The email was intriguing, and I grabbed the trial subscription to Barefoot Writer magazine. I followed up to see if maybe I could learn something to benefit my practice.
Wow, did I learn something … I could use my love of writing to make a really good income without having to practice law at the same time. Next thing I knew, I was attending the 2017 Virtual Bootcamp, closing my law practice, taking a position as a staff attorney with the court so I could work the short 40-hour workweek — all so I could work on developing my copywriting skills and launch a career as a writer.
You really took action! What has it led you to do now?
Lately, it has been a lot of developing new content for my website and prewriting a good number of blog posts and social media posts for Facebook and LinkedIn.
The clients I've been doing most of my writing for recently include AWAI and its family of products: Wealthy Web Writer, PWA, and a couple of pending projects for The Writer's Life.
Additionally, I'm in discussions with several online lawyer-marketing coaches to develop content for their members/clients. I'm also in discussion with several life and performance coaches to be part of their team developing new product lines.
What successes are you most proud of?
To date, my biggest success stories have to be my Guest Writer series for the Professional Writer's Alliance and joining the AWAI family of assignment reviewers. Another success possible only from being a Barefoot Writer is that I was able to send my parents to Hawaii, all expenses paid, for eight days for their 50th wedding anniversary.
What was your biggest fear before you started life as a Barefoot Writer?
My biggest fear was that I would not have any retirement savings so I could someday retire. Now I know that if I work well into my retirement years, it will be because I want to work and will be working on things that bring me joy.
What do you feel is the biggest value in using AWAI's online communities?
Just that: the community. It's a community of supportive and encouraging professionals who want every member to grow and flourish as copywriters. The communities have been amazing and so supportive. It is a welcome change from the cutthroat, dog-eat-dog nature of the legal profession — particularly law school.
How do you take advantage of the freedom that comes with life as a Barefoot Writer?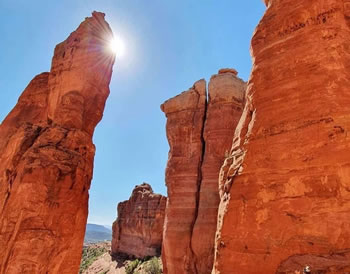 Hiking in Sedona, Arizona
is a favorite hobby of Tim's
The freedom copywriting has provided me so far is more about the additional financial freedom provided by the side income. There is also the freedom of thought that one day soon the current freedoms will lead to the ability to live anywhere. For me that's somewhere tropical with a beach and somewhere spiritual with great hiking, mountains, and trails.
Any advice for new writers trying to gain their first clients or find their writing niche?
First, find a great support community and rediscover your passion, your why, or your definite chief aim. Too many of us — myself included — lose sight of our core values and our dreams and what matters most to us as we grow into adulthood.
Finding clients is a tougher question. My best advice is to just put yourself out there! You'll be surprised by how much you actually do know and how much you bring to the table once you start talking to that first prospect; I was.
Do you have any favorite foods you like to eat while writing?
Way too much coffee and sometimes what could be considered too much trail mix or Chex Mix … and lots of lemon water.
Tim's Living The Writer's Life story was originally published in Barefoot Writer. To learn more about how you can start living your dream writer's life too, click here.
What help do you need to move forward with your version of the writer's life? Let us know in the comments below so we can help guide you in the right direction.

The Barefoot Writer
Discover a lucrative style of writing that will give you as much freedom as you can have while earning a great income at the same time. Learn More »

Published: November 7, 2020