Get Every AWAI Resource for a 91% Discount – or Even Completely Free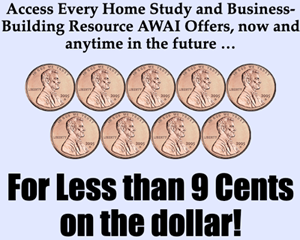 "I've closed deals for three clients! It's incredible how strong the program is."
Imagine how your copywriting career could be transformed if you had access to all 100+ AWAI programs, books, template, manual, and other resources.
You'd be able to tackle any project, in any niche, of any type. You'd have the confidence to negotiate the fees you deserve from clients. And you'd be an expert in the most in-demand copywriting skills.
With AWAI's Infinity Program you get every resource AWAI has ever created … and anything they release in the future (and there are already some in the pipeline).
For life.
It's a "bundle" valued at more than $55,000. But if you join the Infinity Program today, you'll pay a fraction of that. It works out to a 91% discount.
You can save even more if you've bought any AWAI home study program in the last year – because you'll get a full refund on that purchase. In some limited cases, that means you can get the Infinity Program for free.
Plus, you get $500 off any AWAI FastTrack to Copywriting Success Bootcamp and Job Fair, B2B Intensive, or Web Intensive … for life.
Here are some real-life case studies so you can see how this all works in practical terms:
Infinity member Bob Edelstein was asked to write a press release by a client. So Bob simply download his copy of AWAI"s Secrets of Becoming a Publicist and wrote a release following the program's templates. The client was very pleased with the work.
In another case, an Infinity member was asked if he could help re-write the website of an insurance company. He wasn't very experienced. But he simply drew on the many AWAI programs that are dedicated to effective web writing and took the job.
The Infinity Program gives you access to any resource you need to complete just about any project a client might ask you for.
Another Infinity Member, Waldemir Marques, Jr. wrote in to tell us about his experience:
"Since I became an Infinity member, about a month ago, I've closed deals for three clients! It's incredible how strong the program is. I'm so excited about how secure the content makes me in marketing my services and setting my fees."
The 91% discount on 100+ AWAI resources is only available until June 19. And, remember, you might be eligible for a further discount or could even get the program for free.