The Steps You Must Take to Get Certified in Today's Top Copywriting Niches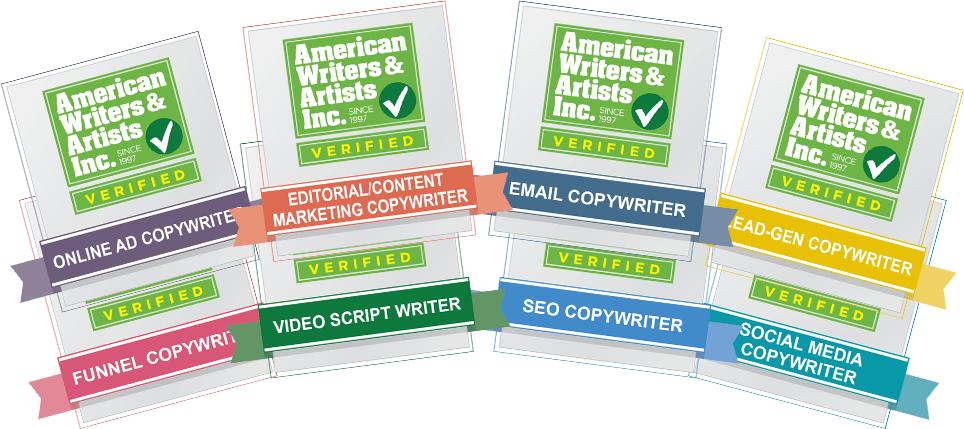 In AWAI Verified™: Mastering The 8 Collateral Marketing Projects Every Copywriter Must Know you get intense training in today's most in-demand web copywriting skills, including:
Social media posts (as much as $2,500 in monthly retainer per client)
Emails (as much as $1,000 for full series of campaign emails)
Sales funnel copy (between $500 and $1,000 depending on the number of emails)
Space ads ($100 to $150 for less than an hour of writing)
Lead generation landing pages ($150 per ad)
Editorial/Content articles ($300 to $800 for a day (or less) of research and writing)
Video scripts ($300 to $500 per script)
SEO web content ($500 to $1,200 in hourly fees)
The Badges program consists of a series of instructional videos for each section. But it's far from a passive experience. After you understand the concepts and strategies behind each marketing channel, you'll get hands-on and start the official certification process to become AWAI Verified™ in that skill.
First is a 10-question quiz – it's multiple choice. If you get a score of 80% or higher, you pass.
Then is a more in-depth test of your knowledge.
It's an assignment where you apply what you learned with a written exercise. Just follow the instruction and guidelines. Your submission will be reviewed and graded by a professional working copywriter. If you demonstrate you know that specialty to their satisfaction – you're certified in that skill.
Not everybody passes on their first try. That's where the reviewer's detailed feedback comes into play to make sure your second draft hits the mark.
Once you're AWAI Verified™ you can include that "Badge" on your freelance website, in your resume, and other self-marketing materials. But you'll also have eight valuable additions to your portfolio – examples of your work you can show potential clients so they can see you've mastered that copy style.
Because of its heavy emphasis on practice writing exercises and getting personalized feedback from pro copywriters, this is the last time you can get all eight sections "bundled" in one program.
You can join AWAI Verified™: Mastering The 8 Collateral Marketing Projects Every Copywriter Must Know now for a deep discount – more than $5,165 – but only until Aug. 11.

The Professional Writers' Alliance
At last, a professional organization that caters to the needs of direct-response industry writers. Find out how membership can change the course of your career. Learn More »

Published: August 12, 2019