Master the Top 8 Most In-Demand – and High-Paying – Web Copywriting Skills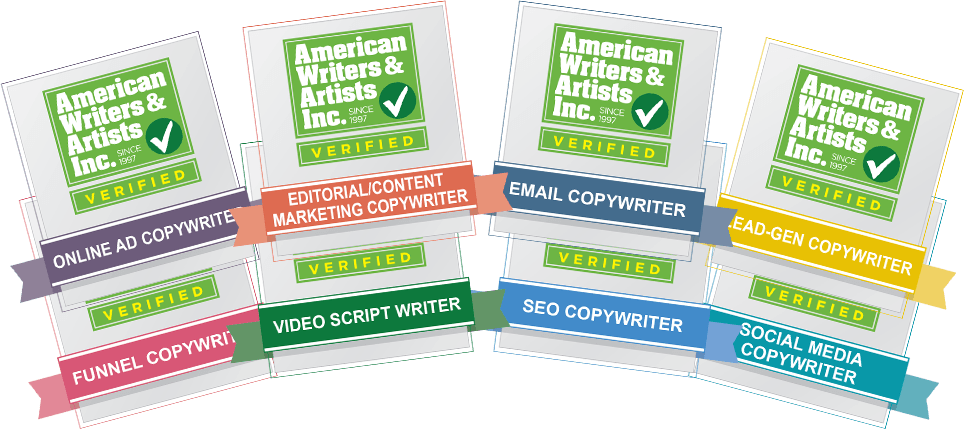 A typical online marketing campaign these days is "multi-channel." That means that the company uses several different ways, or channels, to reach its target audience with their advertising.
As with any marketing effort, copywriters are instrumental in crafting ads that get response in every channel that a marketer might use. Often the same individual copywriter might write all the copy for a campaign – and boost the fees they receive accordingly.
That's the face of Internet marketing today. And AWAI Verified™: Mastering The 8 Collateral Marketing Projects Every Copywriter Must Know (we call it "Badges") is the ideal program to equip you with the skills you need to tackle any web copywriting project that comes your way.
You'll be trained in all the types of copy clients need in modern-day marketing campaigns, including …
Social media posts
Emails
Sales funnel copy
Space ads
Lead generation landing pages
Editorial/Content articles
Video scripts
SEO web content
A typical campaign will have a combination of these different channels. But all of them are commonly used in online efforts because they've been found to be effective in compelling prospects to take action.
The world of online marketing is always changing, you need to keep up with what's happening now to have a successful freelance business. Being able to offer all these skills opens you up to thousands of high-paying copywriting jobs.
The good news is that at the heart of all these niches is the science of persuasive writing and direct-response. As an AWAI member you've already got a strong foundation. And you'll be able to quickly get up to speed with how to generate response in clients' target markets through these different channels.
A critical part of the program is the certification process. As part of your training, you'll not only receive expert instruction but also hands-on writing exercises. This ensures you master each skill because you'll get feedback from pro copywriters.
Once you've mastered the practice exercise and pass a written test, you're AWAI Verified™ – certified in that skill. When clients see that you have that "Badge," they'll be more likely to hire you.
Right now is your last chance to get access to all eight sections of the Badges program for one low price. After, these niches will be broken out into separate programs. By joining today you'll save $5,165.

The Professional Writers' Alliance
At last, a professional organization that caters to the needs of direct-response industry writers. Find out how membership can change the course of your career. Learn More »

Published: August 13, 2019