Cynthia Breeding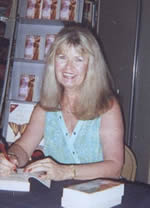 AWAI Member Since: 2004
What's your current occupation?
Romance Writer
What's your former occupation?
Educator
What was the first project you landed?
A two-book contract with Kensington Publishing.
What are your current projects?
I now have seven novels published, an eighth one releasing June 1 from New Concepts and a ninth one releasing January, 2013 with Samhain. In addition, I write for Highland Press and have three single-author anthologies and three multi-author anthologies in print with a fourth multi-author anthology being released this summer.
I am now writing historical romance and urban fantasy.
Fourth book of urban fantasy series for NCP and a time-travel for Highland Press.
What has been your proudest moment as a writer?
Seeing that first book actually on the shelves in bookstores.
What's your favorite niche to write for?
Romance
What's your writing routine?
1 p.m. - 5 p.m., five days a week
Please give us an example of how your life has changed since becoming a writer.
Being a novelist has allowed my muse to blossom and let me really create those characters for readers to fall in love with.
I've taken several trips to Scotland and England also--first hand research is fantastic. I love the idea of walking through castles that have been there since the 14h century!!!
What success tip would you like to share with your fellow writers?
Keep trying. Query, query, query.
When did you realize you were living the writer's life?
Not quite sure. I enjoy staying home and doing what I love rather than having to go to work every day.