Penny Thomas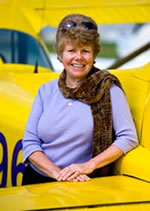 AWAI Member Since: 2003
What's your current occupation?
What's your former occupation?
Administrative Assistant to the Vice Chairman at an international investment bank
What was the first project you landed?
A white paper on transition leadership for a human resources consulting firm
What are your current projects?
I'm writing a novel and studying for a Masters of Art in Popular Fiction at Seton Hill University (something that has been on my 'bucket list' for a long time). I got started on this route when I studied AWAI's "Writing for Love and Money: How to Become a Successful Romance Writer." AWAI's other courses – copywriting and web writing have given me the tools to create a fiction writers web site and market my novels. I am very excited about this new phase of my life and owe much of it to AWAI.
What has been your proudest copywriting moment?
When my direct-marketing letter for a large publishing company beat their control by 29%. And … when I won two AWAI spec assignments. I know the competition and quality of submissions is high, so winning two was a huge honor.
What's your favorite niche to write for?
No niche now – just fiction writing.
What's your writing routine?
I work whenever I feel like it. I prefer writing in the very early morning until lunchtime, leaving the afternoons to do my own marketing and chores. But the flexibility of a freelancer's life is such that I can rearrange my schedule at any time to have coffee with a friend, go to a museum, or go kayaking … then work through the night and weekend to get the project done by deadline.
Please give us an example of how your life has changed since becoming a copywriter.
Biggest change is a chance to see the sun … I enjoy my house, garden and neighborhood. No more leaving home in the dark to catch the 7:18 a.m. sardine can (a.k.a. commuter train) to Manhattan … then returning home in the dark.
The other – and even more important – change is that I am now in total control of my time and my life. I no longer have to rely on another person's agenda to dictate where my career is going, or what I do during the day. My decisions, actions and energy dictate how successful I will be.
And, I now have time to study advanced fiction writing skills and write my "Great Welsh/American Novel"! And I'm doing it!!!
What success tip would you like to share with your fellow writers?
First … practice, practice, and practice. Yes, copying out successful marketing letters and promos is tiresome, but it is a proven way to learn how to emulate a certain style. Every successful artist does it – painters, dancers, musicians, poets and novelists all copy their favorites. And then they go on to develop their own style.
Second … be professional at all times – on the phone, writing emails, and sticking to deadlines. Being a freelance writer isn't very "corporate" … but our clients are corporations, and they expect corporate-like behavior from us.
Third … follow your passion. You only have one life … live it to the maximum!
When did you realize you were living the copywriter's life?
While sipping my early morning cup of tea, watching the falling snow and my neighbor digging his car out to get to work. All I had to do was go into my workroom and turn on my computer to start earning money. I didn't even have to get out of my flannel PJs!