Rachel Karl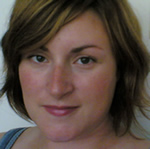 AWAI Member Since: 2009
Web and Email Copywriter
Webwriter
What was the first project you landed?
Writing an annual report for a private school.
What are your current projects?
Social Media Management, SEO copy for organic search on local listings, website copy, autoresponders, monthly enewsletters.
What has been your proudest copywriting moment?
When I landed my first retainer client!
What's your favorite niche to write for?
Small business - especially dental and restaurants
What's your writing routine?
It actually starts at the beginning of each week: I write a list of things to do the following week and then I script out my entire week down to the minute - I learned that from Dan Kennedy. I am so much more productive and efficient now that I do that because I'm able to focus more on what's important and get my writing projects accomplished early in the day.
Please give us an example of how your life has changed since becoming a copywriter.
The biggest way my life has changed is that I can take my work anywhere. We can be on vacation, and I can work on my projects for an hour or two each day if I want.
Also, I create my own schedule. So I can take off in the middle of the day to go on a field trip with my kids, have lunch with friends or take a yoga class!
Finally, I'm in charge of my income. The only ceilings on my income are the ones I place there myself. If I want to make more money, all I have to do is pick up a few more projects. I love that!
What success tip would you like to share with your fellow writers?
I have 3 if I may...
1) F-O-C-U-S: Follow One Course Until Successful. It's easy to get distracted as a freelancer and there are so many cool things you can specialize in as a copywriter. So, what I played around for a while until I found something I really liked and I stuck with it until I was successful. Then I branched out into other areas.
2) Don't put all your eggs in one basket. The number "one" is the deadliest number in business. One client. One revenue stream. One marketing method. It's the business killer.
3) And never stop marketing your business - no matter how busy things get. Clients come and go for a variety of reasons - nothing is permanent, but if you are always marketing you will never starve. I learned these last two the hard way about a year ago. The downside of not having a boss breathing down your neck, is it's so easy to get distracted by shiny objects as a freelancer.
When did you realize you were living the copywriter's life?
Every day! Even when things get tough, I wake up every day and get so excited because I'm my own boss. But the turning point happened about 18 months ago when I had landed several retainer clients, and I wasn't chasing after clients anymore. Clients come and go, but I will always have this skill and this certainty that I create my own destiny!