Cherie Rohn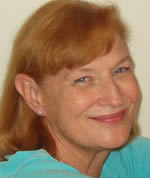 AWAI Member Since: 2003
What's your current occupation?
Freelance Writer/Editor/Graphic Designer
What's your former occupation?
Blackjack Dealer, TV Station Manager, Scuba Instructor, Map Maker (to name but a few)
What was the first project you landed?
I received my first paying job as a writer/graphic designer for a realtor who deals exclusively in waterfront properties in Fort Myers, FL. I designed and wrote copy for his website, and that led to other lucrative projects.
What are your current projects?
Well, I've basically become a full-time non-fiction writer and editor. I'm lucky to be able to get paid as I write and not wait for possible royalties which may never materialize.
Currently, I'm promoting my commercially published book, THIEF! The Gutsy, True Story of an Ex-Con Artist (Barricade Books), which is nearly in its second printing. We're beginning to receive the sort of press that can send us to the next level. Thief is available at the newly opened Mob Museum bookstore in Las Vegas.
Also, I'm working on the true and harrowing story of a man whose business was taken over by Hells Angels. Can't say more at this time. But it's sure to cause a big stir when it's released.
What has been your proudest moment as a writer?
My proudest moment in writing came when, after nine years of learning how to write as a male mobster, I received a phone call from Lyle Stuart, publisher of Barricade Books. He said he loved my tight, snappy writing and wanted to publish my manuscript about my blackjack teacher's life as a con artist.
What's your favorite niche to write for?
Since I learned a lot about true crime and the mob through 11 intense years of research, I've become somewhat of a mob expert. I didn't actually seek out projects in this niche. They just sort of come my way.
What's your writing routine?
Since I work from home, my writing routine needs to be quite focused. First, I do the stuff that requires a deadline. Then I move on to projects which I'm cultivating. I probably spend at least 5 hours per day actually writing.
Please give us an example of how your life has changed since becoming a writer.
Writing has become my life. When I was toiling over writing THIEF, I vowed I'd lay down the pen once the book was published. I was so burned out. But now I love writing. It's a source of joy nothing can match. And I love to pass on tips to aspiring writers through presentations I make to various groups. There are a few promising writers I mentor. Hopefully, I offer them the same truthfulness and encouragement Roger Parker gave me as a graphics mentor. I want to help writers avoid some of the things I learned the hard way.
What success tip would you like to share with your fellow writers?
Designers and writers share many of the same innate skills. Immerse yourself in your chosen field... learn all you can. Follow the sage advice of Michael Masterson who says (I'm paraphrasing) that it takes hundreds of hours to become proficient. Set realistic but concrete written goals... then stick to them.
And to all you fence-sitters: If you're debating the merits of attending AWAI's Bootcamp, sign up right now. It was, without doubt, the turning point of my graphics/writing career and worth every penny. I met my mentor there, Roger C. Parker and his wife, Betsy, two of the most extraordinary and generous people you will ever meet. And I made lifetime, quality contacts with both attendees and staff. Go for all the gusto you can get. You only go 'round once in life! And good luck.
When did you realize you were living the copywriter's life?
I woke up one morning, grabbed the newspaper and sat back leisurely savoring my cup of coffee. I looked out the window at two miniature cardinals frolicking in the palm trees outside my home. By God, I thought... I now enjoy the luxury of living the life I'd dreamed about for many years. I felt a certain satisfaction knowing that my hard work and tenacity, was finally paying off. I just didn't give up.