Dave Keizur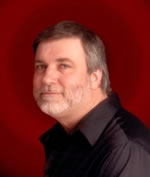 AWAI Member Since: 2004
What's your current occupation?
Quilt Store owner
What's your former occupation?
Freelance Graphic Designer
What was the first project you landed?
I was actually hired by a fellow graphic designer who I met at AWAI's Bootcamp in 2004. She was writing a book for a good friend and wanted a website designed to complement the book.
What are your current projects?
I do all of the signage for the store, as well as all of the advertising layouts. I also maintain our web site, shopping cart and another firm's web site. In addition, I create multi-media products and ad spots for the store.
What has been your proudest graphic design moment?
Seeing my design published in a national magazine. I took over the design of a ¼-page ad with a 7-day deadline to get it into the publisher's hands, because my client's designer went on vacation before the design was finished. I had the concept ready in 24 hours, the approval and reworks done 3 days later, and the file submitted to the publisher 3 days ahead of schedule.
What's your favorite niche to design for?
Multi-media. Designing and producing videos is a lot of fun as well as a lot of hard work.
What's your design routine?
I usually sit down at my computer about 10 a.m., clear out all email, and then start working on bookkeeping. I then work on my marketing, update my website or work on projects for the store.
I make sure to take breaks every hour or so, even for just a few minutes, to keep the creative juices flowing. Depending on the projects at hand, I usually quit for the day around 5 p.m.
Please give us an example of how your life has changed since becoming a freelance graphic designer.
The economy killed my business niche (commercial real estate and contractors were my biggest clients). I went from a 6 month backlog to zero in about 2 months. So my wife and I started this store. 

I do intend to get back into freelancing again once we have the store making enough of a profit that I can farm out my duties to someone else. I'll still do all of the design work, though.
What success tip would you like to share with your fellow freelancers?
Learn to adapt. I'm gaining valuable experience even though right now I'm basically hiring myself. I'm saving the store thousands of dollars by having the skills I learned from AWAI and I'll be a more valuable commodity with my practical experience once I start to freelance again.
When did you realize you were living the freelancer's life?
I can't say that I am – at least, not the way you would think of it. But I'll be back!