David Chapman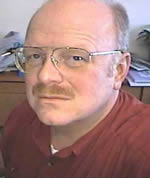 AWAI Member Since: 2003
What's your current occupation?
Writer
What's your former occupation?
Truck Driver
What was the first project you landed?
A health food and vitamin website, a private investigations business, and a mutual fund client newsletter … all at about the same time!
What are your current projects?
I recently published my first book, The Man Who Carried a Drum (Civil War letters of an ancestor). Now, I'm busy marketing it, while researching my next book, a "spiritual adventure story" set in the 1800s.
What has been your proudest copywriting moment?
When AWAI selected my copy to help promote the copywriting program – and sent me a generous check!
What's your favorite niche to write for?
What's your writing routine?
Writing made me a morning person; much of my best work is right after waking. I like to work intensely for 2 or 3 days, then do other things for a few days before I come back to revise and edit my copy.
Please give us an example of how your life has changed since becoming a copywriter.
The best part for me is the profound mental and emotional transformation of being the author of my own successful life, not just a "worker bee" who slaves his life away, paycheck-to-paycheck.
What success tip would you like to share with your fellow writers?
Learn to accept criticism and rejection as valuable feedback – not a personal attack. Every "failure' holds hidden keys to your future success. (I know, it sounds corny, but I SWEAR it's true!)
When did you realize you were living the copywriter's life?
When I realized that millions of people out there really DO need my skill with words – and yes, writing WILL provide me with a better, happier life than the world's best "job."