Eileen Coale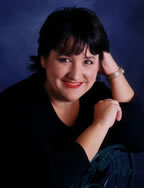 AWAI Member Since: 2002
What's your current occupation?
Freelance Copywriter
What's your former occupation?
Russian-English Translator
What was the first project you landed?
Writing copy for a merchandiser direct-mail insert promoting several retail shops during the holiday shopping season. I didn't charge nearly enough, but the resulting full-color glossy piece was a great start to my portfolio.
What are your current projects?
Web, package, newsletter, and flyer copy for the patent-holder of an exciting new dietary supplement ingredient
Web copy for a major alternative health newsletter publisher
Web copy for an industrial manufacturer
Print advertorial copy for a web-based financial trading services company
Writing profiles of industry executives for a trade magazine
Ongoing web copy for an exciting new dietary supplement
Weekly email advertorial promotions for a client in the survival niche
Direct response landing page copy for information products
What has been your proudest copywriting moment?
My proudest moment was all of 2011. I doubled my previous best income by working exclusively with one client for a one-year contract. During that time, one email promotion I wrote brought in about $60,000 worth of sales in a 72-hour period. In addition to writing a high volume of copy including magalogs, direct response landing pages, email promotions, special reports, and more, I hired subcontract writers to help me, trained them, and managed all the writing projects. It was a crazy year, and I loved every minute of it. I was stretched to the limit and learned how to write great copy at breakneck speed. However, I was also working a lot of 7-day weeks, and welcomed a return to the slower pace when the contract period was over.
What's your favorite niche to write for?
Alternative Health
What's your writing routine?
During the school year, I keep office hours of 8:30 a.m. to 2:30 p.m. Mornings, I conduct phone interviews and do the heavy-duty writing. Afternoons, I do lighter writing, editing, and administrative work. Occasionally I will put a little time in on evenings or weekends, but it's rare. In the summer when the kids are out of school, it's a more fluid schedule.
Please give us an example of how your life has changed since becoming a copywriter.
My husband and I were always committed to having one of us home with our kids. I quit my job when our first child was born, and did the stay-at-home-mom thing for the next 12 years. We made a lot of financial and lifestyle sacrifices to do so, and I have no regrets.
But as the kids got older, and I began exploring the writing field (something I'd always dabbled in), I realized that I could bring in significant income and still be home with my kids. My income has paid for private school tuition, enabled us to pay down the mortgage, enabled us to afford a major kitchen remodel, and at this writing, we're getting ready to close on a second home. Meanwhile, I've been there every single day when my kids walk in the door after school.
So, since I became a copywriter, I have meaningful work that I love, we don't have to worry about paying the bills, and I'm able to be there for my family without having to answer to an employer.
What success tip would you like to share with your fellow writers?
Everything the experts tell you about picking a niche or specialty is true. It really is easier to find clients and command higher fees. I waited too long before making the leap from a generalist to a specialist.
Also, if you find yourself trying to move forward but can't seem to make the leap, consider working with a coach. When I wanted to make the move from generalist to specialist, I suffered from analysis paralysis. I worked with a coach for just 3 months with the goal of choosing my niche and putting together a self-promotion plan, and it took my career to a whole new level.
When did you realize you were living the copywriter's life?
Almost from the very beginning. We have four kids, and family comes first. So it was important that if I were going to bring in a second income in our household, it had to mesh well with family life, as well as be satisfying and well-paying. I knew right away that freelance copywriting was the perfect fit.