Greg Grillot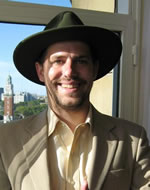 AWAI Member Since: 2005
What's your current occupation?
Copywriter
What's your former occupation?
Tree Trimmer
What was the first project you landed?
AWAI's Graphic Design Success program.
What are your current projects?
Writing copy for an investment newsletter, and sometimes editorial for Whiskey & Gunpowder.
What has been your proudest copywriting moment?
Broke revenue record at a 25-year-old company with my copy.
What's your favorite niche to write for?
What's your writing routine?
I write as much as possible, even when I'm sleeping.
Please give us an example of how your life has changed since becoming a copywriter.
I feed myself from my dream. Also, I help others retain and increase their financial independence through my copy and the information it sells. I travel a lot. I've met some extremely intelligent, unique people. I've also met some arrogant rats, who can teach you just as well as the moral geniuses.
What success tip would you like to share with your fellow writers?
Never stop reading. Play an instrument. Don't watch TV. Learn to do with less sleep.
When did you realize you were living the copywriter's life?
When I was born.