Joanne Sullivan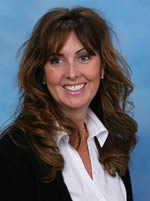 AWAI Member Since: 2004
What's your current occupation?
Financial Copywriter
What's your former occupation?
Freelance Writer, Logistics Manager for major beverage company
What was the first project you landed?
Short form email from NewsMax Media
What are your current projects?
A promo on the best dividend paying stocks in America, and copy for the Gold Investment Conference.
What has been your proudest copywriting moment?
The 2006 AWAI Bootcamp was a surreal experience. In the course of 36 hours, I won $1,000 for the Monthly Copywriting Genius headline and lead I submitted for the Bootcamp Spec Challenge … and I landed an exclusive copywriting contract with one of the top financial publishers in the business.
What's your favorite niche to write for?
What's your writing routine?
I'm up early at 4 a.m. and write until 6:30 a.m. Then I take a 2-mile walk, get my kids off to school, and then write and research until around 2:30 p.m. If I'm in a good flow or on a deadline, I'm back and forth – working and also helping my kids with homework, making dinner, etc. – between 4 p.m. and 7 p.m. I usually work a few hours on Saturday and Sunday as well – editing, researching, writing bullets, etc.
Please give us an example of how your life has changed since becoming a copywriter.
I really love what I do. And right now I'm in a spot where I'm learning from some of the best in the business. Quite frankly, at this point in my career, it doesn't get any better.
What success tip would you like to share with your fellow writers?
I believe success in this business is dependent on two things …
First, copywriting is a skill that can be learned, but be prepared to work hard at learning the process and techniques for crafting a successful promotion. The AWAI copywriting program and Masters program offer one of the best foundations you can find for mastering this skill. As part of that, I really believe you need to decide on a niche. Your writing, your approach, your work is so much stronger when you're really immersed in a particular market.
Secondly, you need to put yourself out there – go to AWAI's Bootcamp, attend one of the ATS workshops, etc. These are the events where you'll meet folks who are already successful, who are in the business, and who are hiring.
When did you realize you were living the copywriter's life?
Lately, a number of my friends and neighbors have been asking me what exactly it is that I do. As I listen to myself explain what copywriting is, how my hours work, how good the pay is, I realize I really am living the copywriter's life, and every month it's getting better and better.