John Williamson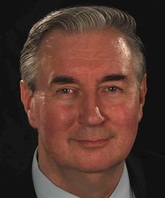 AWAI Member Since: 2003
What's your current occupation?
Freelance Copywriter, Coach, and Business Adviser
What's your former occupation?
Owner of several professional services practices and CEO of a number of successful, long-term businesses
What was the first project you landed?
On the recommendation of my friends, I signed up for the AWAI Accelerated Program for Six Figure Copywriting in November 2003. One year later, I signed up for the Master's Program. Since then, I've joined Founder's Circle and Circle of Success. They are all first-class programs, and I've been pleased, in turn, to recommend AWAI's programs to several new copywriters.
I've actually been writing sales and marketing copy for many years. But since joining AWAI to "formalize" my training, my first client came to me in January 2004 – a visual display services business based in Vancouver. Since then, until the president and founder of that company retired last year, I've designed, written, ghostwritten, or co-written virtually all of their documentation and promotional materials.
What are your current projects?
My main project at the moment is creating a complete training course for smaller retailers on "profitable retail display and visual merchandising." This is a joint project with a co-author – an award-winning retail display designer (my now-retired, Vancouver-based, ex-client).
What has been your proudest copywriting moment?
Using my business, coaching, and copywriting skills to assist that Vancouver client in growing her business by 500% in just 18 months.
Being asked by Mitch Meyerson (president of Guerrilla Marketing Coach Certification Program) and Jay Conrad Levinson (the "Father of Guerrilla Marketing") to be a co-author of their new book, Guerrilla Marketing on the Front Lines. The book was published in August 2008 and almost immediately became an Amazon #1 bestseller. Which, I suppose, also makes me a "best-selling author."
When my Vancouver client wanted to retire from that business last year, with my encouragement she consulted a number of business-transfer professionals, including lawyers. They all "missed the trick" and substantially undervalued the business. I then showed her how the business should be valued, wrote the sales copy and the "plain words" legal documentation, and coached her throughout the negotiations. Because of that, she was able to sell her share of the business for a 1,400% return on investment (ROI). Needless to say, she was delighted!
By encouraging my Vancouver client to write articles and press releases for trade journals … and by ghostwriting, co-writing, giving her ideas and examples, and coaching her … she has now, in retirement, secured some highly paid writing and speaking assignments for herself. In fact, she says it's easier money than when she was running her business – and an ideal pastime for a "mature woman."
What's your favorite niche to write for?
I've written for several niches, including Professional, Finance, and Financial Services. I do enjoy B2B, and I'm recently doing more online copywriting, and information-product creation.
What's your writing routine?
My writing routine varies between a) and b), to suit what I'm doing at the time.
a) I live in the UK, so when I'm working with UK/European clients and protégés, I normally rise at 6am, and work from 7am till 11 pm. This routine allows me to consult with my clients at convenient times of the day for them.
b) When I'm working with my international clients in Canada, the U.S., and other non-UK/European time zones, I start work when the rest of the family is going to bed, and work until midday the next day. This routine is ideal for communicating with those particular clients and protégés.
I find these variations in routine stimulating, comfortable, and enjoyable. Whichever routine I'm using, I may either work solidly through to achieve a specific objective, or I may work at a more leisurely pace with plenty of breaks and walks to stimulate my "little grey cells."
I have always, intentionally, worked harder than most of my peers, both in number of hours worked and pace of working. That routine has brought me some recognition by my professional peers over the years, and I hope it will continue to serve me well, now that I'm primarily a copywriter.
Please give us an example of how your life has changed since becoming a copywriter.
No longer having to engage in the daily commuting battle is so relaxing, isn't it? I go to bed when I want, get up when I want, go out when I want … in fact, my life is almost entirely my own to indulge my whims and do with as I wish. Of course, like most of us, I also have to accommodate the requirements of my family.
What success tip would you like to share with your fellow writers?
Having done my research, I like to let it percolate in my brain before I go to sleep. Then, when I wake up, very often there is a new, innovative idea or set of ideas, or even a complete scenario … which I then rush to get down on paper (all right … type into Word).
When writing in a conversational style, as you do for copy – or indeed, when writing dialogue – it certainly helps me to "hear" the character's voice in my head speaking the words. I then just write down what he or she says.
When did you realize you were living the copywriter's life?
I was attending a business breakfast meeting. At that meeting several of the attendees were griping that they had to go out to work, while their wives were able to stay at home and enjoy seeing their children grow. I smiled to myself, because, for some years I had done exactly that – stayed at home to see my children grow and to be there for them when they needed me. It's a good life, being a writer.