Julia Thomas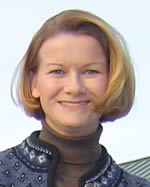 AWAI Member Since: 2004
What's your current occupation?
Freelance Copywriter
What's your former occupation?
Staff Copywriter, Corporate Communications Manager
What was the first project you landed?
I've been writing marketing copy for 19 years. My first job was writing direct mail for a small B2B healthcare publisher.
What are your current projects?
Working on an advertorial for Agora Health Books and a media kit for Congressional Quarterly.
What has been your proudest copywriting moment?
Anytime a client calls to say that a package is doing well!
What's your favorite niche to write for?
Publishing
What's your writing routine?
I write from about 9 a.m. (after I drop my son off at school) until about 2:40 p.m. (when I need to go pick him up again).
Please give us an example of how your life has changed since becoming a copywriter.
Well, I've been a copywriter most of my career, but AWAI has helped put me on the path to the copywriting career I've always wanted but could never seem to make happen. I started in direct response but got sidetracked into other forms of writing for many years. Discovering AWAI helped me advance my copywriting skills and get back to writing direct response, which is the type of copywriting I enjoy the most.
I already understood the basics of direct marketing and copywriting when I came to AWAI, but the Master's Program was the first time that someone took me, step by step, through the techniques used in great copywriting – how to write a strong lead, keep the product transparent, etc. All the secrets I suspected other writers were using but that I didn't recognize until I went through the Master's Program.
I also found a coach who helped me immensely with my own marketing efforts, something I had always struggled with. Now I have a self-promotional package that is generating leads and work from the kinds of clients I want to work with.
What success tip would you like to share with your fellow writers?
Always try to push the envelope (no pun intended). A client might choose a safer idea or headline in the end, but always strive for the breakthrough idea.
When did you realize you were living the copywriter's life?
When I was brainstorming headlines for a package while hiking along the Potomac River near my home. I realized I had managed to turn something I love to do – hiking – into billable time!